First camp at the building site.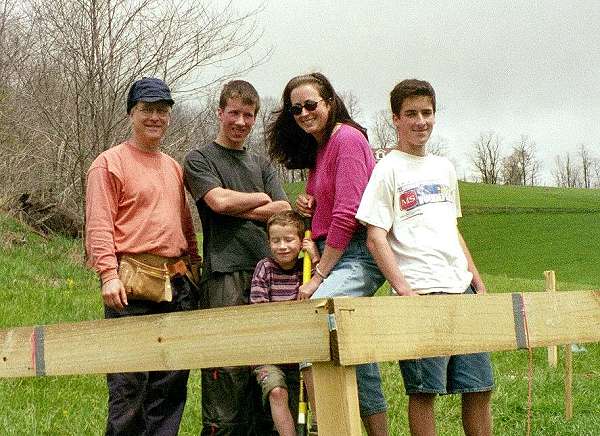 The major players.
We began this project last Spring, following my father's death and with the inheritance of enough money to buy some materials. My wife and I have wanted to have a getaway of some kind for a number of years. We have twin sons, aged 17 and a younger son as well.
We wanted to use the inheritance to create something that would be a reminder of my parents. My dad had built his own house, and I have always wanted to do the same. Another goal we had was to do a project together as a family. This would hopefully allow some "bonding" as well as skill development with the boys.
Originally, I had proposed building the Victoria's cottage. However, my wife had her own ideas and, as a skilled CAD designer, she came up with her own plan — inspired by Victoria's but with a full second-story. We finally settled on the two-story farmhouse that you can begin to see in the more recent photographs (and in the linked plans that follow). We purchased the Victoria's plan and have relied on it quite a bit, making modifications here and there to accommodate our full two-story design. The steeply pitched Victoria roof adds a lot to the appearance. Overall dimensions are 34 by 16. The first floor will consist of living and dining areas with a half-bath. On the second floor, there will be a full bath, a bunk/game room, and a private bedroom on the east end. There will be a long porch with access from the first floor. The second floor will open to a deck over the first-floor porch. In the immediate future, the structure will be used as a weekend getaway.
Eventually, however, the plan calls for a garage/bedroom addition on the west connected to the original structure by a small study area. Once that addition is complete, all of the essential rooms of the house will be wheelchair accessible and will enjoy the south view of a lake and mountains. This will be sufficient as a permanent retirement home.
The foundation is 8 inch block, with Quick Wall bonding it all together. The framing is two by six. We are also using rigid Styrofoam panels for additional insulation. As you can see, we have used five V galvanized metal roofing, with the hope of creating a structure that will look like it has been in these Virginia mountains for many years. We are now in the process of installing Integrity fiberglass windows, a Marvin window product. We had the roofing done — the only item that we "subbed out" — because of safety concerns, but wished we had done it ourselves by the time it was all over. The roofer added an aluminum cladding to the eve and end rafters. We plan on Hardie Plank siding, with a major goal being minimal ongoing maintenance. We plan on a kerosene or propane gas heater vented through the wall. We would like to find something that has visible flames and looks like an old cast-iron stove, but so far have only found unvented models in a reasonable price range.
We did encounter one difficulty early on with some neighbors (there are homeowner's association restrictions), who were dubious that we could actually put up a structure that would be aesthetically satisfactory. Initially we had our own doubts as I make a living in an office and my wife has no professional building skills either.
The building inspector has been very helpful, though, and so far, we have managed to avoid major errors. This project has allowed us to meet many people that we hope to continue with as friends. It has provided a great opportunity for creating family memories and cultivating a sense of emotional ownership of the place with our children. Had we simply had the house built, we would never have had such benefits. Now that the structure is "in the dry" we feel more confident that it will actually get finished — hopefully well before our older boys go off to college next year.
Thanks for your site and your help along the way. I don't think we would have generated the confidence to proceed without the education and inspiration from your CountryPlans.com website. You've answered several critical questions in a timely manner allowing us to keep moving along, and the discussion group has been a rich source of information. I hope we'll be sending you pictures of a finished structure soon.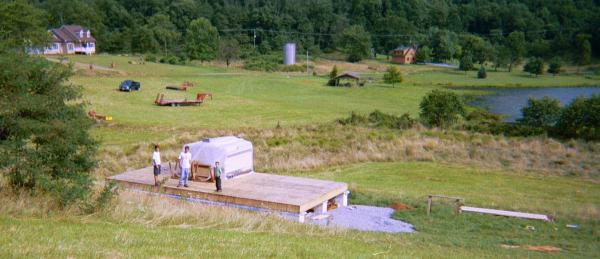 Foundation is in and the first floor is decked. Now we have a place to put the next part of the framing package.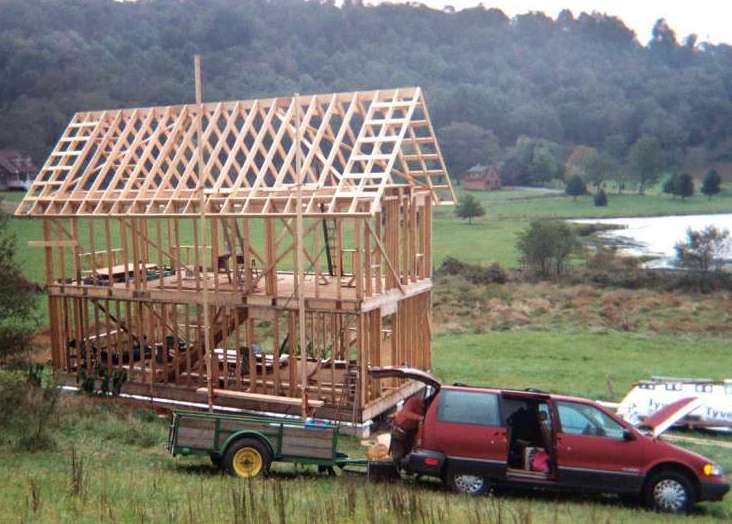 Not a bad little view from that second floor!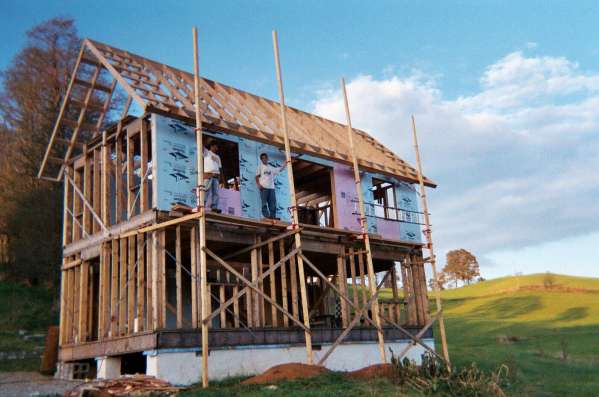 Insulated foam sheathing will add even more to the R-21 2x6 walls.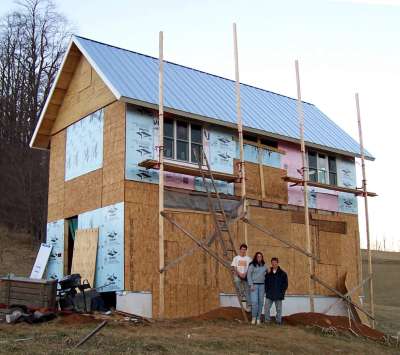 The roof is on, a few windows are in and structural sheathing is going up.