The kitchen has space for a full-height pantry next to the refrigerator. The private patio or garden area connects the bedroom and main house with an outdoor living room. In a cool climate this would ideally face south or west. In warmer climates it might better face east.
The house is designed with nine skylights in two different sizes. These can be reduced or eliminated for some climates but this opens the house up to light and connects it to the outdoors and the sky. Because of this openness, this house feels much larger than its 698sf of heated floor area (up to 1000sf counting lofts). The place has two or three sleeping areas and a separate study or home office. The low-ceiling sides of the lofts make excellent storage areas.
The bathroom has a tempered glass window that comes down close to the tub so you can slide the window open and soak while you look out at the view. Notice that the plumbing on the tub is easier to reach than most layouts.
Loft Plans - a choice of two different layouts
Here is the Bridge loft option. The 16' x 28' main module has two lofts accessible by a short stair and connected by a sky bridge. In the main Living room below the ceiling is open up to the ridge.
The rear loft is 7'- 6" deep, the front 5'- 6". Each is 15' wide with 11.5' above 6' headroom.

The total upper floor floor area over 6' is 189 sf. This allows the steep cottage stair to be used.
Here is the Full Bedroom Loft Plan. This more complete loft has more usable floor space and is the loft plan used in the photos of Victoria's house.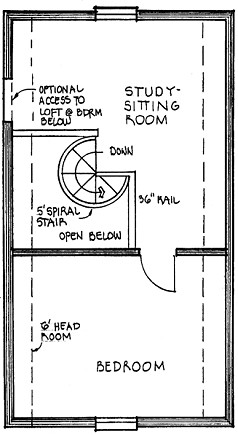 Full Bedroom Option
The upper level bedroom is 11' x 11.5' or 133 sf. (above 6' headroom).

The total upper floor floor area over 6' is 260 sf.
Stair Notes
Plans include information on three types of stairs. The steep cottage stair shown below (takes the least space), a 5' diameter spirial stair (see the photos), and a full sized code stair that goes up to the loft and could also be used to go on down to a basement from a kitchen access door.

You can adjust your plans to use any of these stair options.