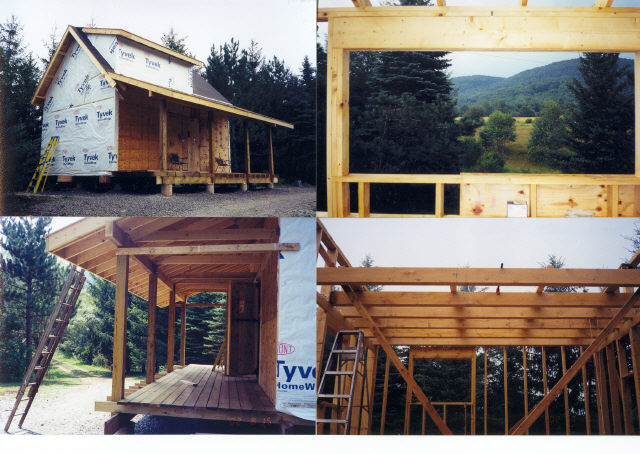 16' x 24' Cabin
The building site is located in upstate New York. Construction began in early June with exterior completed in Sept. 2002, except for windows and doors. Pretty much a one-man operation, except for some occasional help.
Pier type cardboard tube forms were used for the foundation which were placed approx. 48" below ground level (code requirement). Anchors, I made by wielding a length of #4 rebar to a piece of 2" angle iron which were inserted into the freshly poured cement. A 3/8" hole drilled in the angle iron allowed for bolting each pier to the main beams. A piece of aluminum flashing to discourage insects and small rodents from gaining access to the cabin via the floor joists was placed on top of each pier. Geotextile fabric material was placed under the cabin site and covered with several inches of crushed stone.
Main floor beams were constructed by nailing three 2"x 10"s together. Floor joists are 2"x 10"s, 16" oc with 3/4" T&G plywood subfloor. Wall framing is balloon type construction using 2"x 6"x 10's. Loft area measures approx. 12'x15' with an approx. 2 foot high knee wall that provides some additional head room. Rough cut, 4"x 8" exposed beams were used for the loft floor with pre-strained 2"x 6" T&G pine decking on top. This provided both a loft floor and a finished ceiling for the lower section of cabin. Loft also has a 10' shed type dormer which provides a nice view of the fields and forest. An 8' covered porch runs the entire length of cabin.
With limited time this year, I will probably only get to finishing up some small left over items from last year and perhaps install some windows. I will post more pics. later this summer.
Progress Photos