I have been visiting country plans website for a number of years. Thanks for the inspiration to all of those who took the time to post pictures of the progress they were making, and thanks for all of the information which has been so helpful.
My wife and I began our building project two summers ago when we bought a small piece of land in the Pocono Mountains. We started with a shed the first year. It is neat to see that a few others began the same way.
Power already existed when we bought the property. ( the previous owners used to bring an RV to the land) so we build the shed near the power, knowing that we would have to move it later. With this in mind, we built it on skids.
this is what things looked like in the beginning.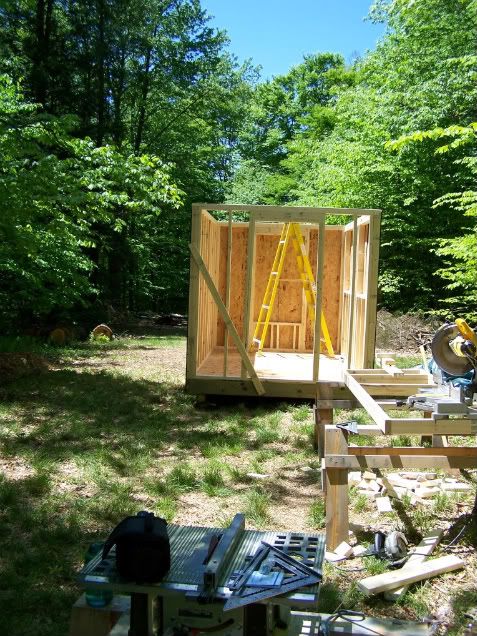 after a while the shed looked like this. My wife thought that the roof was kind of high. Little did she know of what was ahead!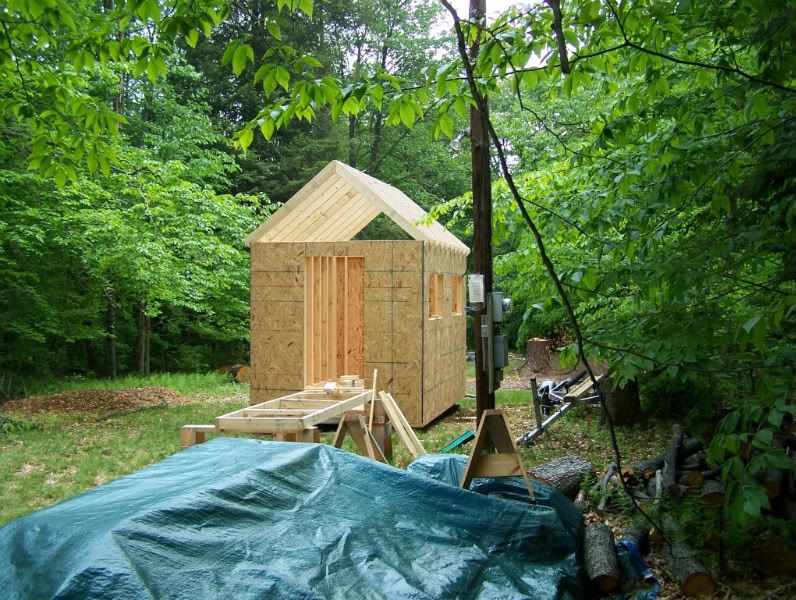 so this is the shed with only the last step of applying bleaching oil left to do. The windows were salvaged from a project that I was doing at the school where I teach. I built new frames for them. The window on the back side was from a house that I used to own in Maine. The shed served the purpose of having a place to store tools and materials as we began to tackle the main project.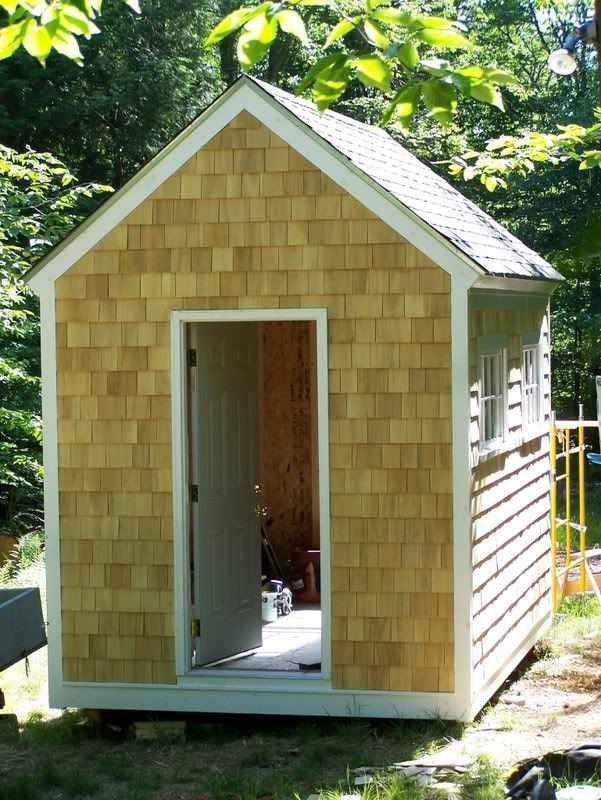 So.. on with the main project. I did send for plans for the builder's cottage, and I hope to build that some day. But we needed a little more space so, after a lot of research, we settled on a set of stock plans that we would have to modify slightly, adding 2 feet to the width.
We had the foundation poured in the fall, and my son helped me to frame in the basement walls over thanksgiving. We finished the first floor deck and then covered everything with plastic for the winter.
Last spring (08) we uncovered the deck, and started with this.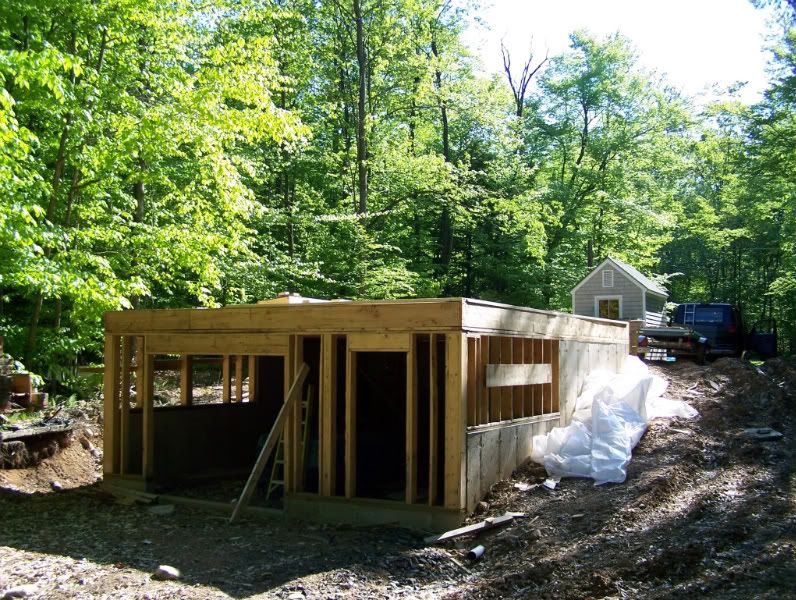 Most of las summer was devoted to the project. With the exception of 2 or 3 instances when we got some extra help to raise a wall or a beam, my wife and I have done all the work. The goal was to have everything closed in by fall. We did not quite make it, but things were in good enough shape to survive another winter with no problems. The roof was in place, and the window and door openings were covered.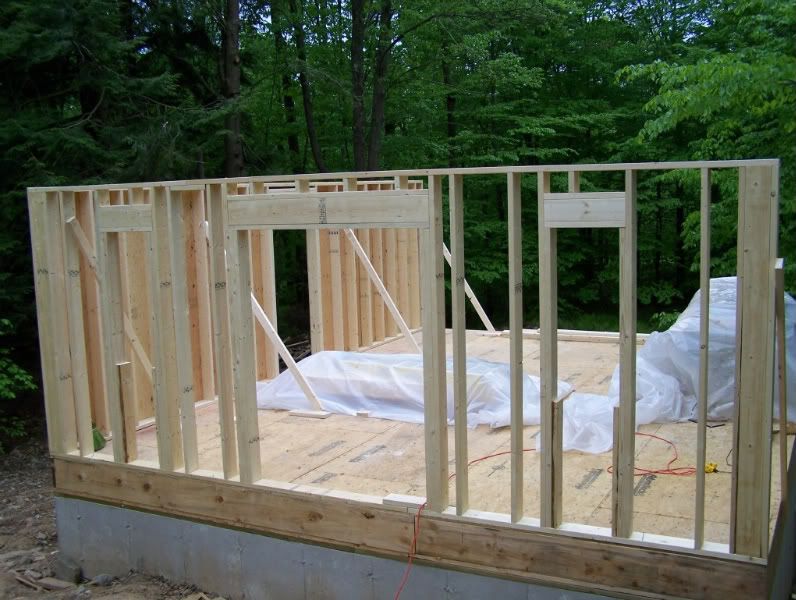 Here, the first floor is nearly framed and sheathed. As I look at the stacks of material in the foreground, I am reminded that I am intimately acquainted with each piece of lumber that is in this house!
This picture reminds me that we were quite a bit higher at this point than we were when we were putting the roof on the shed! My wife did work up the nerve to climb up and help. Although, I don't think that she really relished the idea... especially in the back of the house. it was pretty high..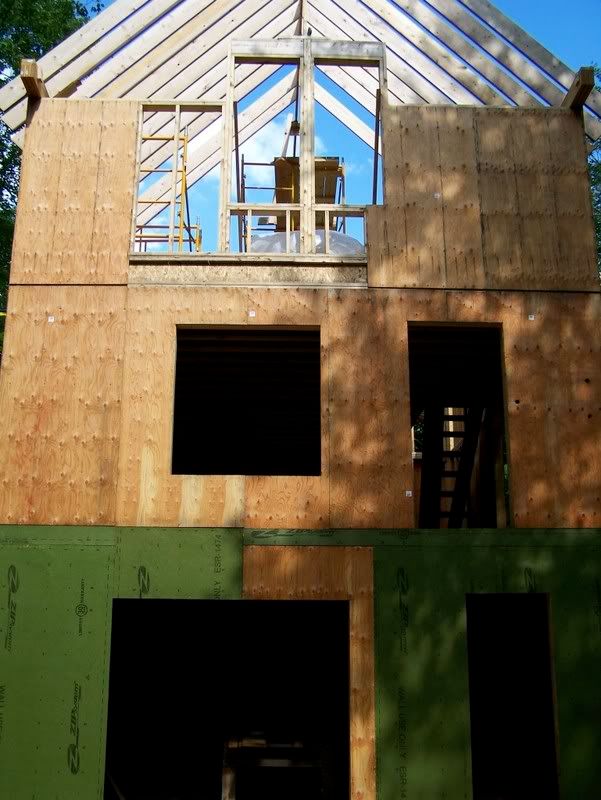 time for some roofing! Notice that the piles of lumber that were stacked in front are now gone.. getting those 5/8 " sheets of plywood up onto the roof was a bit of a challenge.. especially when I was working alone.. But they are all up there, and the roof is on, and the house survived another winter. I should mention here that the neighbors that we have in the area are wonderful. They have been helpful in terms of keeping an eye on the place as well as offering the use of tools. There is nothing like finding a friendly neighborhood!
And that brings us up to the present. I did some interior work over spring break, at least I worked on the days when the temps were above 20 degrees. And we had the septic system installed in the last few weeks. the shed was moved to its permanent location. We are ready for another summer of work!
the shed out back by the well... a few window boxes and a sunny day will make a big difference!
WOW! Everything looks good. [cool] What a wonderful location to build. I know how it is to build with just yourself and spouse....I'm doing the same thing. My husband and I are building on weekends in Arkansas. I tell him all the time that he works me like a man. :P But hey, I wouldn't have it any other way.
Fantastic! I love it.
wow very nice, what are the house dimensions? Got a floorplan of what it will look like?
http://www.pplans.com/store/cart.php?m=product_detail&p=660
this is the web site where i bought the plans. the dimensions on the plan are 18 by 26, but we already had a foundation in that was 20 by 26 ( talk about changing canoes mid-stream) so we added two feet to the width.
the designer calls the house carpenter gothic, and the exterior calls for board and batten siding. we will opt for cedar shingles with white trim, just like the shed. our lot is only 50 feet wide, so we had to find a narrow plan to work with the setbacks. we had to put the well in first since it is located near the back property line. The foundation followed and then the septic system. That leaves a little room for a garden out back and in the front, and a little grass over the septic system, and that is about it! The basement is supposed to be my boat-shop, but it is already filled up with stuff - and we don't even live there yet! oh well....
Terry, do you guys have pics of the house that you are building?
My husband and I are building on our own also. We started with a couple of friends/family helping and they have all slowly found other things that 'take their time'.
smcdaniel.. that is probably a good reason to keep the plan small! It is nice to know that friends are available once in a while, but i guess that i would be careful about tapping that resource too often.. do you have pics of the house you are building?
You can see it here: http://countryplans.com/smf/index.php?topic=6724.0
Awesome project. Love the shed. Can't wait to see progress on the house.

Can I ask how hard it is to install cedar shakes and approx. how many bundles you used on the shed?
thanks CBC. i was born in PA, but i lived in new england for about 16 years - the cedar shingles are definitely an influence from that time.. we don't see a whole lot of them down this way. in fact, my wife and I took our trailer back to NH to pick up a load because, locally, they cost about 3 times as much as up north. I am not sure that we needed to go that far, but we were headed in that direction anyhow.
I seem to think that we used 14 - 16 bundles on the shed. 4 bundles are approx one square at 5 and a half inch exposure.
As for putting them on.. no big problem, but it is rather labor intensive. we did it the old fashioned way - hammer and 2 and a half inch stainless shingle nails.. ( that goes for the house too. we don't have a nail gun) we nailed a 1 by 3 board up with two small nails. and then placed the shingles on it.. i set the first nail and then my wife followed and put in the second nail. I have read about using staples and a gun to put the shingles on.. i am sure that it is done this way commercially.
after they were in place, we put bleaching oil on the shingles. this helps them to weather evenly. i don't think that we will have to touch them for 25 years or more! let me know if this answers your questions.
ok.. time for a question of my own - the first of many, i am sure. i will be running 12 gauge wire throughout the house. is there any reason not to just use all 20 amp circuits and 20 amp outlets? is there an advantage to using 15 amp circuits and outlets? we are not quite ready to begin the electrical phase of the project, but i am beginning to purchase items that i will need. thanks!
15 vs 20amp is cost only. You can run 20 amp everywhere.
My camera batteries are dead, so I did not get a chance to take a pic, but... today was pretty productive. I got the interior steps built. This was something that i was putting off for quite some time. The plan involved three winders. I think that things worked out pretty well. Steps sure beat a ladder for getting to the second floor! Tomorrow I might get the rest of the interior walls finished. It has been raining, so it makes a lot of sense to be spending time inside, but I am anxious to get the deck down on the front porch. After that, the back deck needs to go on so that i can use it to put the last windows in. One thing at a time!
looks great!
ok.. time to add some more pics. here is the shed with sunlight, leaves on the trees, and flower boxes - quite a transformation from the first pic!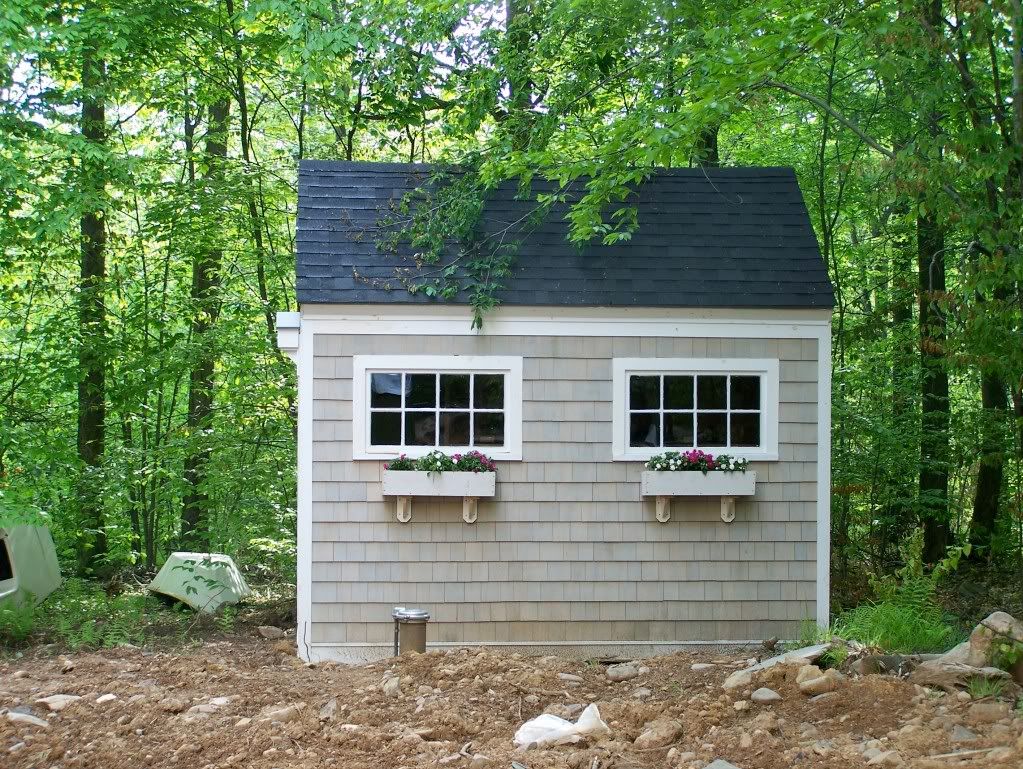 here are some interior pics. the first is from the kitchen looking into the living room.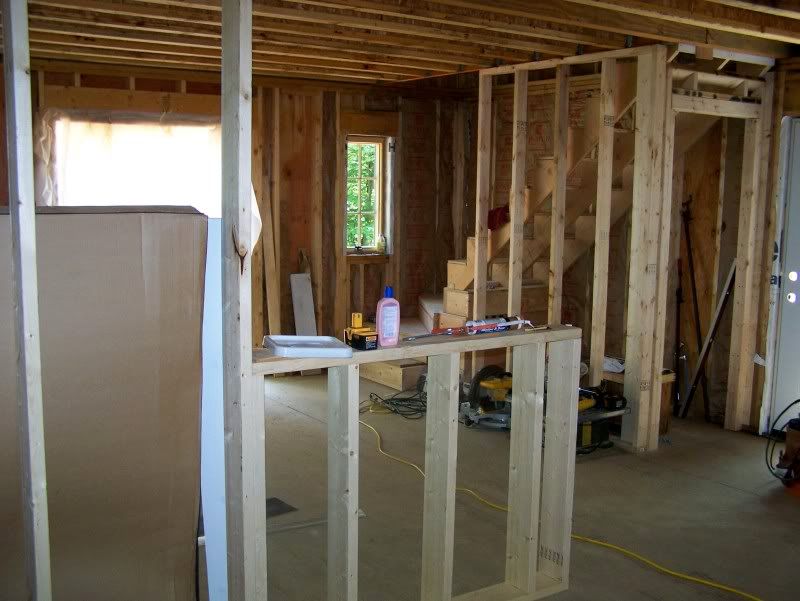 next we have the stairs leading to the second floor
the bathroom at the top of the steps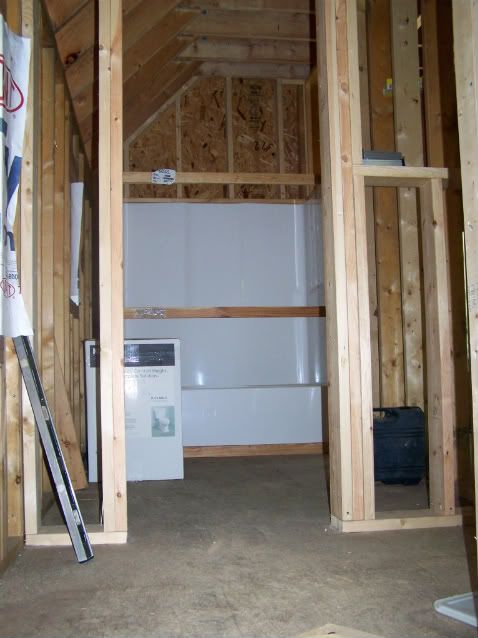 and looking through the closet space from the back bedroom to the front bedroom. I think that my wife and I will take the room in the front with the balcony!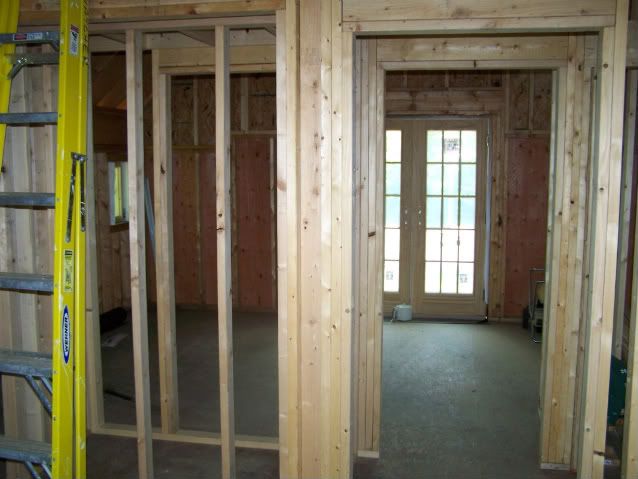 We decided that we really could not wait to plant a garden till the house was done... who knows how long that could be! So, here is a pic of my wife gathering the first harvest.. we had chicken and pesto sauce that night!
we are waiting for another sunny day before we take pics of the most recent updates.. the front door is in.. the deck is on the first floor porch.. if only the rain would stop, we would have made even more progress!
Looks great. :)
your place looks great! Is that a carolina dory to the left of your shed?
thanks devildog.. not a carolina dory, but a gloucestor light dory.. phil bolger is the designer.. my son and i built it a few years ago.. that happens to be my other hobbie, but i have sworn off boatbuilding until the house is done! ( or at least very close to being done. my wife needs a kayak ... )
I want to build my own as well ,18' carolina dory from http://spirainternational.com/hp_caro.html but decided to wait till after I was done building
hi devildog - i have not seen that boat plan web site before.. good luck with the project. the huge difference between a house and a boat is that you will be cutting a lot of straight lines with the house and all curves with the boat! i checked out your page - when will you begin the actual construction?
Hi P-C Can I ask a few questions?

First off great job on the stairs, that must of been a head scratcher!

How did you move your shed? I moved a 9x20 back 10 ft, used beams and metal pipes, but it looks like you moved your along way ???

What is this bleach oil for your shingles? Is it grey colored? They look wicked good.

Where did you live in New England? In NH?
hi secordpd - the stairs - they did take some patience :) thanks.... when the excavator came to put in the septic field, he put a big strap around the base of the shed and dragged it out back. there was a little damage, but nothing extensive, and it will be easily fixed - once i get around to it - that repair does not figure highly on my priority list right now, as you can imagine. we built the shed on skids, knowing that it would be moved because its original location was right on top of the septic field..
the bleaching oil is a cabot's product. I am hoping to dip the shingles before i put them on the house. I have read a lot about the reaction of cedar with the tyvek , and it does not sound good. the solution is to back prime, so the easiest way to handle that is to dip the shingles before hanging them. I learned about the bleaching oil when i worked on a job with some friends up in nh.. we lived in the lakes region - wolfeboro.
i like the effect - they will continue to turn gray, but in a somewhat even process, and the oil offers some protection. we will let them weather from this point, however.
pocono c, we're going up the last week in july to stay in a cabin down the road. at that time( we've got 6 days), im going to apply for building permit,and hopefully get well, septic, and alittle area cleared for the house. and within a month after that start foundation. Im a big procrastinator though, so we'll see what happens
So I've read, the solution to problems with cedar and tyvek is coating the back of wood. I was just reading the article in my Fine Homebuilding mag, It was the 25th ann issue. I try to reread them as a lot of times I forget all that good info. It's the same article that Paul Fisette from UofMass wrote about house wraps. Here's a link to article. It's probably the same theory why Scott used felt over house wrap. But if your building your house and doing it correctly then there shouldn't be as many problems I would think.

Heres the link Making sense of house wrap (http://www.taunton.com/finehomebuilding/PDF/Free/021177066.pdf)

It was written in 2006
Nice job pocono_c - looking great! Even the garden shows careful work pays off. :D :D :D

That Fine Homebuilding article is a good overview. In wet climates I would suggest stripping the Tyvek sheathed walls with 1/4" vertical strips under horizontal cedar siding. That will break the contact between the siding and the Tyvek and allow for drainage. It probably won't mess up the flashing or trim on the windows. In dryer climates this isn't much of an issue - only where siding can be saturated for extended periods.

I couldn't find the dimensions of the main house. And is that a platform framed 2nd floor wall with the rafters taking off just over the window tops and a rafter tie at the ceiling height? Doesn't look balloon framed like my 1-1/2 story design.

Coming along nicely at any rate. [cool]
Felt is pretty high tech. Have you ever noticed when it's wet is gets baggy and when dry it pulls up taught? Paper is after all just wood fiber and you are seeing it swell and shrink with changes in moisture content. When tarpaper is wetted the asphalt impregnated fibers absorb some water, swell and slam into each other tightly. Since they are coated in tar they block the passage of liquid water. As it dries out it releases that stored water, shrinks and opens up passages where vapor can pass thru. None of the synthetics can do that nor can they store and release a small amount of water so any small amounts that get through are wetting something else. The downsides to felt are that sun tears it up pretty fast and it tears in the wind. So it is best to install it as you go.
Yes, the more I see the alternatives the more respect I have for good old tarpaper.

For durability, when left exposed to light and wind, our little 10x14 Little House cabin (http://www.jshow.com/y2k/listings/3.html) is still unsided. It has now had 9 years of exposure with stapled 15# tarpaper. The felt has pulled away from the staples a bit and it is showing its age but no leaks and no ripped off sections!

On the other hand, our 1987 addition to the main house was sided with Tyvek and the same horizontal cedar siding that the main house (using 15# tarpaper) had installed four years earlier. When I recently replaced some damaged boards on the south side of the addition the Tyvek below it just fell apart - it had no physical integrity left at all. Doing the same thing to the older part of the house the felt looks fine and it still intact. Neither the felt nor the Tyvek were left exposed very long during construction.
the second floor is platform framed. the wall height is just under 7 feet, and the collar ties are about 10 feet. With a 12/12 pitch, that still leaves standing head room in the middle of the attic ( for a short person :) - so that is giving us some good storage space. the dimensions of the house are 20 wide by 26 deep. the porch on the front is 8 feet wide, and we will put an enclosed porch on the back that is 16 by 12 feet.
i guess that we will stay with the tyvek for this project.. but i would definitely consider going with plain old tar paper on the next one!
my wife and I were reviewing our entire post this evening.. she correctly pointed out that she is going to have to check my spelling before i submit anymore posts! I guess that i get a little too carried away at times and forget to edit!
That's pretty interesting about the tyvek deteriorating that bad John. I've read about pressure washing with detergents compromising the integrity, but never heard that it fell apart...just makes me put another check next to the felt in the pros column.

I just see hundred year old houses with the felt still in tack, and think about how some times it's better to stick with the tried and true.

Sometimes that's good, but sometimes when new building technology is better, and it gets bypassed because of that 'tried & true' attitude, (ex. insulation) that's unfortunate also...
I used a product called Typar. It is more resistant to the suns UV's than the other stuff and does deteriorate like the other stuff does. I've had the Typar on since last fall and it shows no signs yet. Check out my thread for pics. Pete

http://countryplans.com/smf/index.php?topic=3252.0
A few years back, while doing renovations to my house in Mpls (built circa 1927), I had to remove parts of the stucco exterior to install new windows, etc. The tarpaper that had been used behind the stucco, covering the horizontal pine board sheathing was still in good shape - as was the sheathing. I'm sure the tarpaper was exposed to considerable moisture as the stucco was being applied originally, but it survived fine and prevented the pine boards from absorbing enough moisture to cause deterioration. I've done several roofing jobs over the years using asphault shingles, and prefer using 30# felt as underlayment, rather than the usual 15#. It's a little more expensive, and heavier to handle, but stands up to rain and foot traffic much better if the roofing job takes a few days.
Quote from: pocono_couple on June 18, 2009, 02:10:11 PM
We decided that we really could not wait to plant a garden till the house was done...

Hey, pocono_couple -
I'm
so
happy to see that someone else has their priorities straight! We have two tiny cabins and an enclosed rose garden, which we've built while waiting for money to fall from the sky so we can begin the real house. Of course, it helps a lot that we're living across the road from our own land.
And add us to the tarpaper fan club. Our little front-porch-with-a-tarpaper-shack-on-it has weathered its first upstate NY winter like a champ, and has only recently acquired a bit of real live siding (and windows, since this photo!):
Your place is looking beautiful, by the way. I really appreciate the info about the bleach oil, which has been squirrelled away for future reference. I picked up 10 boxes of cedar shakes three years ago, but of course we're quite a way from using them.
Keep the photos coming!
hi woodsprite, we checked out your blog.. very interesting reading! i tried to leave a comment on it, but was unsuccessful, so i sent an email to your acct here at country plans. it is nice to see that your garden is doing well! it looks like tomorrow will be sunny, so i should be back to the house, and maybe it will be a good time to add a couple of pics..
right now, we are working on the deck in the back which we will use to reach the higher points in the back. a few more windows and a door on the back and we will be entirely closed in. i think that the electric panel will be next so that i don't have to keep running a generator. it will be nice to have peace and quiet once again!
we have not had very good weather for taking pics, but here is the garden. things are progressing pretty well. i am afraid that the squash is going to take over half of the box!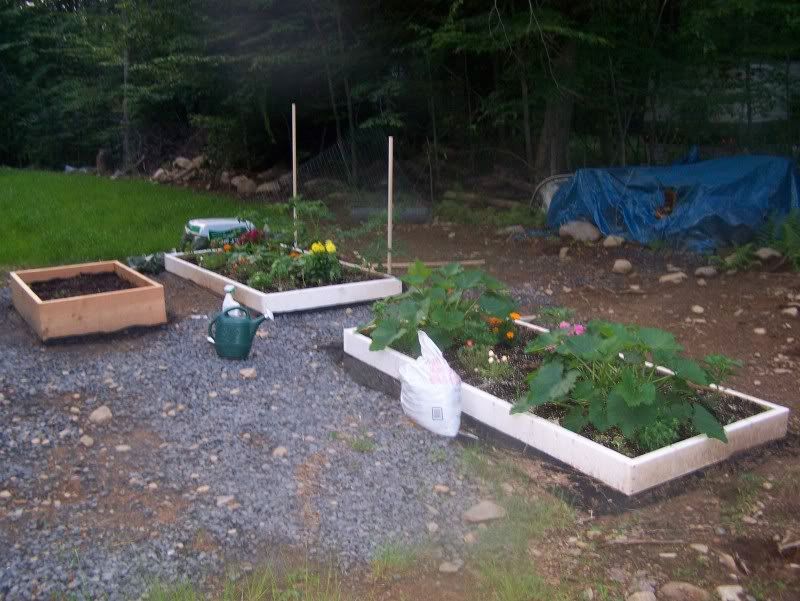 Here is a pic of the side porch. I have been trying to figure out the best roof configuration. I think that i will end up with a regular gable roof ( as opposed to a shed or hip roof) just in case we end up expanding out this way some day in the future. we could then easily use this as a connection.
here is what i have been working on most recently. I was hoping to put two four foot wide barn style doors in the basement ( just in case i built a big boat down there). but, we decided to close that in and install a regular door and a window instead. the deck is going to be 16 feet wide by 12 feet deep. We are leaning on closing this in as a screened porch so I have been doing some research on screened porches. I know that I will loose a fair amount of light in the kitchen where we happen to be putting in a very nice window. I am wondering about making the outer wall 9 feet high with some tall openings so that light will still get to the kitchen. any ideas are welcome. I have a little time to mull this open because it isn't going to happen tomorrow! ( but maybe next week :) )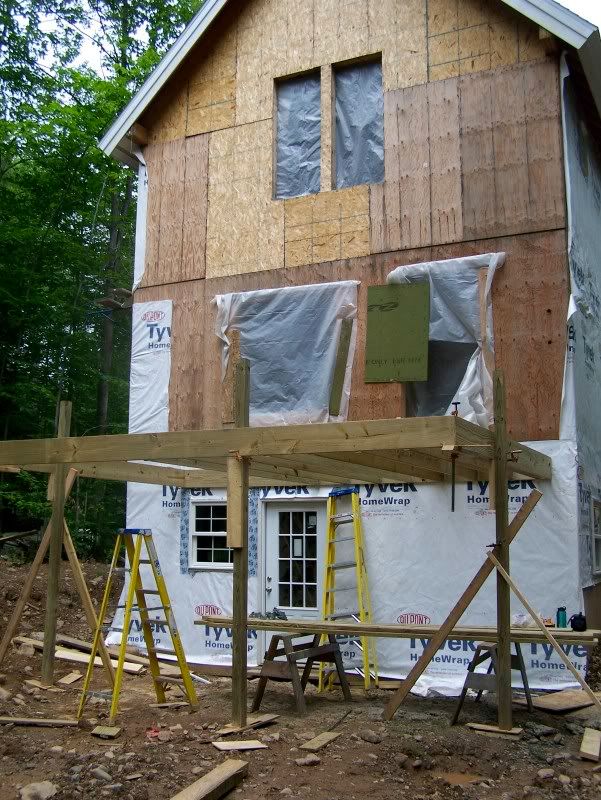 The deck ledger needs a flashing behind it that will lap over the siding below, that flashing needs to extend up above the ledger, then another flashing needs to go above it and over the ledger to kick water out. That upper flashing is tucked under the future tyvek above. The ledger also needs to be bolted to the wall adequately. This is a link to a good deck construction guide,
http://awc.org/Codes/dcaindex.html#PostFramePubs

Wow looks great! Nice job! I like the garden too! ;D
thanks Bishop! the credit for the garden goes to my wife. she has been the driving force behind it. we are all looking forward to some zucchini muffins...
don, thanks for the comments and the link. I have flashing in place along the top of the ledger. the next layer of tyvek will cover it on the wall side. I also used half inch lag screws in the ledger. I will go back and add through bolts of the same diameter. the whole deck will be closed in and covered by a shed roof within a short period of time so i am not quite as concerned about the flashing below the ledger, although, I can see how that would be important if we were leaving it as an open deck.
You're really making some good progress! Garden looks healthy & beautiful surroundings 8)
thanks, sassy. we hope to add to the garden over the years. i checked out your blog. it looks like you guys are doing some pretty cool things!
I bet that squash will take over a lot more than the box. Looking good.
I think more people should share pics of their gardens. Its especially relevant in this day and age with peak oil ( and the cough* - depression were in). I can't wait to work on mine.
we are making some progress on the back of the house. this evening we put the final windows in place ( although i might add one more in the back to give that attic some natural light) These were pretty big windows. I am glad that they are in place! Next item on the agenda is to put the permanent posts in for the deck and to finish putting the decking down. I think that project will have to wait till next week!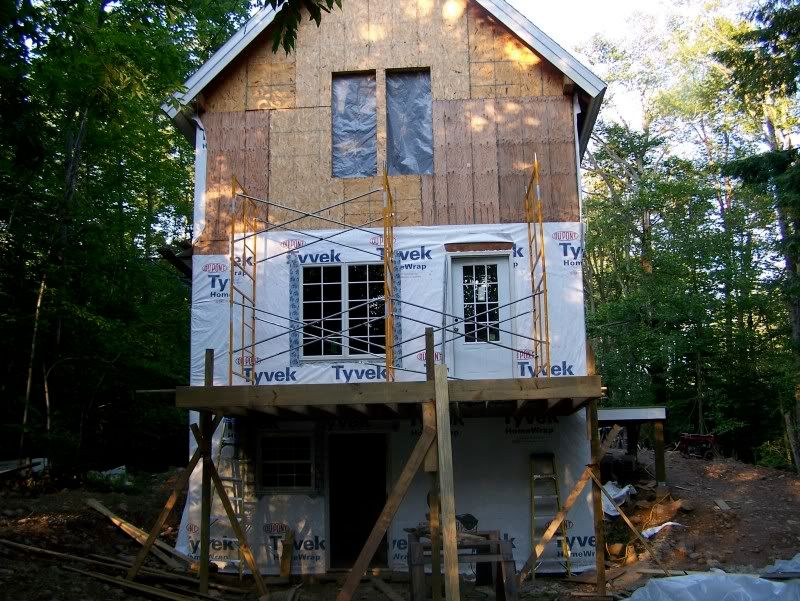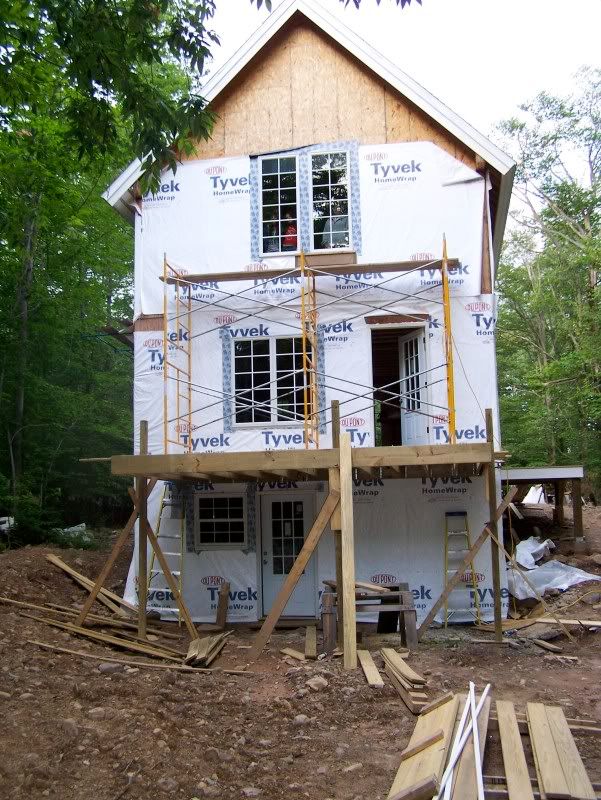 Great progress. Wow, thats pretty high staging there...your brave! Are you screening that deck in or making it a 'sun room'? Is it going to be heated or conditioned.
thanks secordpd, it is pretty high.. and we have not yet reached the peak! i am planning on closing it in and making a screen porch for the time being. later on, we will add windows and heating - most likely a wood stove. along with the benefit of having some extra space, i am planning on using the roof to make it easier to access the top of the building. that should help out as we get closer to the top.
I like your newly installed large windows. They appear to be fixed, is that right?

Since I am trying to decide which windows should open vs. fixed, I am interested in your rational. I would like the cost savings and less potential leakage of the fixed window, but..... :-\
Quote from: pocono_couple on June 26, 2009, 10:45:18 AM
hi woodsprite, we checked out your blog.. very interesting reading! i tried to leave a comment on it, but was unsuccessful, so i sent an email to your acct here at country plans. it is nice to see that your garden is doing well! it looks like tomorrow will be sunny, so i should be back to the house, and maybe it will be a good time to add a couple of pics..
right now, we are working on the deck in the back which we will use to reach the higher points in the back. a few more windows and a door on the back and we will be entirely closed in. i think that the electric panel will be next so that i don't have to keep running a generator. it will be nice to have peace and quiet once again!

Hey, p_c...we're finally back from a little tour, and I've answered your lovely pm. You (and the squash) have made a lot of progress while we were off galavanting! Love those windows...
thanks, poppy. the windows are actually casement windows.. it will be interesting to see how they perform over the long term. My understanding is that, from an efficiency standpoint, casement windows are the best option for an operating window. We decided that we would not spare expense when it came to windows, so I went with the 400 series anderson windows with wood trim on the interior ( we are using as much wood as possible). These had to be on the large side because of the egress requirements.
when we first started, we were considering another cape style cottage, and i wanted the windows to look as old as possible. I was hoping to use wood windows with a single pane of glass.. the code officer set me straight on that! we are expecting to have a hint of victorian trim on this house. I am currently researching the exterior trim for the windows. we will see what we settle on...
Thanks for the explanation on the windows. That gives me more options to consider.

I am trying to buy windows at auctions and on craigslist.
Casement windows come up for sale sometimes and may just work for some of my applications.
Hi everyone! it has been a while since we have had any new pics to add. August was dedicated to traveling - we took a 2 1/2 week camping trip up through the 1000 islands and on into Canada. Quebec City was great - then we saw a lot of wilderness ( a whole lot) but, unfortunately, no moose - my wife was disappointed about that.. then on to Prince Edward Island where we did some great bike riding along with the typical Anne of Green Gables tourist activities.. then to Campobello Island for a quiet and more secluded setting - and a great whale watch.. Acadia was next.. more great bike riding and a beautiful camp site ( although, the girls were aghast that there were no showers at the national park campground.. ) along with some great hiking - we loved the "Bee Hive" a few nights in Camden, ME, and then on to spend the last few nights with some friends on lake Winnipesaukee in NH. It is not too often that we will be able to find a chunk of time like that to spend with my step-daughters, so we figured that the house could wait! by the time we got back to PA, it was time for an annual trip back to Maine to Chewonki with 25 ESL students ( this was the sixth year for this trip). This represents the beginning of the school year for me, and, even though I convince myself each year that I will have time to sneak out to work on the house during the fall, it just does not happen!
So, here is an update on what we were able to accomplish over the last 6 months. I finished the deck on the back of the house. This included digging holes and pouring concrete and then putting permanent 6x6 posts in place ( i had temporary posts in place when i started the deck) We have determined that we will close this deck in as a screened porch and then, ultimately winterize it and use it as a den.
Over Thanksgiving we put a roof on the side porch. My son was visiting, and he helped me to start the framework for the roof over the front porch. I will use this as a platform to work from as I put the final touches on the trim on the front of the house before we actually install the roof. The code enforcement officer stopped by to check things out. He had one minor recommendation, and he was very helpful as we talked about the next couple of jobs to be done.
We thought that we might do some traveling over Christmas break, but stayed home insread. it turned out to be a very productive time. I got about 90% of the wiring completed. After making a mess of wood chips all over the second floor, my wife joined me for a day and worked on reorganizing and cleaning the second floor so that i could continue the drilling on the first floor..
I have a few more circuits to run on the first floor and then i can begin to hook things up in the basement. i have yet to install the service, but the conduit is run and ready to go.. any hints or thoughts about installing the service and main panel would be appreciated.. I think that i have all of the material that i need at this point, along with sketches from the local power company..
In the basement, i am putting an inch of styrofoam on walls and then putting strapping ( furring strips) over that.. followed by a 2x4 wall with fiberglass insulation.. the walk-out portion of the basement is studded with 2x6's so that will have regular 5 1/2 insulation in it. one wall is complete, so i only have 2 more to do..
I have been in touch with AIM to discuss radiant heat and "boiler in a box" it looks like we will go with propane for our major source of heat as well as for cooking.. that is about it for now.. i am looking forward to march break so that i can get out there and back to work! In the meantime, I am going to begin to work on some of the cabinetry.. here are some updated pics...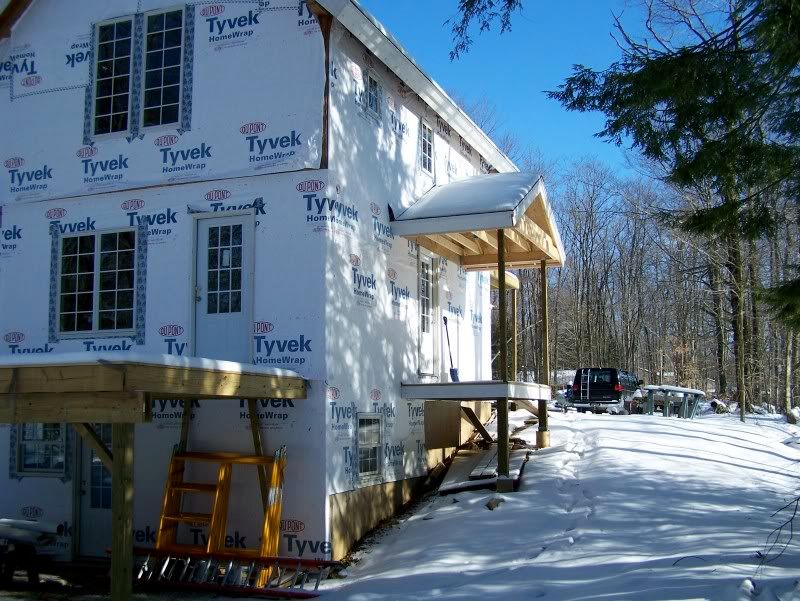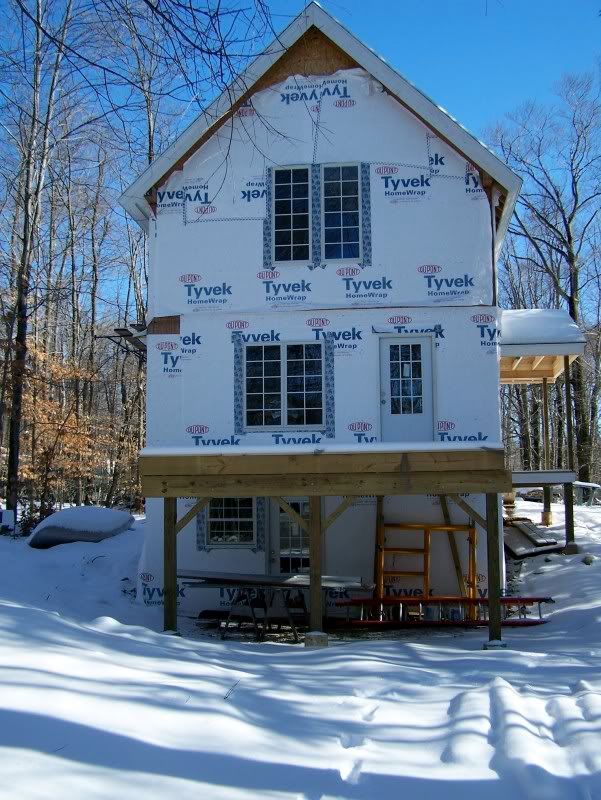 I just took these this morning.. beautiful day, isn't? What you can't tell from the pic is just how cold it is!!
You've done a beautiful job on the house. And the setting is gorgeous - specially with all the snow - what's the temp? Will this be your fulltime home?
thanks, Sassy. the high today is 20 with a low of 8 tonight.. of course, the wind was blowing this morning, so it was a biting cold.. for the time being, this will be a second home.. not that we have a first home.. i teach at a boarding school, and we have an apt in one of the dorms.. this, of course, enables us to work at our leisure.. but, after 10 years in the dorm, it will be nice to have a place that we can really call home, even if we don't live there full time!
ok folks, it is time to solicit some feedback regarding a heating system. the plan calls for a wood stove with the chimney on the side of the house. This would require a pretty high chimney in order to exceed the ridge line. We bought a stove, but the local stove dealer advised that a metal chimney on the side of the house would be exposed to snow sliding off the roof and might not last one season. So, we stored the stove and planned on putting in a gas stove which would require just a vent pipe sticking out of the side of the house. We then researched a variety of heating systems, including radiant in the floor, which we like a lot, but which will need supplemental heat on really cold days.. so we are back to square one - perhaps the biggest factor in all of this is that we want to finish the house on a pay-as-we-go basis which means not going in debt to install a $8,000- $10,000 heating system.

our goal at this point is to use the house during the summer and two to three days a week during the rest of the year. if we need to, we can shut the plumbing down and not use the house during the winter, at least for the next few years. I am convinced that we could be comfortable with just the wood stove for 8 months of the year, and further discussions revealed that we really should be able to install a metal chimeny on the side of the house with appropriate support.

so, let's assume that we install the wood stove and are content for 8 months of the year.. what inexpensive options do we have to keep enough heat in the place to keep things from freezing from Nov - March. or, would it be better to simply drain the pipes and shut it down for that period? the house is approx 1000 square feet with 2x6 construction. 10 inches of insulation in the ceiling. the basement is well insulated ... thanks for your thoughts!
Ive been trying to figure out what kind of heat and a/c I might use, inexspensive of course. these are a couple Im considering, theyre not $8,000-10,000.

http://www.houseneeds.com/shop/HeatingProducts/RoomHeaters/monitor/monitorheaterslineupindex.htm http://www.ductlessminisplitairconditioner.com/18000btuminisplitac-inverter.html

Darrell




why not run the woodstove pipe in the house (metalbestos) and out through the roof?
thanks for the link, Darrell. i have looked at the rinnai gas heaters.. the quote at the local dealer was $3500. the monitor is a little more reasonable, but i have heard that the rinnai is more dependable.. of course, i could buy two monitors for the $3500 !

cbc58 - inside would be ideal.. it is a pretty small house, however, and i would have to give up a closet in the bedroom to accomodate the chimney.. I don't think that i can get away with that since closet space is at a minimum already..

thanks for the thoughts!
Re: Monitor heaters. FWIW,

http://www.alsheating.com/MonitorHeater.htm
Quote from: MountainDon on January 23, 2010, 03:26:10 PM
Re: Monitor heaters. FWIW,

http://www.alsheating.com/MonitorHeater.htm

Scary site. Seems that he's claiming the heaters he works on are crappy products? Very weird marketing strategy.
Or perhaps that's not what he's saying at all... I can't really tell. ;D
maybe you could put something in the basement that's vented and then cut grates in the floor... just and idea. i saw something on ebay once... an old-style heater with a grate on top... not sure what it ran on.... that was made for that. think they were asking $200

i had a newer direct wall vent gas heater in one house I owned and i don't recommned it because of the uneveness of the heat and blasting fan.

i personally need to have a woodstove or fireplace in a cabin... wouldn't be a cabin without one. i can't wait to see inside pics of your house... as it is very similar to something that i would like to build.


thanks mountaindon.. i have visited this site a few times... it might be fair to say that this guy has some strong opinions... maybe i will write to him and get his input.. thanks!


hey raindog.. i agree, it is a little scary.. i don't think that he regards monitors too highly!
a friend of mine in canada has an outside wood furnace... which she likes... not sure how it works though.
hi cbc - where will you be building? I am hoping to wrap up the electrical phase of the project when i get back out to the house in march ( we have a break in early march) then on to insulation and dry wall. i will post some interior pics then.
New Hampshire - / Southern - Monadnock Region
neat.. i used to live in the lakes region before moving back down to pennsylvania.. never hiked monadnock, but i understand that it is very popular.. when will you start to build?
Quote from: cbc58 on January 23, 2010, 03:48:43 PM
a friend of mine in canada has an outside wood furnace... which she likes... not sure how it works though.

I had one of those wood furnaces in Virginia. Kept 1500 sq ft or so toasty all winter, and kept the water as hot and plentiful as anyone could hope for. Thing was a monstrosity, big as a pickup truck.
Only downside was, of course, that it devoured wood like crazy. Great if you've got a source of free or inexpensive wood and don't mind trudging out in the snow and feeding it before light, sometimes midday, and in the evening, though.
i wish that we could live at the house full-time.. i think that the woodstove that we have would serve as the main source of heat in the scenario.. the idea of a heater in the basement with some vents cut in the floor might be something to consider.. reminds me of my grandparents' place a long time ago!
As for the question of what to do in the winter when the place is not occupied for lengthy stretches of time, I'm of the opinion that it's better to winterize the plumbing and not to heat. That is unless the heat source is a paragon of reliability and the cost would not be greater than $50 for four months of sitting there. But that's just me. And I might balk at the thought of $50 being wasted. ;D Unless the most of the heat came from self powered or passive solar. :-\


there is something very logical about that thought, mountaindon.. i imagine that some drains placed in the plumbing and some rv antifreeze in the traps would just about do it..
People back home in Canada with summer cottages would blow out the supply lines with compressed air and put RV antifreeze in the traps. There were a couple of old geezers who made extra cash by doing the fall winterizing. I do the same with our cabin except that because there's no septic system, only a gray water system, I dispensed with the traps altogether.

When I plumbed it I also put in shut offs so I could isolate the bathroom shower. That way if we go up there I can turn on the kitchen sink portion without getting the bathroom pipes "wet". That saves on the time required to blow the lines out.

You can also use a wet/dry shop vac to suck the traps dry and plug the drains with a rag(s) to keep the septic/sewer stench at bay.
i like the idea of isolating each part of the water supply system with shut-offs. i used to work at a camp in NH where we used the rv antifreeze for traps.. it seemed to do the job.
the more i think about it, the more it seems logical to shut things down when we are not there... that way, we can put more of our money into the things that are essential right now like getting the outside finished and getting the sheetrock up.. i too hate the idea of heating space that is not being used!
Quote from: pocono_couple on January 23, 2010, 05:14:50 PM
i like the idea of isolating each part of the water supply system with shut-offs.

Is it plumbed yet? If you use PEX it's easy and you can buy manifolds with valves to take the branches off.
http://www.pexsupply.com/ (http://www.pexsupply.com/)
http://www.pexsupply.com/Crimp-Style-Manifolds-1826000 (http://www.pexsupply.com/Crimp-Style-Manifolds-1826000)
Quote from: RainDog on January 23, 2010, 03:36:11 PM


Quote from: MountainDon on January 23, 2010, 03:26:10 PM
Re: Monitor heaters. FWIW,

http://www.alsheating.com/MonitorHeater.htm



Scary site. Seems that he's claiming the heaters he works on are crappy products? Very weird marketing strategy.

Or perhaps that's not what he's saying at all... I can't really tell. ;D

I can confirm that Al knows what he is talking about. We were a Monitor Victim. Al is a straight shooter and likes to talk to you personally. He will not BS you. For your safety, he will no longer fix your Monitor product or even sell you parts to attempt to fix it.
We bought our current Toyo fireplace type heater from Al. He will sell you a good heater at the lowest price. He will no longer sell you a Monitor or parts at any price. Under the wrong conditions of failure they are very dangerous and the Monitor company being simply a random assembled parts broker does not give a crap about their product or servicing it.
Al doesn't put our heater to the forefront as it is a bit small for many applications but he talked with us about our use and size of our house in the valley and agreed it would work out fine under our weather conditions. Sassy loves it. She also talked to Al on the phone. She is well satisfied with him having the best price and telling her all about what it would and would not do. We highly recommend Al.
Al is exactly a straight guy like he sounds on his web page. He is a bit opinionated and direct but he will not steer you wrong. Daddymem also checked him out and agrees he is OK.
http://www.alsheating.com/ToyoHeater.htm
This is the heater Sassy talked Al into getting and sending to her. She loves it. It costs us about $150 per year for red diesel (off road) for her to keep the house warm when she is working. She is there every other week for about 5 days on the average.
http://www.toyotomiusa.com/products/laserventedheaters/L-60AT.mv
Al can tell you which size of heater is right for you. That is why he likes you to study his info then talk to him about your conditions and needs. He may seem a bit rude or direct but has your satisfaction as his only goal.
Note that I do not receive any money from Al and haven't talked to him in a couple years since shortly after his health problems. If you talk to him, say hi for me and tell him I hope he is doing well.
You will many times have to wait for a call back from him but he will call. He also take special care in packaging for shipping as he is aware of the product smashers at the shipping companies if it is sent out in factory boxes.
we hope to build next year.... maybe. i think Mt. Monadnock is the one of the most climbed mountains in the world. i'm itching to build but timing is not right yet. we may also look for some land farther north because of taxes.
How much are these Toyo units? say to heat a 1,200.sf. cabin? I wonder if the SHTF like some people say things will... if diesel will be easier to get than propane or kerosene...
thanks for the info, Glenn. it would definitely be worthwhile to give al a call and get his take on our situation. i am always looking for an excuse to go to maine.. although, i guess i better call him three days in advance and warn him!

cbc - i wonder how much farther north you would have to go to find a favorable tax situation. it sometimes seems that there is no logic behind the local tax rates in some of the towns even as far north as plymouth.. i guess that is just one of the premiums that one has to pay when living in NH. but, the scenery is great! have you settled on a plan yet?
cbc
QuoteI wonder if the SHTF like some people say things will... if diesel will be easier to get than propane or kerosene...
I saw an interesting program on cable the other night showing a man alone showing how to survive after a SHTF event. He siphoned some diesel from a filling station to run a hospital generator, and then found a diesel truck, and then made some diesel from vegetable oil.
I'm not sure about diesel vs. propane or kerosene, but this guy pointed out that diesel has it's advantages certainly over gasoline.
We can't remember the exact price on the Toyo and most applications may require a bigger unit but it seems it was around $1500 plus or minus. It is common for these type units to be around $2000.

Diesel is easier to get than kerosene in many places and off road diesel is cheaper if the stove will burn it rather than stove oil or kerosene. The Toyo will for sure as we have been doing it for several years with no problem... and Al said it was OK.
hi mountain don, a few posts back you asked if the house was plumbed yet.. it is not. I am leaning towards a pex system. Our neighbors said that the water is hard and that copper does not hold up very well over time. I imagine that the system will be fairly straight forward. we have a well so there will be a pressure tank in the basement. do you know of any free resources regarding designing the system? we have just one bathroom, the sink in the kitchen, and a washer. we will either have a small electric water heater or, possibly a gas on-demand heater. the design should include room for expansion for a powder room at some point. besides that, we need to include an outside faucet in the front and back.. anything else that I should be thinking about at this point? it seems like a manifold by the pressure tank would make things easy..

line fixture
1 kitchen sink
2 bathroom sink
3 shower
4 toilet
5 washer
6 outside faucets
7 hot water heater
8 future expansion

a second manifold at the outlet of the hot water heater
line fixture
1 kitchen sink
2 bathroom sink
3 shower
4 toilet ( thinking about a mixing valve before the toilet to ward off condensation on the outside of the tank in the summer )
5 washer
6 future expansion

does this sound reasonable? what size lines should i use for each of these fixtures?
PEX is so easy for DIY plumbing. Buy a good quality tool for the connections. Even a $300 PEX expander tool set is nothing compared to the cost of a plumber.

Our home uses 1/2 PEX for the lines to the individual sinks, laundry, toilets, tub/shower, etc.

There is a 3/4 cold line to the water heater. There is a 3/4 feed from water heater to the other end of the house where the bedrooms and bathrooms are. The heater is at the kitchen and laundry end. Ditto a 3/4 cold line between ends of the house.

I like the manifold system as it's easy to turn off one sink or a shower if work needs to be performed on a fixture.

We have one exterior hose bib on a 3/4 line. If it freezes where you are at all look into using the frost free type of hose bibs.




pocono,

we pay 2k yearly on taxes for a vacant 1.5 acre lot that is only accessible 7.5 months out of the year. With a cabin we anticipate total yearly taxes of about $4,500 which is hard to swallow. If we go north we can probably get our taxes down to 3k total on a year round parcel... but finding the right location is key.

our floorplan is not settled yet... but we are very much interested in the type of place you are building... with the classic look. i wish i could walk around in some of these cabins people post here because you can only tell so much from pics.
hi Don, thanks for the info regarding plumbing with pex.. i spent that last two days reading through material about the manifolds and fixtures.. it looks like the process should be pretty straight forward.. the bath and kitchen and laundry are all pretty close, so the materials should be minimal. i also noted that the manufacturer recommends supplying the exterior hose bib before connecting to the manifold.. that makes a lot of sense..

I have been reviewing your blog as time permits - great job! lots of detailed pics which are helpful..

cbc - i spent 16 years in NH - loved so much about it, but the taxes sure can be a killer.. I understand the argument regarding no sales tax.. i guess that it balances out if you are a big consumer.. but, if one wants to live a very modest lifestyle, the property taxes up there are kind of disproportionate.. in other words, a true homesteader would be better off in another state! PA has its downsides as well. i don't know yet what our tax bill will be.. we live in a county that had its first re-assessment in 40 years last year.. that shook a lot of folks up! I am hoping that the taxes will be in the vicinity of 1200-1600 , but that may be a little optimistic.

My property taxes went from 600.00 a year to 125.00. Great right no thats only because FEMA now says its in a flood zone.
ouch.. that is too bad.. where are you located?
kansas Your property looks wonderful I hope in a few years to start my house. Yea Im still going to build it on the land. I already own it what would I do with 10 acres if I didnt?
you guys are getting ripped on the property taxes. Ive got 2.24 ac.. When I bought the property acouple of years ago they were $7.63yr. Last year they raised it to $21.32.

But I guess it depends on where you live in this great country
ok.. so as soon as this house is built.. i guess we are moving to va! ( is that where i have to go to find tax rates like that?) i have a few more house designs in mind that i want to build as well! :) anyone else have a burning desire to keep building after completing the first house??

actually, the next house could very well be a houseboat - but i guess that is a different forum.. ( no taxes!)

hopefully, i will get some time in the shop today.. I am working on the vanity for the bathroom and a small spice cupboard for the kitchen.. we are pretty settled on interior paint schemes - at least on paper.. so I will get some of the paint and try it out on the pieces to see if we like it for real!
Pocono couple,
Unfortunately or fortunately DD found one of the few places in Va where that is true. While I love the area that they are in, most of the less rural areas of the state are in the 70-80 cents on the $100.00 range
So pick your area wisely ! :)
anyone else have a burning desire to keep building after completing the first house??

Actually I do. Ive had ideas about buying land and trying to build one house a year after we actually move to virginia. maybe trying to make a living out of it. I have drawn up many of my own plans. we'll see what happens.
Darrell
Great info on the PEX system. Any ideas on where to get a good manifold with shut off valves already installed? I found this one but was unsure if they are all the same or each brand is different? ???

http://www.pexsupply.com/Viega-MXBD14-3-1-2-14-Port-Compression-MANABLOC-6-hot-8-cold-5381000-p
hi John,
i have looked into the pex supply.. but I am also researching this site.. http://www.houseneeds.com/shop/plumbing/pexplumbing/vanguard/pexplumbingpipemain.htm
they have a lot of information that you can download regarding design of your system and different options..
it seems that there suggestion is that 3/8 inch lines will serve almost all of your fixtures. shower/tub and washers seem to be the exception where they suggest 1/2 inch lines.. so , i guess it is helpful to find a manifold that has outlets in both sizes.. they also suggest routing water to your exterior hose bibs before the manifold..
hmm.. i guess that i need to do a better job of proof-reading! :( ( i get too excited about sharing ideas on all of this building stuff..) "their suggestion" looks a whole lot better for that last post of mine!


Quote from: pocono_couple on January 31, 2010, 10:00:42 AMthey have a lot of information that you ....it seems that there suggestion is that 3/8 inch lines will serve almost all of your fixtures. ....

I agree that for most sinks and toilets 3/8" is all that is needed as long as there is sufficient pressure to push the water along. Every place you have a fitting the diameter available for water flow is much less than 3/8". I had considered 3/8 myself. But I discarded the idea when I realized that would mean another tool might be needed for crimping, plus the fittings, clamp rings and of course piping in another size. In my case I found that using what would then amount to three sizes of PEX would actually increase the cost of materials required, as I'd be buying smaller quantities of more sizes. Something to think about.
Devil dog..i'm so jealous. Those taxes are amazing. No matter how effecient I am with our building can never shave our taxes to that :)
Quote from: pocono_couple on January 31, 2010, 10:42:24 AM
hmm.. i guess that i need to do a better job of proof-reading! :( ( i get too excited about sharing ideas on all of this building stuff..) "their suggestion" looks a whole lot better for that last post of mine!

Even though I am a high school teacher.....I'm pretty sure we don't worry to much about grammar around here!!
hi john. I am a high school teacher too.. but as far away from the English dept as possible! - although i do enjoy discussing words and their usage with a venerable member of the English dept at breakfast each morning. He does not share my enthusiasm for building houses, however..
so , i did get to spend some time in the shop this weekend - never enough - i had to take some students skiing this afternoon.. that proved to be a nice diversion, but it sure cut into shop time!
the plan is to build our own cabinets.. this is what we have so far..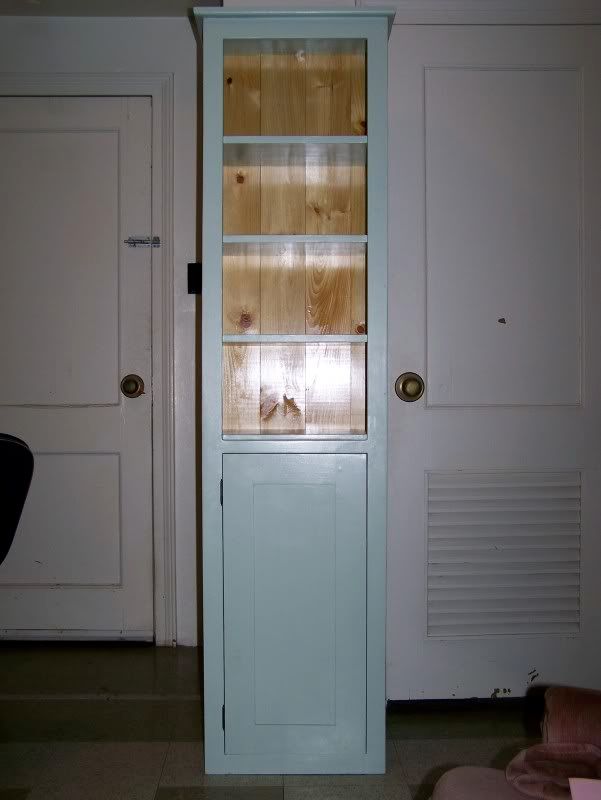 this is a chimney cabinet.. I am not quite sure where it is going to fit in, but i am think that we will find a spot for it.. we are using it to test out the light green paint scheme..
this is a spice cabinet for the kitchen.. there won't be a lot of room for wall cabinets.. in fact, there will be one large one and then this one tucked in next too it.. that is why the left side of the top is clipped.. we will have a pantry closet which will come in very handy..
there are still doors to be made for both this cabinet and the next piece which will serve as the bathroom vanity..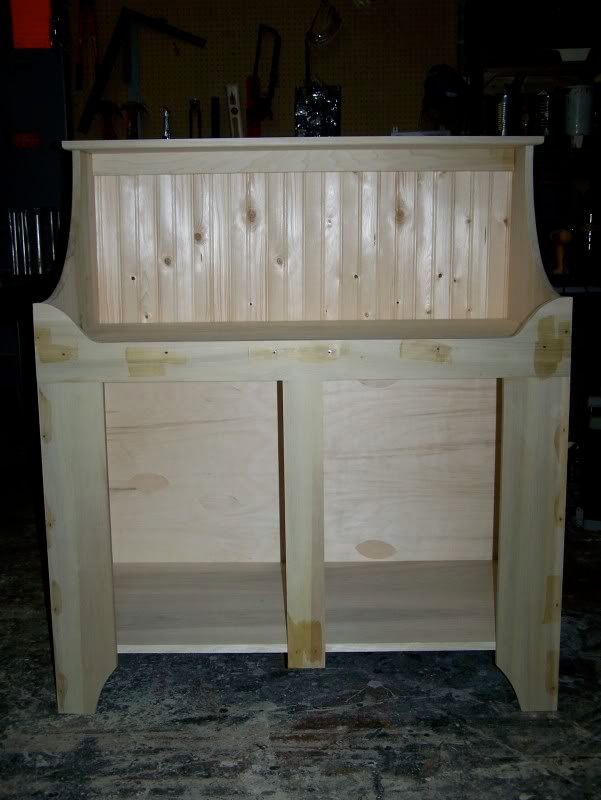 a colleague of mine from the art dept is going to make a bowl that we will use as the sink..
Don , thanks for the thoughts on the different sizes of pex.. the thought is that the larger diameter tube holds more water so it will take longer to get hot water to the fixture.. but, in our plan, everything is so close together, it will probably not make a lot of difference.. And, I agree that it will be easier to work with fewer tools and fittings etc..
We installed a recirculation pump in the hot line (actually at the hot water tank) to avoid water waste while waiting for hot water. The pump does use a small amount of electricity but in the desert water is a more valuable resource than the small amount of power. Once again, to us at least. That was a retro fit.

Our longest run is almost 60 feet. The recirculation pump saves a fair amount of water over the course of a month. That long run makes the use of a central tankless heater less attractive to me. I think if we were building this plan again I'd look into two smaller tankless heaters, each closer to the points of major heated water use.
Very nice job on the cabinets! 8)
thanks sassy - i am looking forward to getting them installed sometime this summer!

ok - next question.. in the short term ( 3-4 years) i am thinking of just putting luan down and sealing it for floors.. eventually, we will want tile in the bath and kitchen an hard wood floors in the rest of the house. we are leaning towards closing the house down for part of the winter.. the bathroom is on the small side - option 1 would be to just tile it and get things finished this year. this would mean not worrying about raising the toilet and vanity later on when we tile - but - if we do that, do we need to be concerned about the tile or joints cracking since the house will be exposed to cold temps inside ? thanks for sharing your thoughts!
Re the tile floor: I did the entire floor of our cabin in 12x12 ceramic tile. Last fall I installed Hardie backer board over the subflooring. Then when the weather was warm and staying above freezing in the spring I installed the ceramic tile. It's not been in a year yet, but so far there are no problems. The cabin floor has been through several cycles with the temperature going from below freezing to 75 degrees and back to below freezing.



thanks don - i appreciate all of the thoughts that you shared.. i am sure that i will have a lot more questions as we go.. i am glad to hear about your experience with the tile.. it really does make sense to complete the floor in the bathroom before we put down the toilet and vanity.. it will be an area of about 6 feet by 10 feet.. i think that i should be fine as far as temperature is concerned if i wait until May to get started on the tile work. i have yet to rough in the plumbing, so there is plenty to do between now and then!

the house is about 25 minutes from where we live. it is going to be nice to have a place to get away to on weekends.. there are times, however, when i am drawn to the idea of a place much more remote.. off the grid - very simple. i still have john's plans for the 14 by 24 builders cottage tucked away - but those are dreams for another time.. your place in the mountains is certainly inspiring!
ok - next item on the list. i noticed that woodsprite posted some interesting info on the general forum regarding the possibility of getting the tax credit if an occupancy permit is granted by the end of june.. that would be quite a stretch for us.. of course, it all depends on how far along one must be in order to get a permit! i guess that i will have to pay a visit to the code office. any ideas?

anyhow.. we had pretty much set our sites on installing the woodstove that we have instead of going the gas stove or gas heater route.. so yesterday i drove out to the dealer's office to see how much a pre fab chimney was going to cost - ouch! because of the location of the stove in the house, we would need quite a run of outside pipe at what appears to be over $100 a foot.. all in all, the cost would be nearly $3,000. i guess that i should have asked that question before... i did get a quote on a gas stove last fall. installed, it would be about $3,200 - and there may be a discount on that as we head into spring.. I know that we have to get off the fence at some point.. i really love wood stoves - but all kinds of signs are pointing towards the gas stove or gas heater... I was just talking with my step daughter this morning about the word " compromise" perhaps in this case, the smart compromise would be the gas stove.. looks like wood.. no mess, we can leave it running when we are not there... it has a thermostat that does not require electricity.. ( or at least a micro amount so i guess it would run on a battery - this is important since the power in our area often goes out)

any thoughts that you would like to share are always welcome!

btw - looks like we are going to get hit by this next storm - tonight and all day tomorrow.. maybe i will get what i wished for!
To receive an occupancy permit the premises normally have to be ready for moving in, ready to be occupied. Carpet or whatever on the floor, painted, electrical fixtures, plumbing all ready. At least that's what the inspectors here need to see.

Yes, insulated wood stove chimneys do add up in cost. :(
Quote from: pocono_couple on February 09, 2010, 12:05:20 PM
ok - next item on the list. i noticed that woodsprite posted some interesting info on the general forum regarding the possibility of getting the tax credit if an occupancy permit is granted by the end of june.. that would be quite a stretch for us.. of course, it all depends on how far along one must be in order to get a permit! i guess that i will have to pay a visit to the code office. any ideas?

I just posted a response in the tax credit thread, but wanted to answer your question here, too.
Unfortunately (for everyone else), our inspector is so wonderful that our experience probably won't be helpful anywhere else. When the tax credit deadline was extended last fall, we talked to him about it, told him honestly what we were hoping to do, crazy as it is, and asked him flat out what it would take to get a certificate of occupancy. His answer: "knock it together, close it in, make sure you have a front door and a back door, and we'll call it good." We're out of our minds to even consider it at this point, but before we got the bad news about the amount of the credit, it was looking like a pretty big carrot.
Of course, he wouldn't let us "knock together" anything unsafe or illegal, but if it meets those criteria, he's okay with it. Remember, this is the guy who said last summer, without a trace of irony, "[Our_Town] is
white hot
right now...got SIX projects going to once!"
So the answer is obviously "it depends". All together now: Make Friends With Your Inspector!
Fabulous
cabinetry, by the way!
well, good for you guys! and how far along are you?
i happen to think that our inspector is a good guy.. but maybe not quite that nice.. we will see.

glad you like the cabinets so far.. i can't wait to see the sink to see how it will all work out.. good luck!
It was nice to get a chance to spend the day out at the house today.. sorry that I did not take the camera - there was a little more snow out there than we got here in town, but a very thoughtful neighbor had our driveway cleared.. I decided to work in the basement and stopped at Lowe's on the way out for some materials. I also picked up some gas for the generator and some kerosene for the heater, although , is did not have to fire up the heater today. it was 32 degrees this afternoon - great working temperature!

the basement is a walkout basement. We will insulate the 2x6 framing with fiberglass. My plan for the concrete walls includes putting 1 inch rigid insulation and holding it to the wall with glue but also with strapping ( furring strips) which i am power nailing through the insulation - 2 1/2 inch nails with a number 4 charge seems to be working quite well. then, i am framing a regular 2x4 wall with PT plate on the bottom. so far, the drains seem to be working, I have yet to see any water in the basement, but one never knows.. plenty of electrical outlets will be located in the framed wall - this space will be used primarily as a workshop.. in fact, i was looking at plans that i bought for a kayak that i want to build for my wife.. but that will have to wait a while! the 2x4 wall will have fiberglass insulation - the airspace due to the furring strips should help to keep moisture away from the fiberglass..

so - I am 2/3 of the way with the rigid insulation and inside wall.. made good progress today.. I hope to make it out again next weekend. The next step is to finish up the electrical stage and then call in the code enforcement guy to see if he is happy with what i did. if so, we can call the power company and get hooked up! no more messing around with a generator..

so here are some thoughts that I thought i should share while working today..

1) if you are going to buy a generator.. spend a hundred or so dollars extra and get a bigger one than i got! ( 3500 w)

2) pay particular attention to where you stack materials.. when one is working by oneself, which is typically the case with our project, moving a stack of 2x4's for the third time is a real drag!

3) A couple of years ago I was building a canoe with a student of mine, and we got to a point where he asked a question, and I said that I would have to think about it for a while - he looked really dismayed that I did not have the answer right away. My response was " if we waited to start building this thing till we knew all of the answers, we never would have gotten started!" I have to remind myself from time to time that this project is also a learning experience.. I think that it was someone on this forum who said that you have to build 3 houses before you really know what is going on.. i tend to agree - there have been a few disappointing moments.. like when i dropped an 8 foot section of wall off the back of the house ( first i said to myself.. wow - I am glad that I did not go with it! and then I got angry for a couple of minutes.. and then I realized what a neat problem solving situation it was - 2 hours later, the wall was back up on the deck and in place)

4) I am not sure if I have done anything in my life quite as interesting, challenging, fun, worthwhile , fulfilling - the list could go on for a long time, and we have not even moved in yet! I am sure that those who have built home or who are building right now would agree..

I will try to add some pics next week...
what a beautiful weekend! I think that I 40 degree temps make for great working days. I was fortunate enough to get out to the house both yesterday and today. Yesterday I worked in the basement. I finished insulating the second wall. here is a pic of what it looks like at this point. I will be adding insulation to the stud wall before the sheetrock goes up.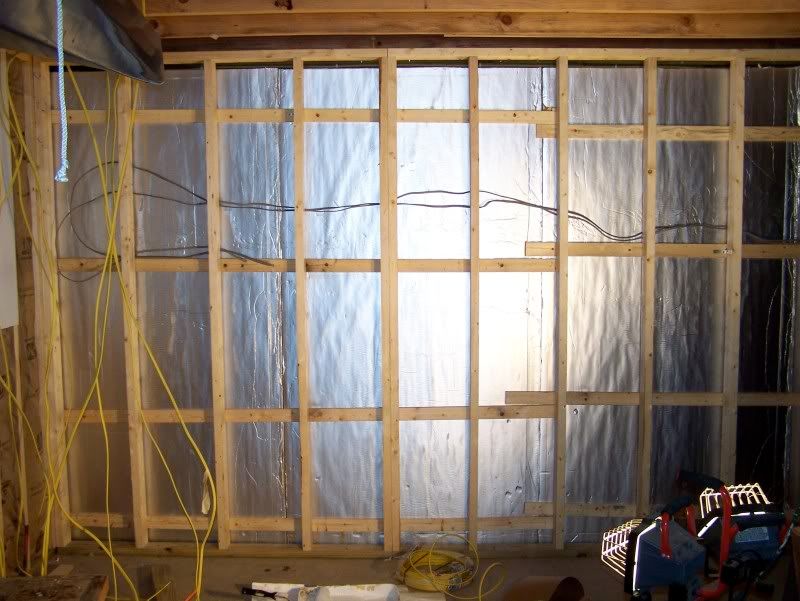 I put up a board for the electrical panel and painted it.. I am sure that the electricians in the group will cringe at the extra wire that I fed to the panel... i just didn't want to end up short! Every wire is labeled and ready for the panel as soon as i get it in place..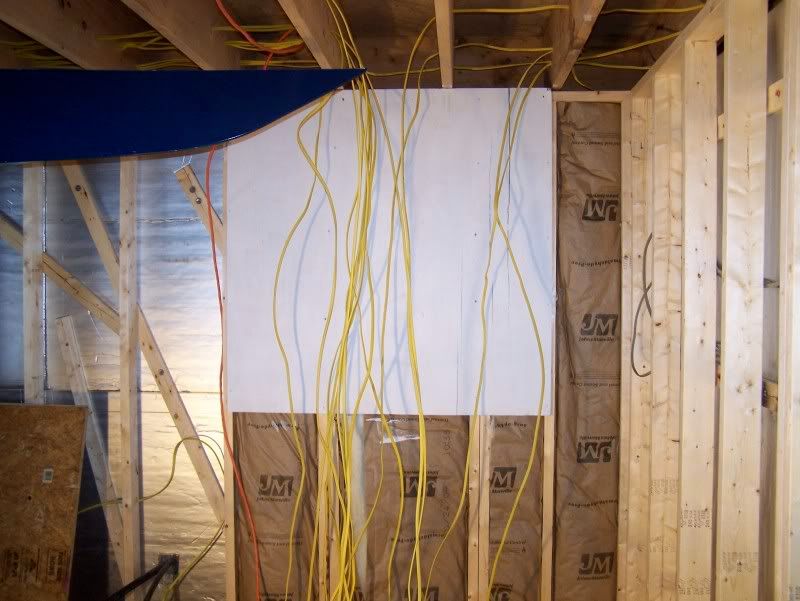 the next shot is one half of the basement, looking towards the back.. notice the workbench in place already.. looking ahead to building some kayaks - like the one hanging from the ceiling.. it seemed like a great place to keep it inside for the winter, but I have bumped it numerous times.. and it is in the way of the lighting that I need to install, so pretty soon, it will be outside. the next one i build is going to be a cedar strip model.. in the meantime, the workbench is coming in very handy! the shelves on the left are going to be moved once i get the sheetrock up = more building space!
this is a view from the kitchen, looking out the front door.. it sure was a bright day... you will notice some items that are not usually in house that are under construction ( mattress, chair.. etc.) we were tired of paying the fee for a storage place, so we moved a lot of things out to the house.. i am glad to be saving the fee, but it is a hassle, working around furniture and the shelves in the basement.. maybe next time, we will just get rid of the extra stuff!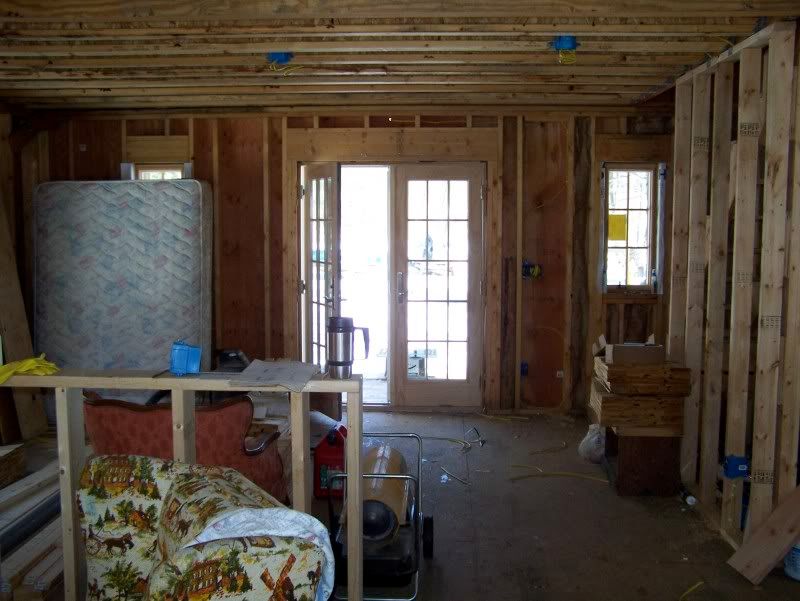 the main goal for today was to start putting some ext. trim up.. you will notice the two front windows trimmed out as well as the corner boards.. just need to get around the doors and then i can start nailing some ceder shingle up.. I can't wait to see how that it going to look.. the real reason for the trim, however, is that around the side of the house I needed to put some horizontal trim ( water table) on so that i could offset the electrical service.. forgetting one of the boards that i painted last night did not help matters, but I made due and got quite a lot done today..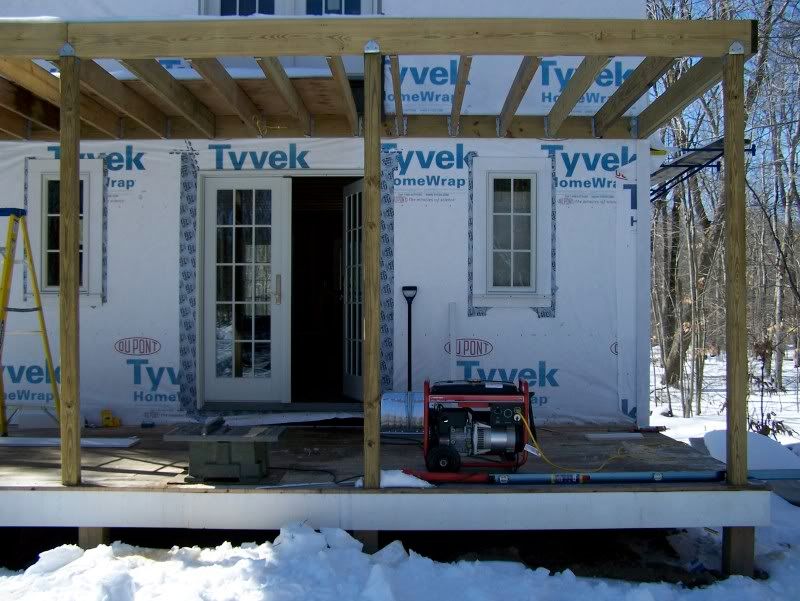 spring break is just around the corner.. a quick trip to vt to visit my kids, and then, hopefully a string of days like this weekend will enable me to work outside - can't wait!
Wow, another boat builder! [cool]
That's a nice looking kayak! What kind of construction is it?
What kind of canoe did you build? Any pic's? ;D
A couple of years ago I decided to build a cedar strip solo canoe. I had NO idea what I was doing, but didn't have to the money to drop on a kevlar canoe, so decided I had to build one. I made a lot of mistakes, but also learned a lot. I'm pretty sure that if I never built that canoe I would never of had the confidence to try building my own house. ;D
After I get the house done I really want to build a tandem. Not sure if I'm up to building a yak yet, looks a lot tougher than a canoe! d*
Here's a pic of my Merlin solo canoe.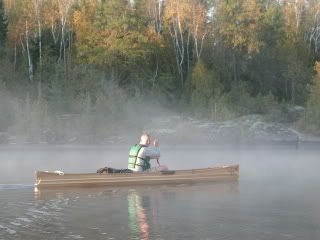 You guys pick the hard boats to build. As soon as my house is done and were settled in,I want to build this 18'carolina dory to take my little girl fishin in. at least they make it look easy to build. and I'll probably test it a couple times before I let her in.

http://www.spirainternational.com/hp_caro.html
hey beavers... thanks for the shots of the canoe.. nice work! i left a post on your page..

devil dog.. i think that we chatted briefly about the boat building back in the summer.. you saw my dory in the pic of the shed.. that was one of the easier builds, but the skills that you will pick up with that project will be directly applicable to a kayak or canoe.. once you get one project behind you, it is hard to stop! I look forward to more boat building in the future.. for now - gotta keep focused on the house - there is a lot to do :) - of course - there is always time to chat about boats....
I love the way your project is coming along.

I was hoping you could share your experience with installing your septic system. I had looked at some properties in your area and was shocked at the price for a septic system around there. Some of the estimates were in the $15- $25k range.

Is your a raised and pressurized system? Do you mind if I ask how much it cost?

thanks.
when we bought the property, the septic design was already in place, although, the time limit was nearly up. we had to have the inspector come out and verify the holes that were dug for the original perc test and then got a 3 year extension. i think that may have cost $75 or so. the real plus is that it was an in-ground design - practically level with the existing grade.. that cut down on the costs.. so i think that the final bill was just under 6k. I have heard that most of the newer designs in this area ( NEPA) are "turkey mounds" and that means bringing in a lot more material with significant added expense. Frankly, I don't think that we would have bought the land if it was going to cost 15k for a septic system.. I have an old book that makes a strong case for an outhouse being the best design to deal with human waste.. i guess that current building practices in this area just won't allow that, however! in reality, my wife has been really flexible about a lot of the building process, but i suspect that she would have drawn the line if i suggest that we did not need indoor plumbing! :)
where are you thinking about building?
thanks for the info.

From what I've found it seems that the new requirements almost universally require the "turkey mounds" and a pressurized system which are very expensive, and require a pump and are more complicated than gravity systems. Good thing you could use the old type system.


??? I have an electrical question. I am hooking up my smoke detectors.. 12/2 with ground wire to the first detector and then 12/3 with ground wire after that, using the red wire to connect them all together.. so the ground is connected straight through to the last detector.. what do i do with it at that last detector.. this is probably so obvious for electricians - there is no mention of it in my book.. thanks!
Not all detectors have the feature where if any one detects smoke they all go off together. I believe that is what the third conductor is for. The ground wire will just end at the last box if the box is plastic and there is no ground terminal on the detector.


There is an interconnect wire between smoke detectors so that if one goes off they all go off. The red wire they are connecting to is the interconnect wire and is what the third wire in the 12/3 is used for. You can put a wire nut on the bare wire on the last detector.

thanks for the responses.. yes, the third wire is to connect all of the detectors so that if one goes off the rest will join in.. looking forward to another day of wiring tomorrow! not much that is picture worthy, though, I am afraid.
You could show how neatly you've done the job. ;D
I have Kidde and have them hard wired. Maybe this will help. Page #2 for wiring. There may be a better page I didn't look further.



http://www.kidde.com/utcfs/ws-384/Assets/i12080_Sheet.pdf
Hello! It has been quite some time since I have posted any pics. I always kid myself into thinking that I have time in the spring, but the reality is that I hardly got out to the house at all during April and May. But now it is summer, and school is over - the kids are pretty excited, and so are the teachers! So, here is what I have accomplished since the end of school.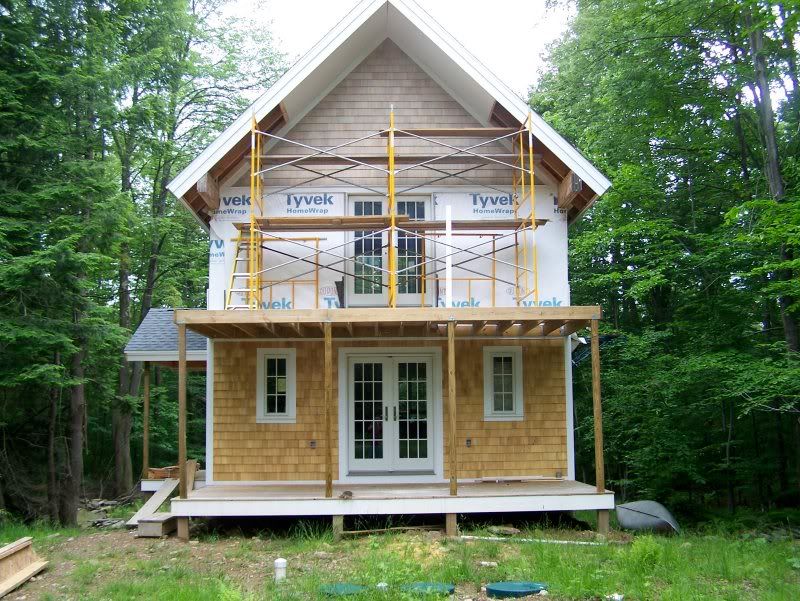 The shingles in the peak are in place, and I have already put a coat of bleaching oil on them.. we are waiting on some trim pieces to install , and i still have the final coat of paint to do.. I am waiting to put the roof on the porch till everything else is done, including loading the drywall for upstairs - that will be a lot easier before the roof is in place!
the shingles on the first floor still need a coat of oil.
Yesterday I decided that it was time to tackle the meter base and the electrical panel.. I am tired of firing up the generator every time that I need to use the saw!
hopefully, this will be agreeable to the inspector.. i am going to stop to see him this morning on my way out to the house.. the panel is in place in the basement, and now I just need to start feeding the lines into it.. ( i should be careful about using that word "just" it gets me in trouble every time! )
There is plenty of shingling on the other three sides of the house to keep me busy.. but, at least we are getting an idea of what the finished product will look like!
well, I spent the better part of the day running cable between the panel and the meter box.. maybe it would be more accurately described as fighting the cable - and losing miserably. Today was one of those days when lots of things just did not go right. But, later in the afternoon I went over to see if my neighbor could lend a hand, and eventually, he went back to his garage and returned with a coil of copper cable.. that made all of the difference. We pulled the alum. wire for the third time, and in less than an hour, we had the job done.. thank God for neighbors! He would not let me compensate him for the wire.. i guess that I will have to bake him a loaf of cinnamon / raisin bread!

So the inspector is due to show up tomorrow.. the cable is in place. the panel is grounded, and an outlet next to the panel is wired.. that should be enough to give us the ok, unless he happens to be concerned about anything..
Today things got off to a better start. Maybe it was because we slept in just a bit! The inspector spent about half an hour looking over all of the electrical work and then gave me a sticker.. how about that! now we just need to get PPL to come out an hook us up! it will be so much nicer working without the noise of the generator.. so the only thing left to do is to run one more circuit for the exterior outlets and lights.. the inspector asked me to put the smoke detectors on a circuit with a light.. I had originally planned on having them all on their own circuit. the reasoning behind the request is that we might not recognize if there was a fault on the smoke detector circuit, but if we find a light malfunctioning, then we will know that the circuit needs attention..
any thoughts on this idea??
I don't know where the time went! For most of the summer, up to this point, I have been working at school in the morning and then heading out to the house project after lunch. Usually, I get to spend 6- hours out there, and most days have been pretty productive. Of course, there are those few when nothing seems to be going as planned, but we have been able to keep them to a minimum.
so here we are, hoisting sheet rock up to the second floor. Those big doors on the second floor come in quite handy!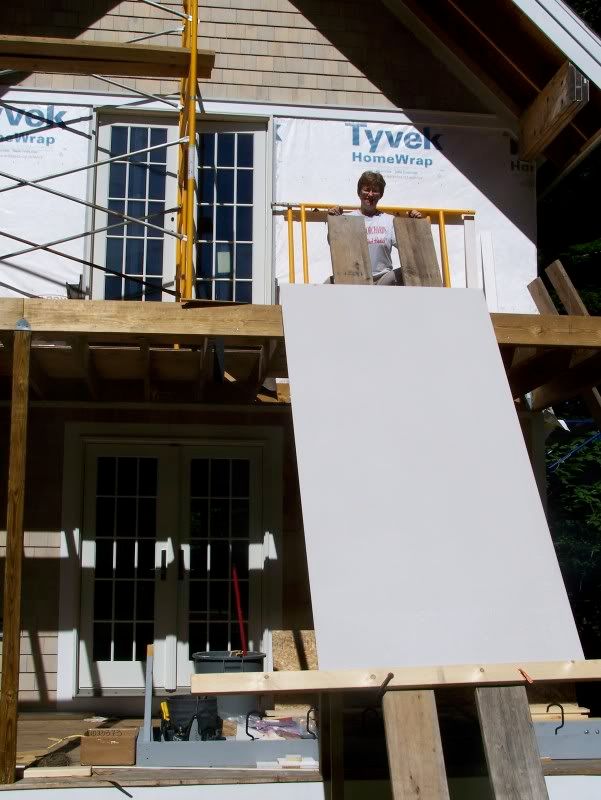 the first few went up easy - by the end of the day, the 10 footers got a little heavy. The inspector gave me the go-ahead to sheet rock the ceiling on the second floor, so that was the goal for this particular weekend.
a number of years ago i built a bike rack for the basement of the dorm where we live at school. This spring it fell off the wall, and no one seemed particularly interested in getting it back up on the wall, so i took it out to the house and turned it into a "temporary" kitchen counter. it really is temporary, we just are not sure how long temporary means at this point! a piece of osb covered with some luan and 4 coats of varnish later.. this is what we ended up with. the shelf unit is above the counter is one that i built many years ago. this is the fifth house in which it has seen use. it is getting a bit beat up at this point, but it will serve for a time, along with the counter!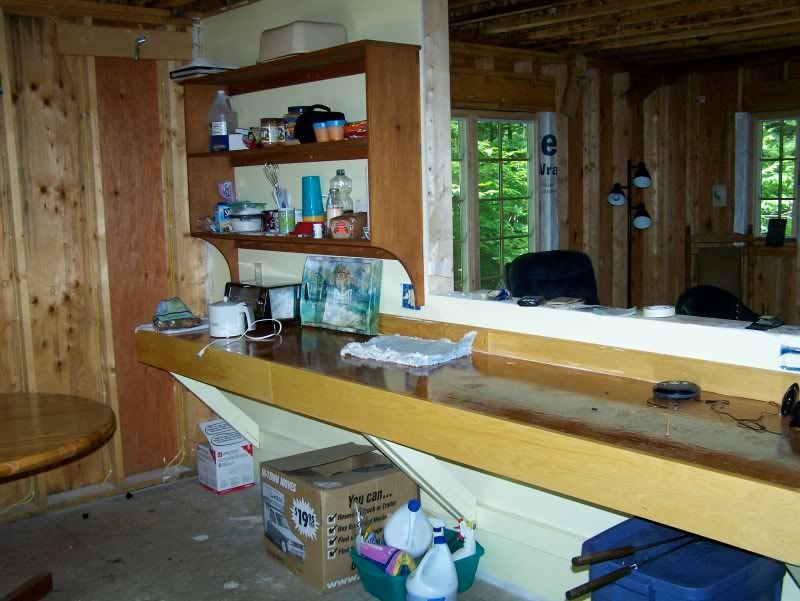 i read an article in Fine Homebuilding in which the author advises never to move into a house that is unfinished.. but ours is going to be unfinished for quite some time, and we were really ansty to get out there and stay over night.. so, i surprised my wife by stopping at Penny's on the way out to the site a few weeks ago, and i tried to make things look as home like as possible! it worked :)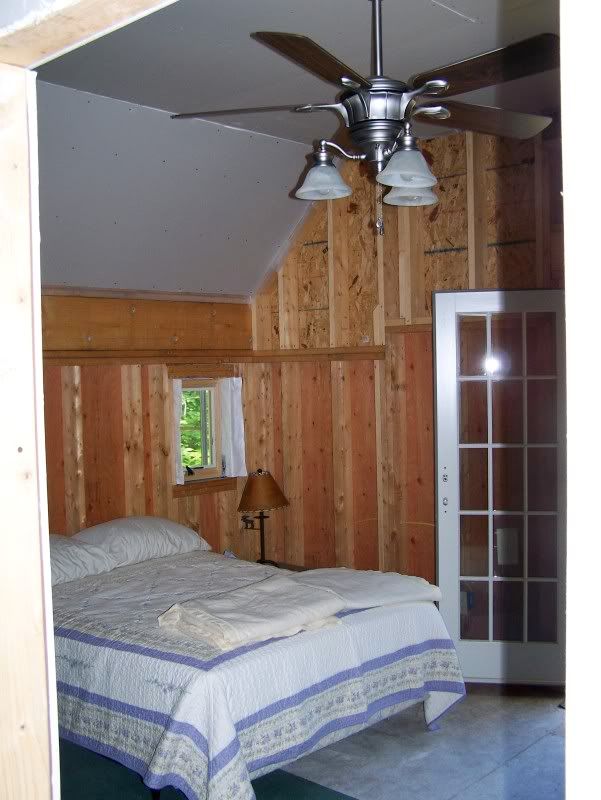 now - this has yet to prove itself, but we are not planning on heating the house for the next year or so. we will put a wood stove in and possibly use it for vacations, but that is about it. with this in mind, i decided that i did not want to put in a pressure tank and run water throughout the house. instead, i installed a pump right on the well.. the pump comes from Maine - bison pumps.. it is not cheap, but it is going to give us the water that we need, and I have a plan ( as yet untested) to pump water up to the attic where i will install a tank ( just arrived this week) from there, i will feed a line down to the toilet below. and possibly to the shower .. the pump is a deep water pump ( 200 feet) but i only have it down 32 feet. our well is 300 feet deep, but the water level is just 15 feet down ( 50 gal per min) at this point, i am still pumping out rusty water. we will be gone for a while, so, hopefully, all of the sediment will have a chance to settle down.. and then we can begin testing out my plan! if all else fails.. at least we can take a bucket of water up to the bathroom to flush the toilet!
the panel is looking a little more organized than the last photo that i submitted... i was surprised when the inspector told me that he wanted the smoke detectors to share a circuit with something else.. i guess that the logic is that if they are on a circuit by themselves and the circuit goes bad, we might not realize it right away.. so I tied them together with the canned lights that i just installed in the kitchen.. they will get a lot of use..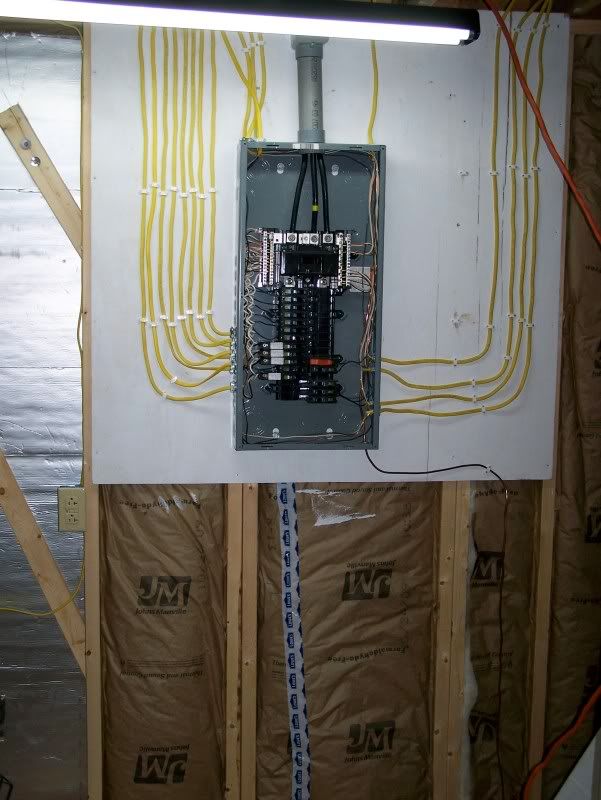 you might notice the 4 circuits in the panel that have the arc fault breakers.. any circuit that is in a bedroom has to be protected by an arc fault breaker..
one more pic of the kitchen. one of the next projects will be to cut in the sink and begin the DWV plumbing.. notice the lights.. i may have gotten a little carried away with the lights, but they will certainly make for a bright working space!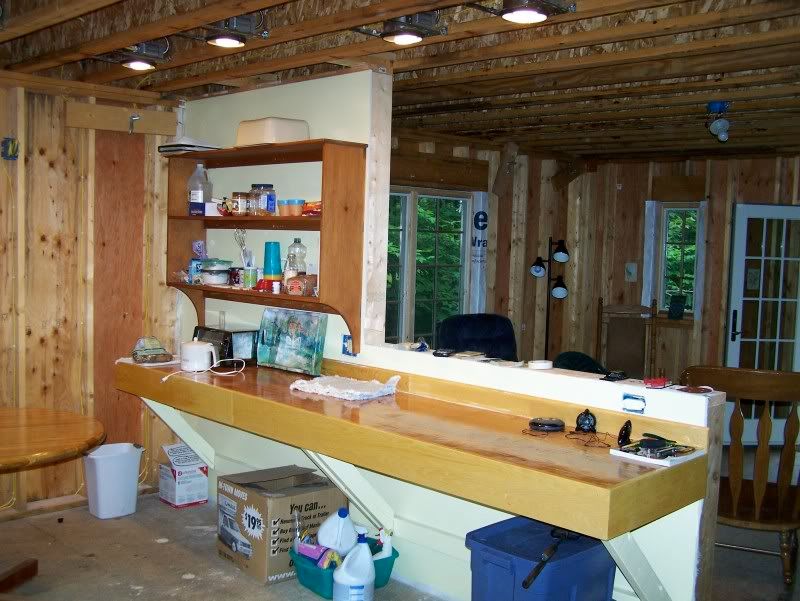 today i finished up putting the final coat of paint on the trim which we finished installing earlier in the week. it felt good to get the scaffolding down and out of the way.. the plan calls for a small hip roof with an inset balcony, but i am leaning heavily towards leaving the whole thing open as a second floor porch.. of course, that means coming up with a way of protecting the porch underneath. the prevailing wisdom is to go with a rubber roof.. but, i am tempted to borrow a pretty time - tested idea from boat builders.. what about fiberglass? plywood boats are covered with fiberglass all of the time, and it seems to hold up for a long time.. if i put down plywood and then a layer of epoxy and then glass the whole thing.. it won't be cheap, but I can do it myself, and it will cost about a 3rd of the price for a contractor to come in and do rubber.... i will let you know how it works out
ok.. last pic for tonight.. we have matching trim for the porch posts which we will install after we cover up the posts with 1x.. there is still a lot to do, but we are pretty happy with the progress that we made since the middle of June.. I wish that i had the entire day to work, but the heat here in PA ( like most of the east coast) has been pretty nasty the last few weeks, so in some ways, it is just as good to be working in the afternoons and evenings.. for the most part, i can find some shade at those times..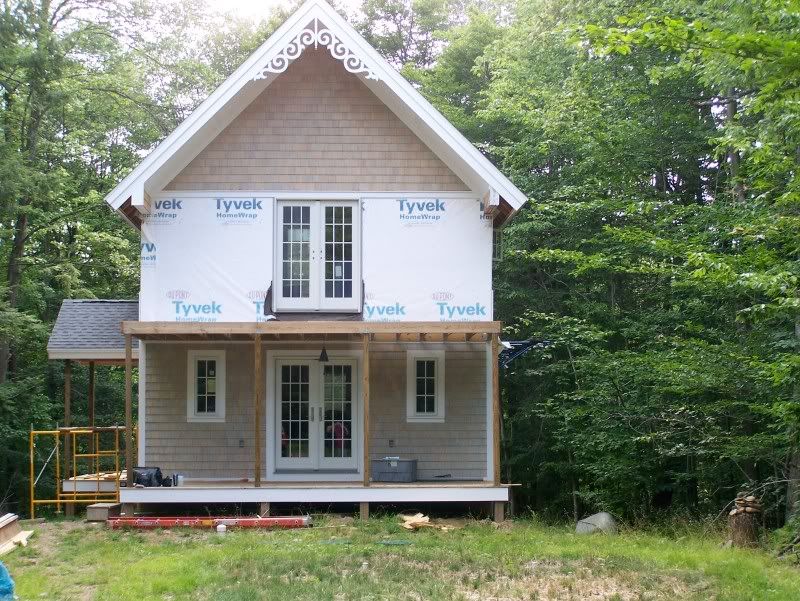 It's been hot here too but breaking a bit now.

The place is looking great, Poconos. :)
Really nice! Love the trim, the French doors, you've done such a great job putting everything together. That was a nice surprise you made for your wife, fixing up the bedroom all cozy & homey :) We've been living in our cabin that has ongoing construction that we've been doing in stages -- when we have time & energy d*
thanks, Glenn and Sassy. time energy and money seem to be the 3 constraints :) but, i think that we have done ok so far at managing all three.
I do not know if this helps, but we have some "Ablution Units" (shower trailers) over here in Iraq that have fiberglass floors coated with anti-skid epoxy paint. They are the only shower trailers that do not have to be re-decked every 2-3 years. Those with glue-down sheet vinyl floors ALWAYS leak.

Fiberglass ain't cheap, but as long as it is kept painted, I do not see why it would not work.

Mike

P.S. I love the detailing of the house. I prefer the craftsman style homes because I do not have the temperament for gingerbread (makes me want throw things) even though I love the look.
thanks for the info on the fiberglass.. i just got off the phone with a fiberglass dealer, and he said that many folks have put it on roofs.. you are right, it is not cheap, but the fact that I can do it myself makes a big difference.. i think that i will go with 10 oz cloth.. we will see how it works out! as for the gingerbread.. i grew up going to a place on the Jersey shore called Ocean Grove.. the younger kids called it ocean grave - lots of older folks sitting on the porches - it is filled with victorian houses from the late 1800's, and that definitely left an impression on me.. of course, this house is out in the country, so the trim will be minimal, but i love the look as well.. if you stop by for a visit, please don't throw anything at it :) and - best of luck to you and your mission in Iraq!
Quote from: Onkeludo2 on July 23, 2010, 11:48:37 AM
I do not know if this helps, but we have some "Ablution Units" (shower trailers) over here in Iraq that have fiberglass floors coated with anti-skid epoxy paint. They are the only shower trailers that do not have to be re-decked every 2-3 years. Those with glue-down sheet vinyl floors ALWAYS leak.

Fiberglass ain't cheap, but as long as it is kept painted, I do not see why it would not work.

Mike

P.S. I love the detailing of the house. I prefer the craftsman style homes because I do not have the temperament for gingerbread (makes me want throw things) even though I love the look.

rofl I could see Glenn throwing things, too, if I asked him to do gingerbread detailing! Hope all is going well for you - I see a lot of returning veterans from Iraq & Afganistan in the ER I work at - be sure & sign up - they say they've promised you guys health care for 5 yrs, isn't it? Unless there is a service connected problem.
Just to clear things up, I am not in the military and never have been. This is my fourth year over here as a GASSC (greedy-arse-scum-sucking-contractor) as we are jokingly known. First couple of times I was over here I did a lot of outside-the-wire work (2005-2007) building Iraqi Army bases, Iraqi Police stations and border forts. These two tours are 100% inside-the-wire tracking the money.

Sassy, as a contractor, I am lucky to have health insurance through the end of my contract date...not even an option for COBRA as we are technically paid by overseas companies. Currently fighting #$%gna over some of my wife's claims.

I have the utmost respect for the Soldiers and Marines (even a few of the Sailors and Airmen) that put themselves between me and the bad guys. Would never take credit for what they do.

Mike
That's right - I forgot you'd mentioned that in the past... so what do you think of what's going on there? I respect the servicemen who, in most cases, join the military out of patriotism, and now, many are joining because there isn't any other work to do... I could go over there as a contractor & work as a nurse & make lots of money - it would be interesting just to be able to see what is actually going on because I don't think our news media tells us a whole lot ::)

Anyway, don't ant to hijack this thread, sorry - we can continue this conversation on off topics if you care to...
Sassy,

I was not ignoring you. I fell asleep before you posted and did take it to an off-topic thread just now so ask away...

Mike
nice looking place. has that classic look.
thanks CBC- how are things in NH? are you making progress in terms of beginning your project? we are coming up to the lakes region this week - looking forward to a break in the action :) although we will be working on some projects with my son part of the time..
pocono,

our project is aways away... have to wait for the kids to finish college. if we hit the lottery we'll start sooner. we are actually in NC and our land is in NH... otherwise I'd be chipping away on it now. i'm living vicariously through the projects here and look forward to seeing the progress on your place.

i don't know when it's held, but there is an antique wooden boat show on lake winni sometime during the summer and if you like that type of thing it's worth checking out.


thanks for the heads up on the boat show cbc - unfortunately, it was this past weekend in meredith. we used to live in wolfeboro, and i have a friend who has a couple of boats in the show each year. the last time that i saw it, the show was at weirs beach..

i did not realize that you were in NC. we like it down there in the winter when it is not too hot! my daughter was thinking of attending warren wilson college in ashville. we made two trips down there to interview.. i loved the area.. she ended up going to green mountain in VT instead...

I actually have 3 trips scheduled kind of back to back.. we will be in NH and then the jersey shore and then i take a group of students up to maine.. so i won't be posting too many pics in the next few weeks.. hopefully, i will get back on track in the fall, if i can get away from school, that is!
well, it has been quite some time since my last post. that does not mean that some work has not been done the last few months, but it is fair to say that I had hoped to accomplish more! One would think that by now I would accept that fact that once school starts, all other projects, including house building, come to a standstill! but, I was able to work over Thanksgiving break, and now that Christmas break is upon us, I have been out at the site the last 5 days in a row.
We are ready for the inspector to come back and check the insulation and give me the go ahead for sheetrock. He did give me permission to put up some sheet rock so that the gas stove could be installed. After all of the thought that we put into heating systems and wood stoves and gas stoves, we settled on a gas stove with the option of still installing radiant heat in the floor. When the stove installers came, however, they said that the stove should heat the whole house.. i found that to be great news. they put the stove in on monday, and the gas company came on tuesday. I ran 1 inch black pipe into the basement and then branched off with 1/2 inch to the stove. I am anticipating putting a gas heater in the basement and we will be running a gas stove in the kitchen.. and, we will probably be using a gas instant hot water heater as well. each of these appliances will run off separate 1/2 inch branches from the main 1 inch line. i finished the line about 2 minutes before the gas folks showed up. they were supposed to do a pressure test before installing the gas. if they had, they probably would have found that i forgot to cap one end of the pipe in the basement! when we were bleeding the line to the stove and no gas was coming out, the boss sent his helper into the basement.. a couple of seconds later we heard " you better come down here!" no biggie. i put a cap on the end ( with both of them watching me like hawks.. lucky i turned the pipe wrench the right way the first time :) ) and we were off and running..
so now we have heat in the house, and already, i am believing that the stove is going to handle the whole house.. i am thinking about putting in some vents between the first and second floor and letting it go at that.. any thoughts on that idea would be welcome.. so here are some recent pics.. i hope that the next ones show a lot of sheetrock!
here is the living room with heat included!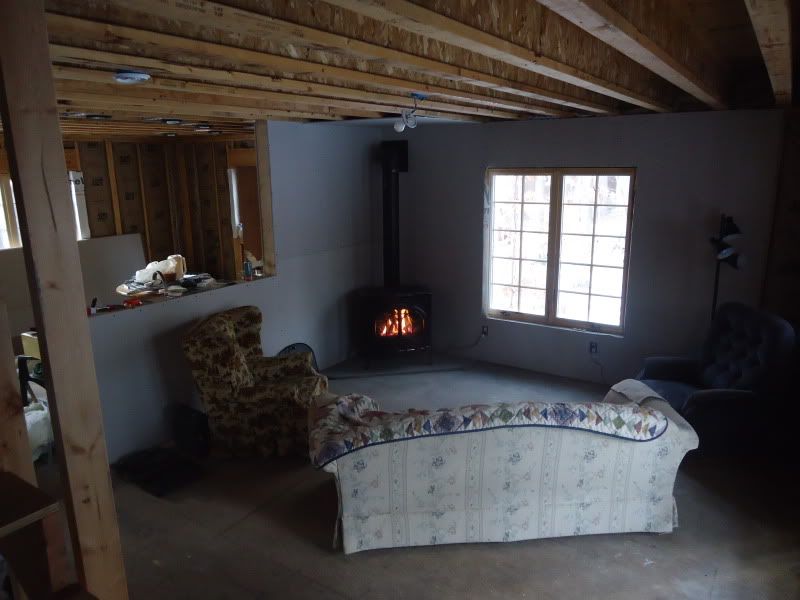 and here is the front bedroom.. ceiling already covered, and insulation completed.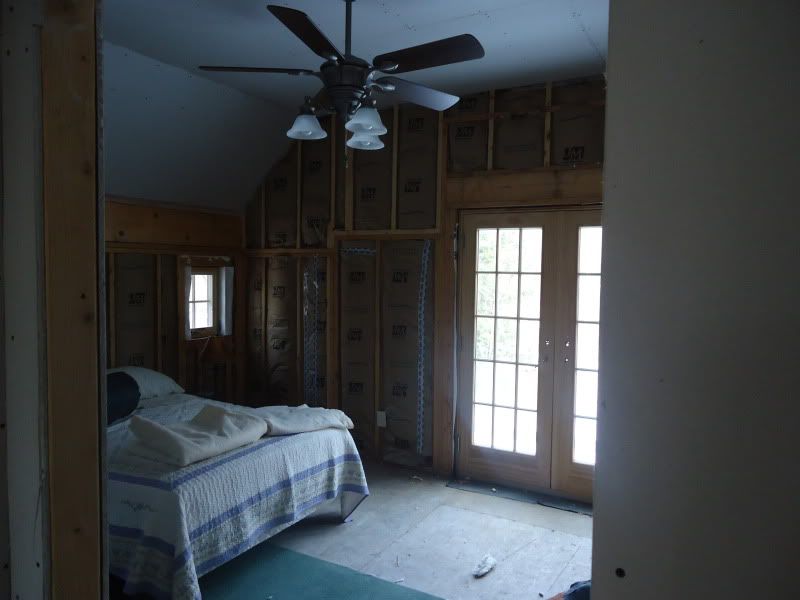 another bedroom shot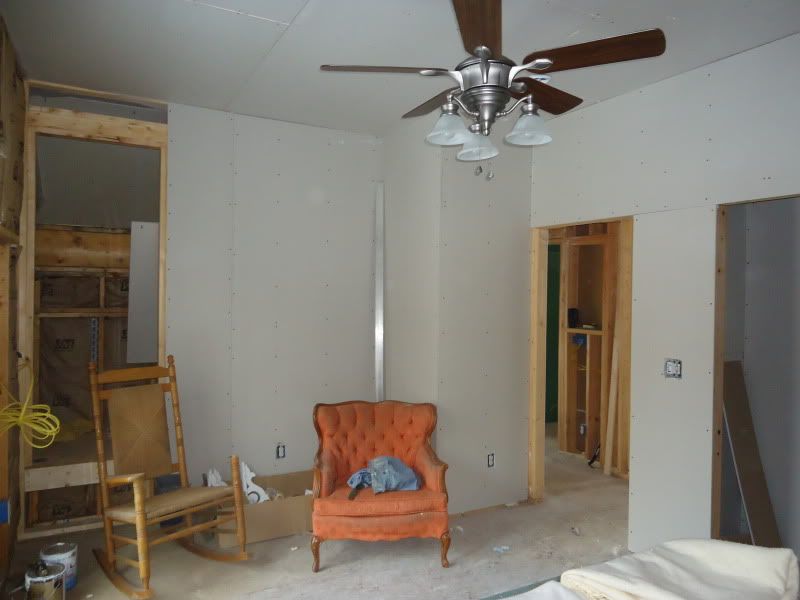 well, the inspector came today, and he seems pretty satisfied... we have the go ahead to finish the sheet rock. we also discussed the possibility of cutting vents into the second floor bedrooms, and he gave me the thumbs up on that as well. so now, the question will be to see just how much it costs to heat the place with just the gas stove. it is a small house, so i am banking on the cost being reasonable. i do need to put some heat in the basement, but there is no sense in rushing that right now, because i still have some insulation and wall building down there. eventually, i think that i will hang a small gas space heater from the ceiling, and that should do it. the momentum has been good this week, but now we have to break for Christmas.. that is not such a bad thing. my hands are pretty beat up from insulation stud bays that have a million little nails protruding through the sheathing!
Looks great.

That looks like a real wood stove.
it certainly has that appearance! of course, if it were a wood burner, it would not be nearly so close to the wall.. that is one of the benefits - particularly since it is a rather small space to begin with.

I think that it is going to work out well.. we will save the wood stove for the next building project - which i happen to be formulating in my mind as I continue to work on this one! It won't be here in Pennsylvania, however. Beginning with 2011, all new residential buildings in PA will be required to have sprinkler systems installed. It is going to be very interesting to see how it works out. Estimates are that it will cost an additional 5000 - 12000 per house. With the building industry already depressed it is going to be a tough sell. In addition, there are lots of questions about just how the sprinkler systems are going to be designed for rural settings.. The insurance industry thinks that it is a great idea.. i wonder if they happened to have anything to do with the passing of the legislation :)
I'd be interested to see what your heating costs are using that gas stove. I guess you'll know soon enough. I hope you post the results.

Those sprinkler system requirements are way overboard, as far as I'm concerned. I hope that there is a public backlash.

Stay warm.
This is a list of state by state status on sprinklers at this point;
http://online.wsj.com/public/resources/documents/sprinkler1221.pdf

CA has banned a greater than 40% blend of glycol antifreeze in sprinkler systems due to flammability out of the nozzle on fires. That mix wouldn't protect the piping here, or in many places.

Smoke detectors have a 99.41% rate of getting the occupants out alive. Sprinklers boost that to 99.6%. That extra .2% certainly costs alot more than the first 99%.
very interesting statistics.. although it has been touted as a way to save lives, my suspicion all along is that it is much more about saving property and thereby reducing the liability for the insurance industry. maybe i am just getting cynical in my middle age :)
I've heard the insurance companies are offering little or no discount for homes with sprinklers, because the potential for water damage is so great. ???
Nice looking and good work. What is the Stove type and model please?
How many state inspections will you need prior to finishing your project? ??? ???
thanks southern steve, i have the plumbing inspection yet. I think that will just about do it. It is kind of backward to let that go till last, but i have left room in the walls that will contain plumbing, and i can easily remove one or two sheets of drywall to get at those spots. I won't be mudding and taping till later in the spring.

325ABN the stove is a jotul firelight. it provides 40.000 btu's with LP gas.

we were away this past week - a quick ski trip as well as visiting friends and family in NH.. the plan for this weekend is to take at least one and possibly two trips out to the house with drywall - that might just about do it. Then the materials will be there, and we won't have to trudge through snow etc with heavy loads, and there will be plenty of inside work to do for the next month or so...
well, we had a very productive weekend at the house, but i forgot the camera! my wife and i spent the weekend in the poconos... we arrived at the house and turned on the stove around 6pm on friday night.. it was quite cold - 28 degrees inside, and the temp was falling outside. we decided to go out for dinner and returned later to find that the temp at increased about 10 degrees inside. we spent the rest of the evening sitting on the couch in front of the stove with a blanket on our lap and hot tea.. around 9:45 it was time for bed, and the house, including the second floor, was close to comfortable..

saturday morning, we were very toasty.. we spent the day finishing off the sheetrock in our bedroom and working on other small jobs. we also put up sheetrock along the wall in the kitchen where our appliances will reside.. they have arrived at the local store, and we are hoping to have them delivered next weekend. of course, we will have to move everything to do the taping and finishing, but that will be okay. today we worked on sheetrock in the second bedroom. we ran out of materials in the early afternoon and spent of the rest of the time working on odds and ends and made a material list for the next trip. I have read elsewhere ( it does not seem to be a theme on this web site) about how stressful the process of buying or building a house can be on a marriage.. our experience has been nothing like that.. we really enjoy being at the house and working together.. i guess that is a blessing! i need to add a camera to the list for next weekend!
I was hoping to spend the whole weekend at the house this week, but there is a little to much going on at school, so i had to be here and cut my time at the house short.. but, we took delivery of the stove and refrigerator, and I had to extend the gas line so that we could test out the stove. It is a bit premature for appliances, but we found what we wanted, and we figured that we would put them to good use - but, it is one more thing to move when we tape and paint!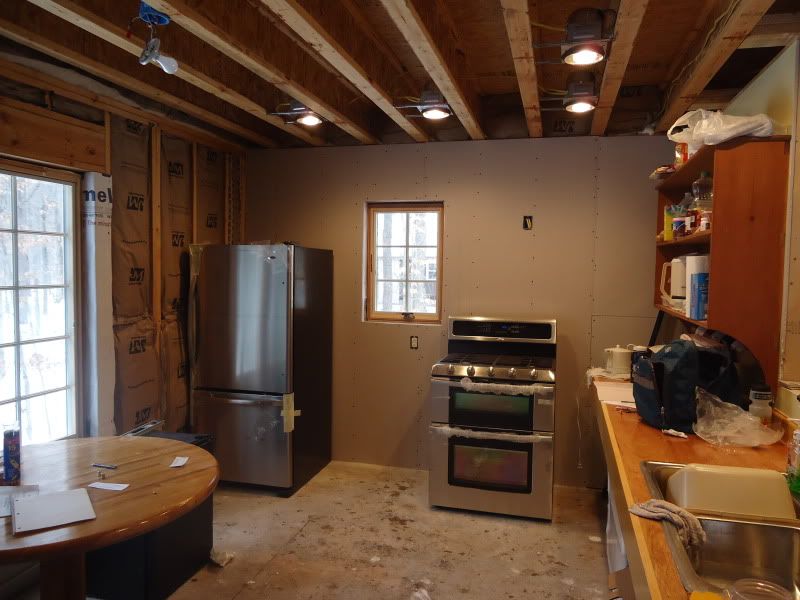 her are some shots of the gas line in the basement.. I studied what mountain don did, and figured that i might as well give it a try.. i might have gone overboard with shut-offs, and i have yet to add the drip tube that he has on his line.. but i will extend this a bit further so that i can install a gas heater near the corner of the basement.. i would like to keep the basement at 60 degrees if that does not cost too much..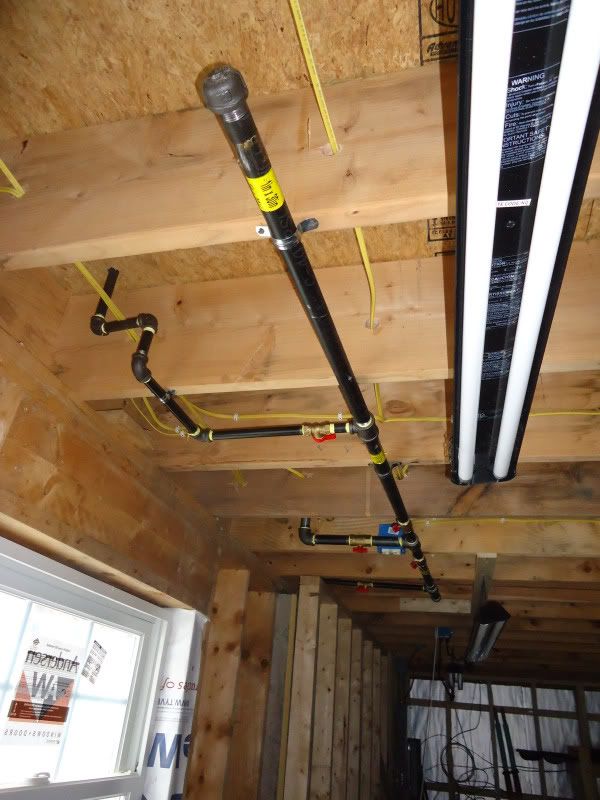 and, here is one more shot of the living room. i did not fire up the heating stove this weekend because I was only planning on being there for 7 hours or so.. it takes 4 hours to get the place up to 65 degrees , and i figured that it would be a waste of gas. But the appliance delivery guys would have appreciated the heat.... they were not happy campers.. i guess they made the best of it.. they got the kitchen stove up and running ( after some initial delays.. they waited to refer to the manual until they fiddled with it for half and hour and still could not get it to light.. i can totally relate! ) and then they heated up their hands over the burner..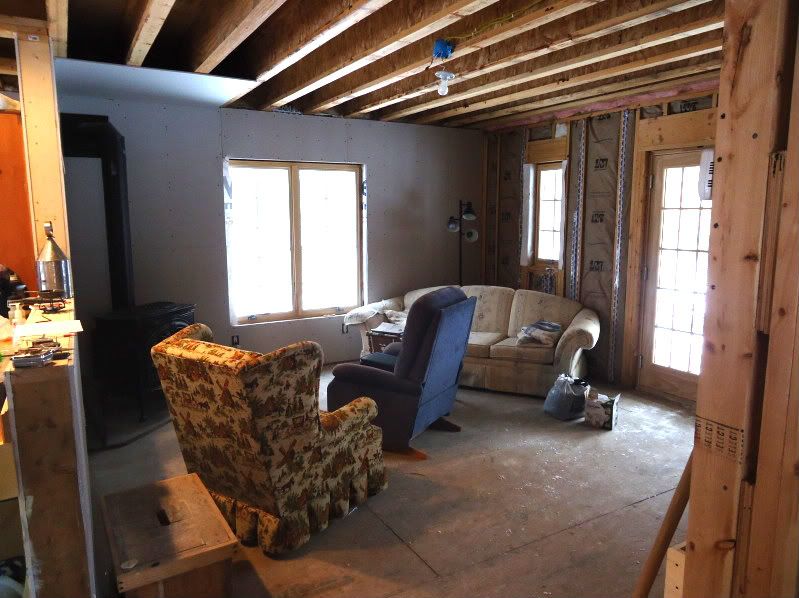 if all goes well, we will be spending the entire weekend out there next week. I am already anxious to get back to work!
Looks good. IMO, one can not have too many shut offs. That is, unless you forget to turn one on and sit there puzzled as to why there is no gas. ??? It does make servicing one item without disturbing the others so easy.


thanks, don.. i agree, and thanks for the inspiration as well! now that i have a taste of it, i want to run more pipe!
well, another productive weekend at the house.. we are closing in on finishing the drywall, and i built a quick counter for between the stove and refrigerator.. no new pics, however. it looks like i will be busy here at school this coming weekend, so in two weeks we will get back at it.. we have found that living there helps us to find little things that need to be addressed while it is still easy to do so. for example, it has become apparent that we need a light in the stairway not only at the top, but at the bottom as well. there are shadows near the bottom which make the winder steps hard to see, and that can be particularly dangerous...

i am still pondering a heat source for the basement. we could get a propane heater that vents outside, but i am wondering about using an alternative fuel.. the idea of a pellet stove with a power vent which would not require a full chimney is looking good right now. I would be interested in feedback from anyone who has some experience with them. I understand that, with a modest investment, one can buy a machine to manufacture the pellets, and i am pretty sure that we would have an endless supply of organic material that we could use ... any thoughts?
p_c asked me about my 18000 BTU/hr propane wall heater which appears in my 15.75 x 30 cabin (http://countryplans.com/smf/index.php?topic=2335.0) topic.

Estimating heating requirements is not as simple as calculating many other things. There are some online calculators but they don't have a whole lot on data input fields much beyond size, temperature rise desired and is your insulation excellent/average/ bad.

examples:
http://www.heater-store.com/heater_calculator_info.htm (http://www.heater-store.com/heater_calculator_info.htm)
http://www.gaudetgassystems.com/btu.html (http://www.gaudetgassystems.com/btu.html)

I have seen one other calculator that seemed to be excellent. Data about windows, doors, north or south wall, etc. and etc. all had to be entered. Even what the room was used for. I don't know where it is and it was only a trial version... they wanted to sell some HVAC software.

From what I've been able to tell to date, the 18K heater we have should be able to keep us comfortable in our cabin if we were to have to use it alone without the wood stove. . The manufacturer lists it good for up to 529 sq ft. )Our cabin is about 435 sq ft inside with 8 foot ceiling.) As a comparison our VC Aspen wood stove is rated at 18000 BTU/hr as well and it can cook us out of the cabin if we're not careful about tossing in that last stick or two.

So.... ??? ??? the answer is a definite maybe. ;D

Note: The Housewarmer propane wall heater uses two concentric tubes for inatke air and exhaust. The minimum wall hole size is 6 1/4 inches. The installation/user manual is available to download off Northern Tools website.



Having heat in the house sure makes a big difference! the last two years I gave up after Christmas break and basically did not return to the house till spring, but this year we are making a lot of progress. Two weeks ago, I thought that we were nearly done with the sheetrock job, but we still have some odds and ends to finish up after devoting most of this weekend to hanging sheetrock.. we did make progress , however.. here is a pic of the kitchen.. I built a temporary counter for between the stove and the refrigerator.. I am not sure just how long "temporary" is, but it sure is nice to be able to use this space till i get something more permanent in place..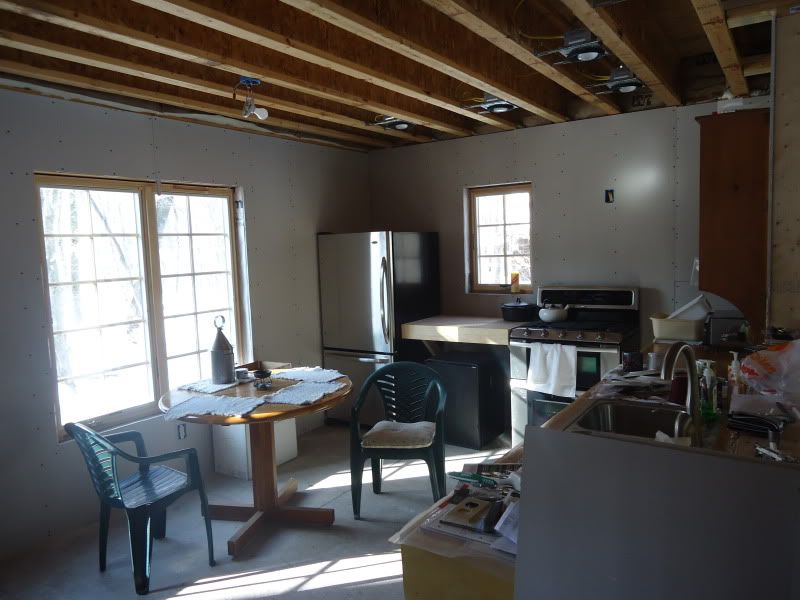 my wife made an effort to clear all of my tools off of the kitchen table.. we shared some very nice meals here this weekend! i guess that i better find a different spot for my tools...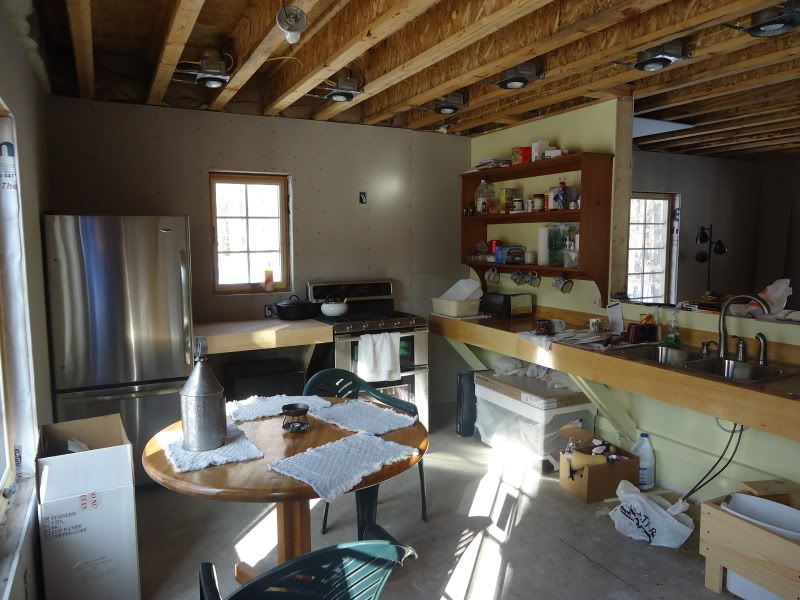 this is a shot from the bathroom.. i installed the light at the base of the steps this weekend. that has already made a huge difference.... and finished the sheetrock in this area.. looking straight ahead, you can look right into my closet.. i need to close that in yet..
and, finally, the hall way at the top of the steps. the opening in the wall was originally intended to be the medicine cabinet in the bathroom, but it is a little two big for that, and, rather than cut it down, we decided to leave it in place and finish it off as a small wall cabinet in the hallway.. we will see just how that works out...
it looks like our schedule here at school is going to keep us from any more weekends at the house till the end of the month.. i guess that there are other things that i can and should be doing, but, already, i can't wait to get back out there so that we can start to tape the seams!
I see you left the best til last. Ceiling. Generally I would have done the ceiling first then followed up with the wall. It seems it is easier to get a good fit that way. Do you have a drywall lift? If not I would reccommend renting or borrowing one. A lot easier than using a "dead man".
ah, yes, the ceiling! i did use a lift for the second floor ceilings ( which went up before the walls) .. best investment so far! we held off on the first floor ceilings because I am still considering putting pex tubing in for radiant floor heat.. I wanted to see how the gas stove works alone, and so far, it is doing just fine. but, i am still thinking about down the road when/if we want to sell.. we love the idea of having just the single point heating system, but potential buyers might be turned off by that.. so, i am thinking about putting the tubing in the ceiling and stubbing it off in the basement so that it would be a simple matter to install a water heater and have the radiant heat as a supplementary or alternative system. I still have some wall space open for the plumbing that we could use to run the pex for heating.. any thoughts on radiant heating are welcome...

in the meantime, we visited some friends who have beadboard ceilings in their house, and my wife and I both like that look, so we will be installing beadboard with trim - therefore, the fit is not quite as big an issue..


Well, spring break has arrived, and I got to spend a total of 5 days at the house. I wish that I had more pics to show for it. The long and the short of it all is that this was a great time to give some attention to a number of the little nagging things that I had let go for awhile.. like the 3 way switches in the living room and kitchen that just were not working.. till i finally tracked down a crossed wire.. and the GFCI outlet in the kitchen that was not working till I figured out this morning that the line wires were connected to the wrong terminals... it sure is nice to have that outlet working now, and to have lights in the kitchen and living room, and even better to be able to finish up the drywall that I left out just in case I had to rewire those switches..
On monday evening, I mentioned to my wife that we needed to grade soil away from the walk-in basement this spring. we woke up to pouring rain on tuesday.. and she dropped my off at the house.. i was working upstairs in our bedroom-trying to locate the stud that I forgot to mark so i could finish the last piece of sheetrock in that room when it dawned on me that i had a stud-finder somewhere.. i went down to the basement to look and found an inch of water on the floor :( i guess i should have done that grading job in the fall! 10 minutes of bailing got me no where.. so i got a pick and shovel and dug a trench away from the house. I was soaked, standing in the backyard in snow and water up to my knees when my phone rang.. it was my step daughter, asking some questions about a recipe for short bread! I calmly answered her questions without revealing that this was an inopportune moment to be discussing cookies!! It was nice to find that there were a few left when i got home.. After i dug the trench and determined that the stud-finder was at home and not in the basement.. i went back to taping the drywall in the bedroom.. 4 hours later that water was all gone :) hopefully, the trench will do the job till the weather is a little more agreeable.
so, i finished putting up drywall in the 2nd floor closets.. and i got the first coat of mud in the bedroom and used up what i had left over in the stairway..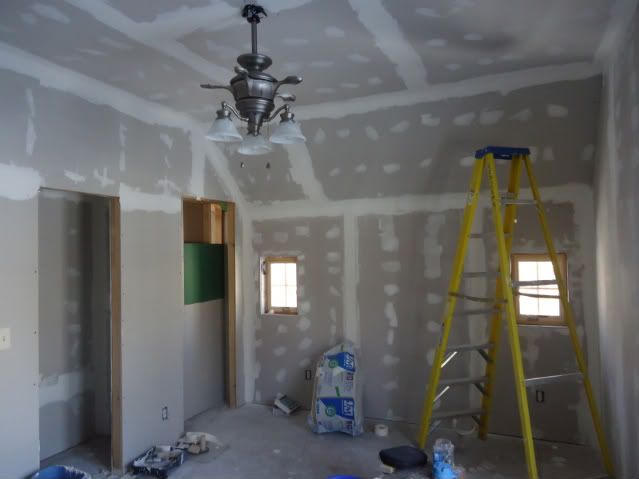 i know that the professionals like to brag about never having to sand. ( not sure that i totally buy that one) - you will never hear me say that - i rely pretty heavily on sanding screens to make things come out right..
some days progress is very obvious.. and others it may not appear as though too much got done, but you know that you accomplished a lot.. and then there are those other days, when i would have been better to stay in bed.. none of those this week.. it got cold last night, but spring is definitely just around the corner.. then i will have to decide whether to continue with the taping inside, or get back to the shingling outside.. either way, I am anticipating lots of progress this spring!
School is over for another year.. and that means building time again! Graduation was yesterday, and as soon as it was over, my wife and I headed for the house.. our first sleepover there in quite a while. We had started a compost heap behind the shed, and the last time I took material out there to add, it appeared that an animal had been visiting. The first item on the agenda yesterday was to dump our bucket of compost which happened to include some old apples.. not an hour later, my wife motioned for me to join her by the shed.. just around the corner was a deer, helping herself to the apples.. and here all along, i figured it was a skunk or a raccoon..
this morning, my wife took a pic of the deer.. she seems very comfortable in the neighborhood.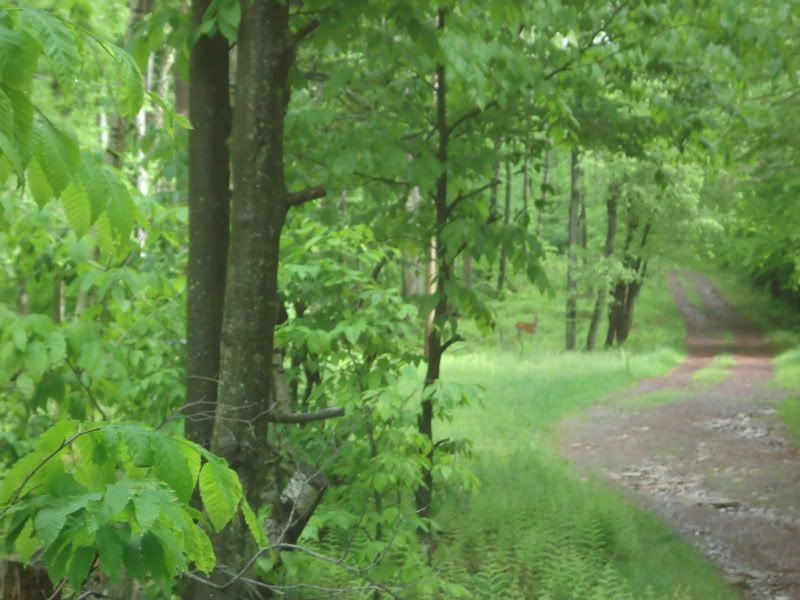 Last week during our final exam period, I had some time to meet with the well folks. the well was drilled 3 years ago, and now we were finally bringing the water into the basement.. this was a big day! Last summer, when i installed a hand pump on top of the well, i recalled talking to the folks at Bison Pumps who assured me that the hand pump would fit along with a deep submersible well in a six inch casing.. but they cautioned me that a hole would have to be drilled in the side of the casing for the electrical wires to enter the well.. the guys showed up last Wednesday and were impressed with the nice stainless steel hand pump, but they were not thrilled about drilling a hole.. and then one of them pointed at a plastic cap on the top of the pump base, and said " oh no, all we have to do is remove that cap and feed the wires down that way.. that is what that cap is for.." well, as we were pulling the hand pump, we bumped the pitless adapter.. and down it went.. 300 feet.. so, while the guys were headed back to the shop to see if they had a spare part, i called the folks at bison pump - just to check.. and found that indeed, we needed to drill. the plastic cap was a vent.. the well guys returned, and were a bit dismayed to hear that they needed to drill, but they were able to deal with it and found a nice fitting to use in the hole.. an hour later.. we had a tank in the basement... I did the wiring and now we have water in the basement!
the plan for today was for me to make an early trip back into town to pick up materials for the deck railing, but we awoke to quite a storm last night, and everything was wet.. so I decided to put a second coat of joint compound on our bedroom. my wife thought that was a good idea, because she is anxious for us to get our bed back in there! i was reminded more than once that it is a good idea to keep ones mouth closed when applying joint compound on the ceiling directly above! I am not sure why it took two separate experiences this morning until I got that right!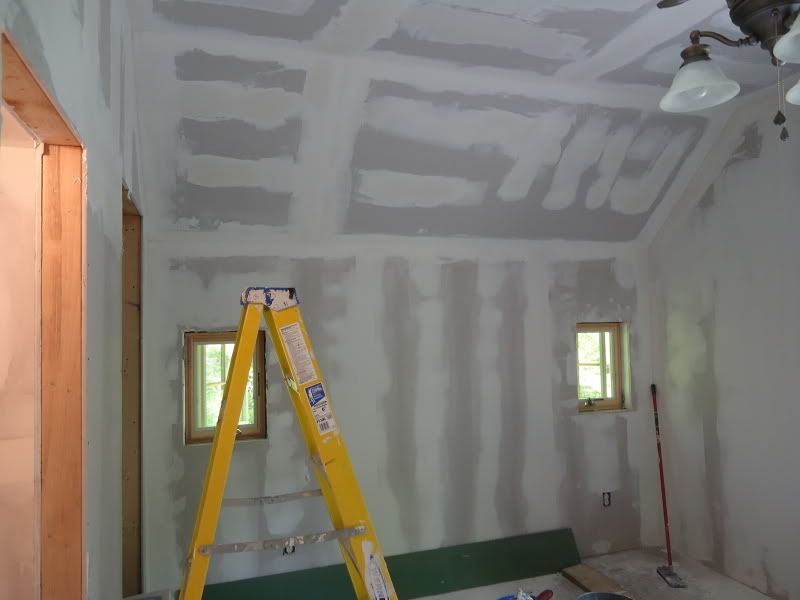 wow, one more coat and then some sanding and then paint.. what a difference that will make.. and then i just have the whole rest of the house to do ;D one room at a time...
while I was busy inside, my wife did a lot of work in the garden.. she has big plans! we will get a progress check on that project in a couple of weeks.. there is a lot to do this summer - I am looking forward to making a lot of updates as we move along!
As i am working on the basement - building walls and insulating, I am finding the the warm moist summer air is condensing on the walls near the bottom. of course, this is happening towards the front of the house which is totally underground.. i have foam board against the cement and then an air space and then a two by four wall with fiberglass.. pressure treated bottom plate - all in anticipation of some moisture, but i was wondering what else i can do before i put up the sheetrock.. i will be heating the basement in the fall, and i may need a permanent dehumidifier , but would an air conditioner make a difference during the summer? it seemed like there was considerably less moisture on a cool day that we had early in the week.. any thoughts would be welcome!
Once again, it appears as though we have not been paying attention to this page.. but that is just because we have been working so much! Despite the heat that we are experiencing(along with everyone else in the country), we have been pretty productive, and, as is typical for my lifestyle in general, I have a number of projects going on at the house at the same time.. like last summer, we have put some energy into the gardens, creating some new ones and testing out different plants to see what will work in the long term.. the bunnies are loving it!!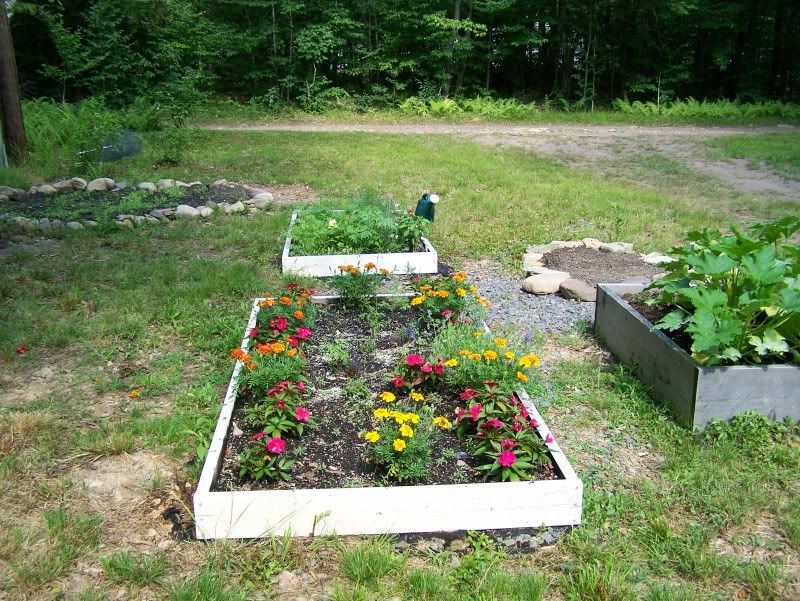 that small plot surrounded by rocks which looks empty had some nice sunflowers in it up until a week and a half ago.. then, all of a sudden, they were gone!
the bunnies can't reach the flower boxes on the shed, however, and they can't climb up on the deck.. so my wife has been successful in those areas :)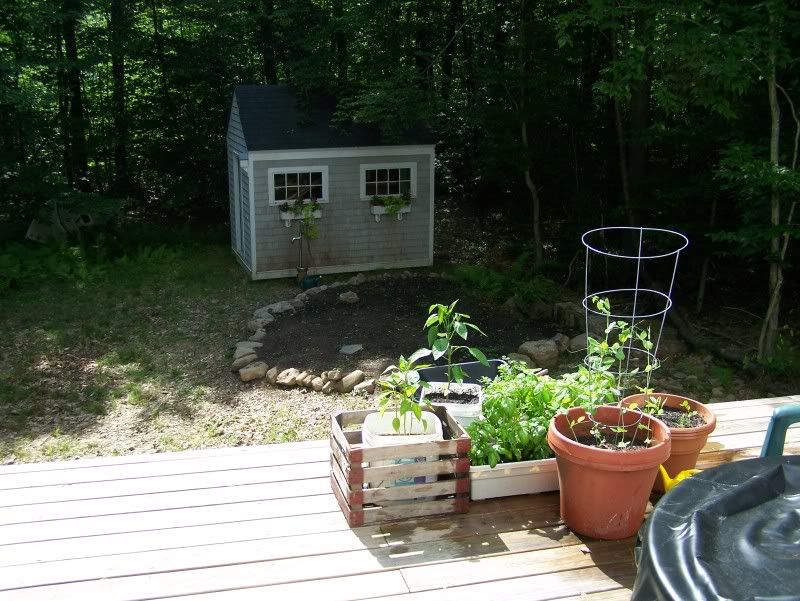 we are using bead board for the ceiling on the fist floor.. we got started with that yesterday and this is what it looks like so far.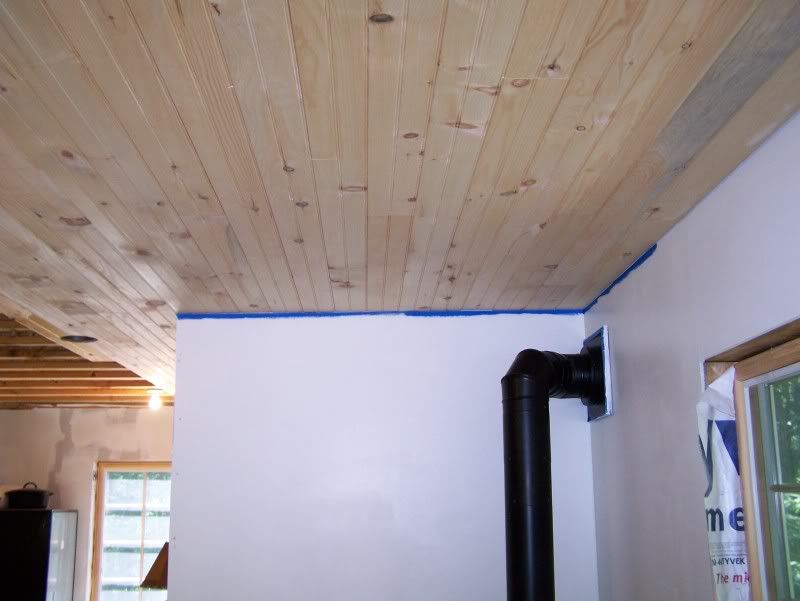 about 300 square feet more to go..
this is our bedroom.. i laid ash flooring in the bedroom, hallway and bathroom last week. the rest of the house will have to wait till next year, so we can save up to buy more ash! sometime in the next week or two, i will rent a floor sander and then apply a finish to the floor - hoping for more moderate temperatures for that process..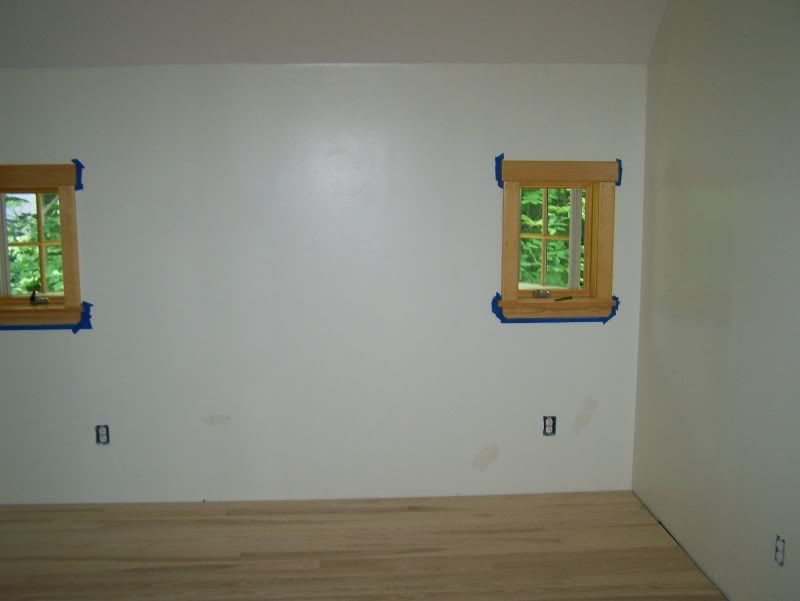 we decided to use a clear finish on our trim.. this is what our windows look like.. we will do the same with the bead board on the first floor.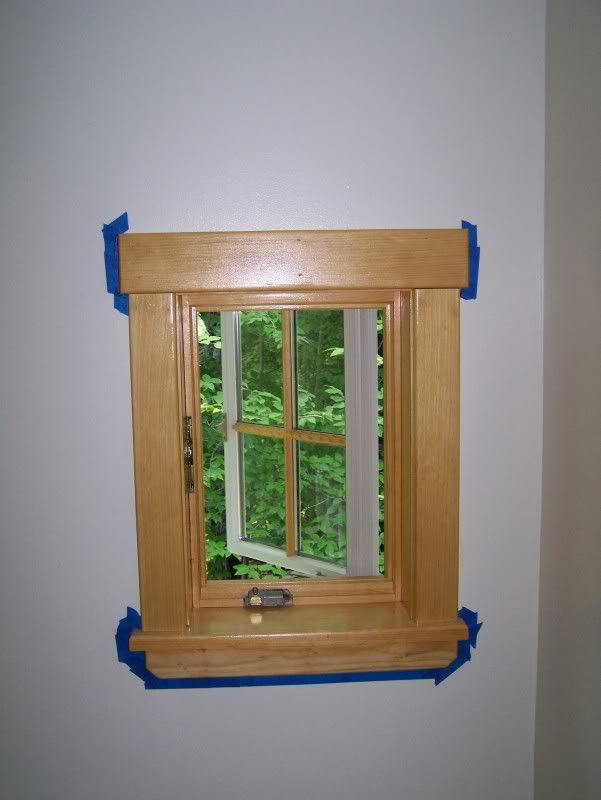 lots of different hues in the ash flooring..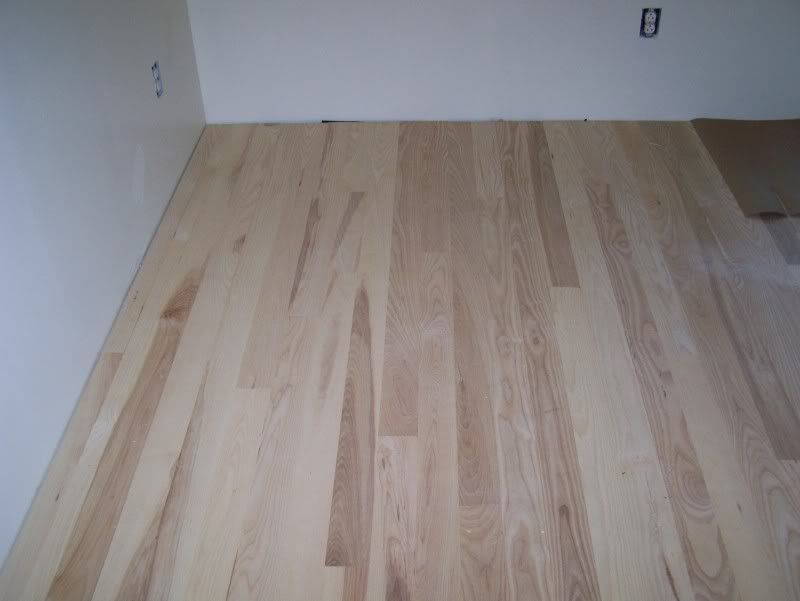 we are purchasing the flooring and the ceiling boards at a small local mill.. so far the quality has been very good.
we also started the plumbing.. i have one line which is bypassing the filter and manabloc distribution - it is going to the exterior hose bib.. i figured that there was no need to run the water that we are using on the garden through the filter..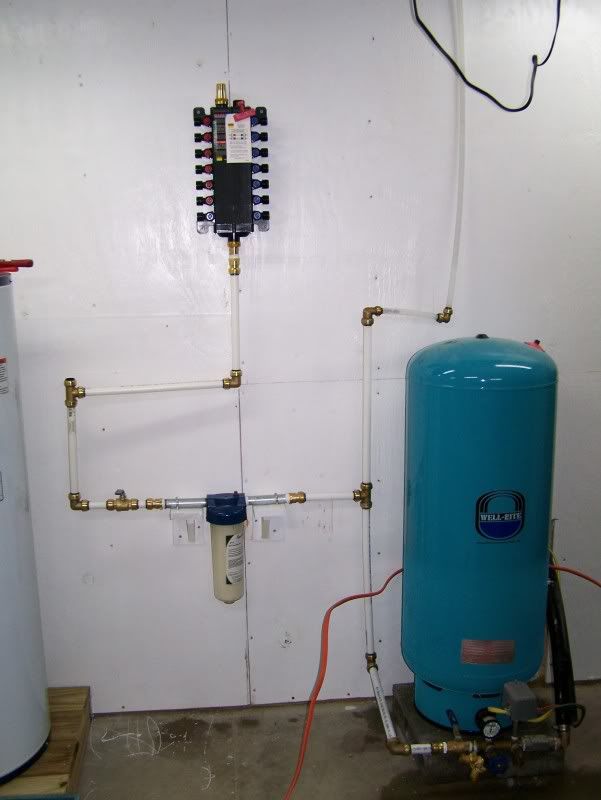 the tub is in place, and i put the first coat of joint compound on the bathroom today..
and then there is the back bedroom.. this one will just have to wait till we get the rest of the house finished, so that we can move all of this stuff out!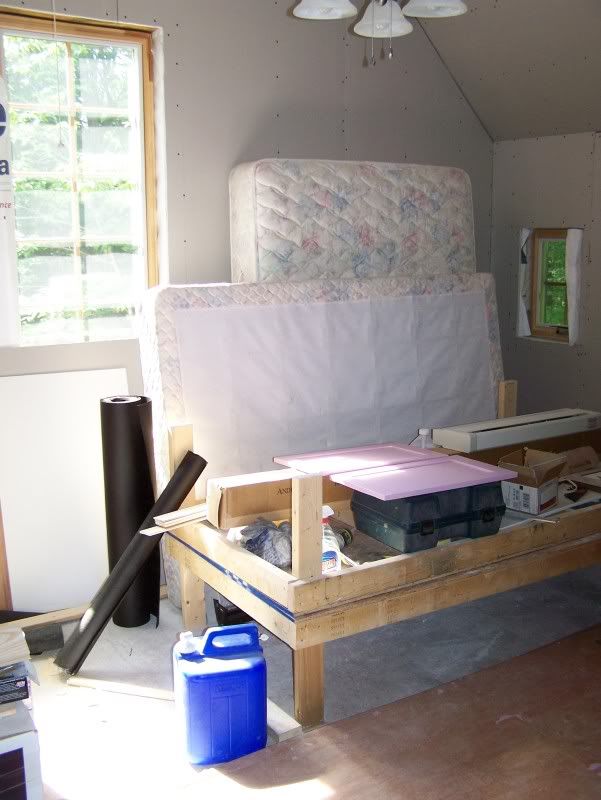 we are loving the long days - in fact, we find that the daylight is lasting longer than our aging bodies, but we are getting a lot done, and we are getting close to the point where we can really begin to see what things are going to look like... and that is very exciting!
With heat and soon to be finished plumbing, the reality of using the house throughout the winter is a wonderful thing.. we will be able to complete a lot of jobs during the school year from this point on, getting us a step closer to finishing the project!
well, it has been quite a while since I last posted to this site.. this is not due to inactivity on the building front, although I did spend some prime construction time sailing in New Jersey this summer! But, once again the beginning of school in September did bring about a grinding halt of the sounds of building in the woods... Until last week, that is.. final exam period, followed by a week of Thanksgiving vacation freed up a considerable amount of energy and initiative, and we happened to be blessed with abnormally warm weather for the season, so I made the best of it, spending 10 and 12 hour days at the house.. trying to make it more livable each day.
here are a few pics from late summer, when the garden was looking very nice!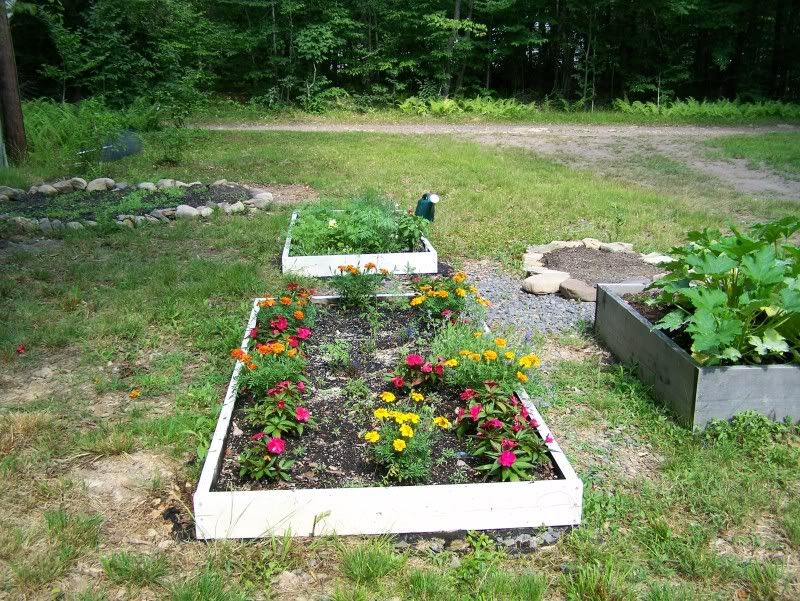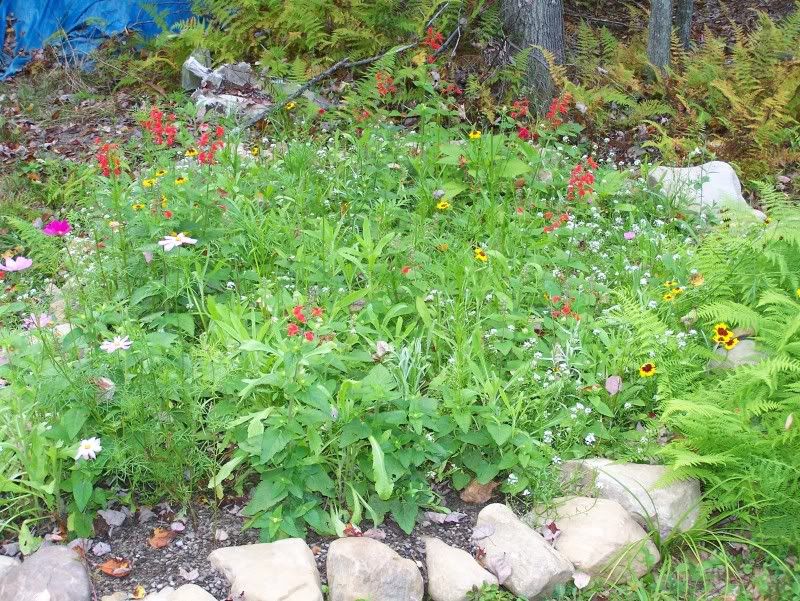 so, these are for the flower lovers.. we found that we really do not have enough light ( too many trees on our neighbors property) to really have good success with vegetables, but we did find some nice woodland wild flower mixes that worked out pretty well.
and now for some interior pics.. i have one from this angle, taken a year or so ago.. things are looking much better! we have the newly upholstered chairs covered - still sanding in other areas of the house.. and yes, i did read that we were not supposed to move in until all was complete, but we had no where to put this stuff! and, if asked, I would say.. absolutely do not move in until you are finished.. it is really challenging to work around stuff when you are trying to get jobs done..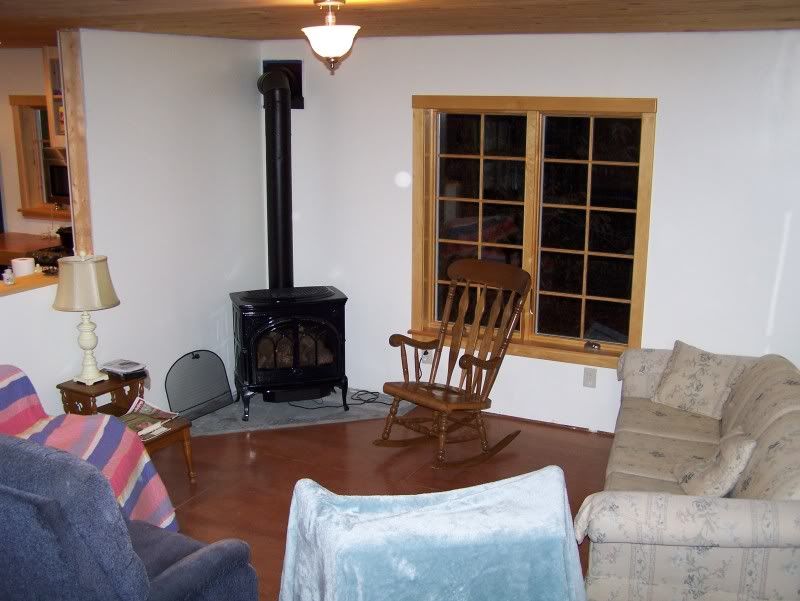 i really love the stove.. so far, it is keeping the whole house warm ( 40,000 btu's) but it has a nasty habit of banging when it comes on and then again when it goes off - it uses lp gas and runs on a microstat thermostat.. i have talked with the place where we bought it, and they are assuring me that it can be fixed...
the kitchen.. you will note that we still need to install some trim around the ceiling.. but things are looking kind of cozy!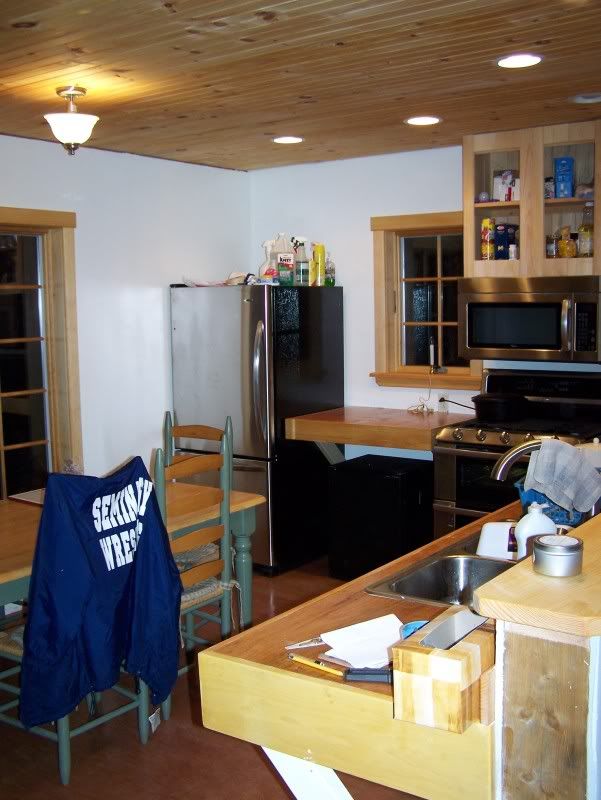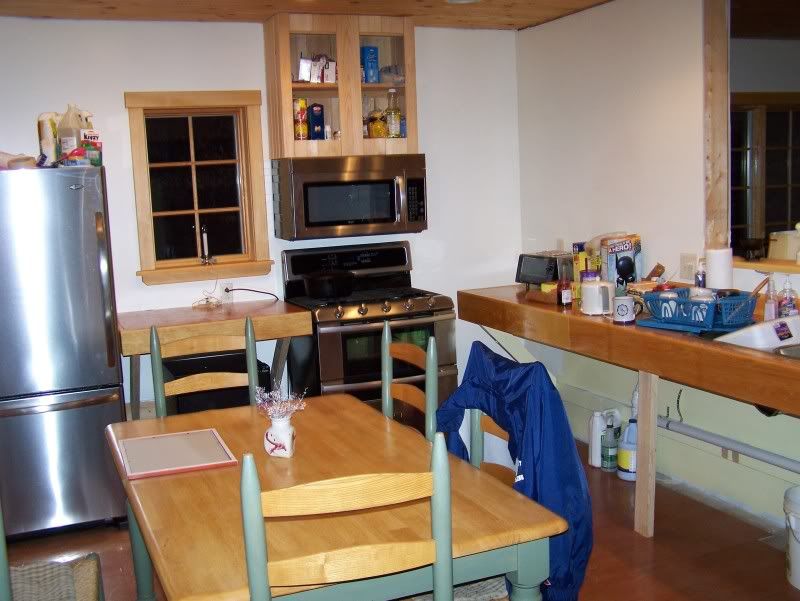 the bathroom.. what a treat to have indoor plumbing! we put the porta potti in the basement.. not sure when we will need to use that again! a friend from work helped out with the plumbing - it is 98% complete.. time to get the inspector back..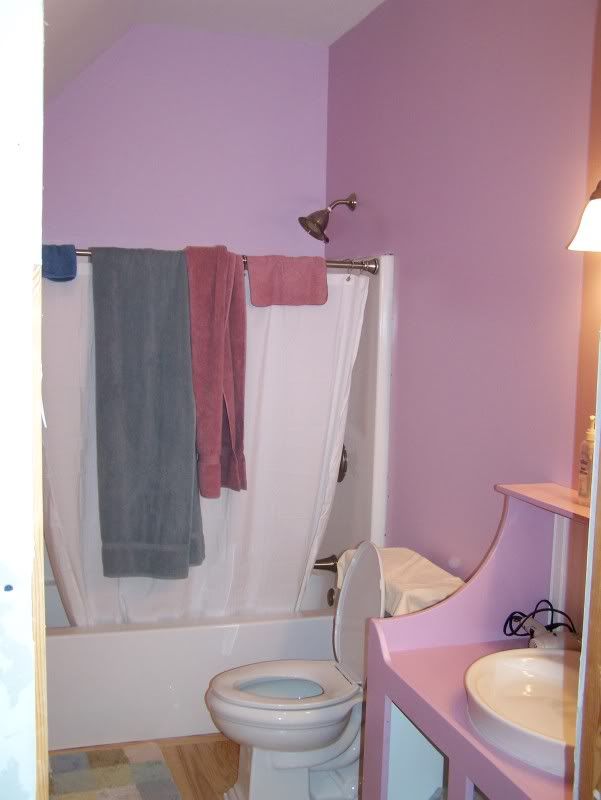 our bedroom.. 95% complete.. still need to trim out some of the closets and put down baseboard.. but it is very comfortable!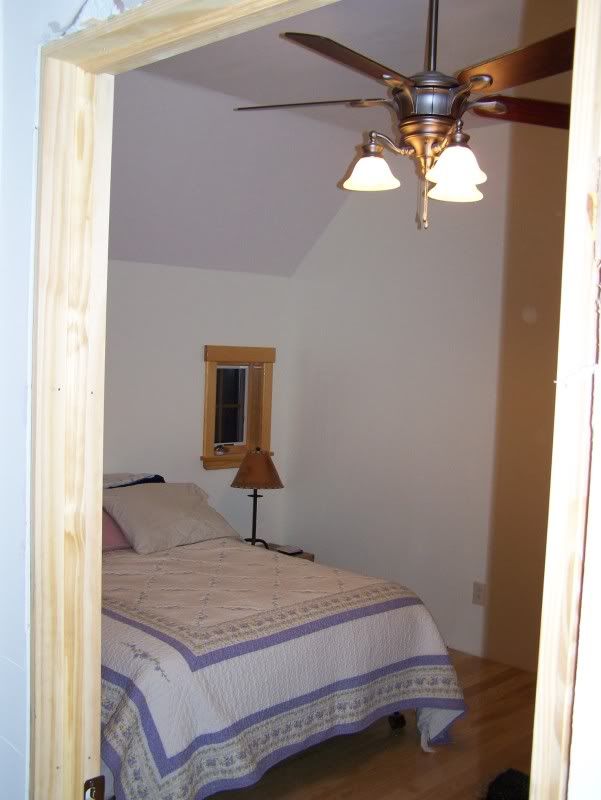 and finally, the biggest project of the recent week was the roof over the front porch.. but i did not have a whole lot of daylight to shoot this one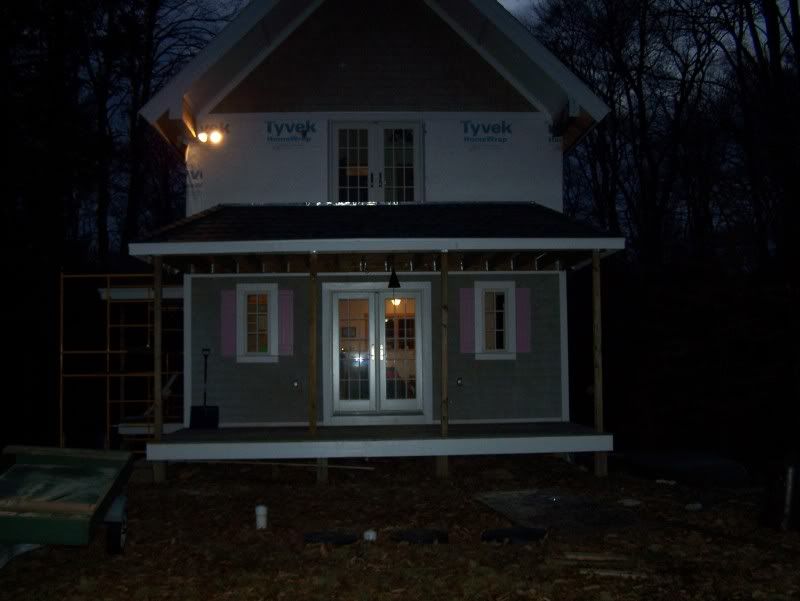 i will have to try again some time soon.
so, what i learned about hip roofs is that i have a whole lot to learn! I think that i have the basics figured out by now, but that is only going to help me on the next one.. this one.. well, most of the mistakes will not be obvious to the casual observer, but a keen eye will pick out a number issues that might warrant conversation :) maybe it is good that the pic is dark .. actually, due to the pitch of the roof, you have to be standing pretty far away to see the roof, and that helps.. i also noted that you can't see much from the little balcony porch either.. so, it might be 30 years from now when the roofing guys get up there and say.. "who in the world put this roof on?" of course, they may choose to use much more colorful language :)
part of the problem is that the rood was not as square as i would have liked.. i pulled out the come along and set it up across the long diagonal.. and pulled it towards being more square. but i had to settle. the other part of the problem was that it was the first time that i attempted a hip roof.. and I think that i have been avoiding that for quite a while.. but, someday, i hope to build John's "builder cottage" and now i am all set for the little hip roofed porch on the front!
i hope that you enjoy! jt
oops.. some plumbing pics as well.. here is the distribution center for our water.. i was skeptical about using pex, but it certainly turned out to be easy to work with..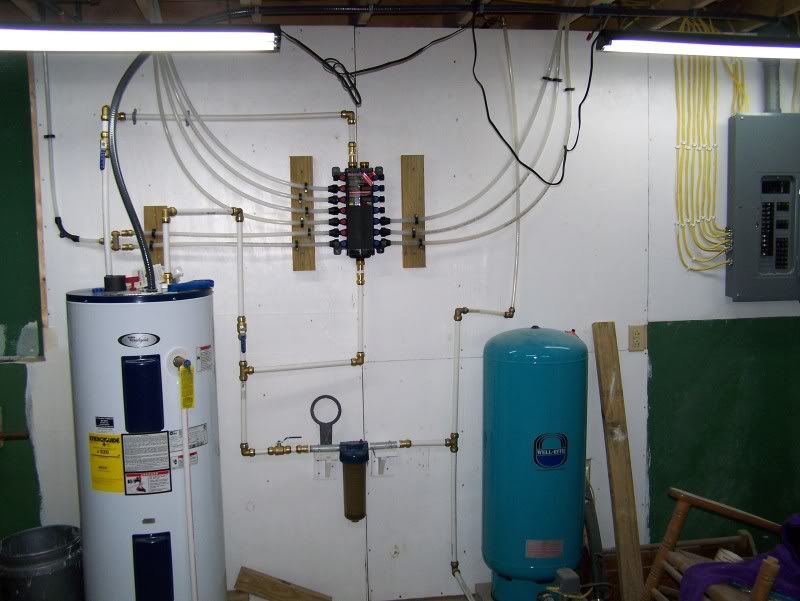 last one for this session..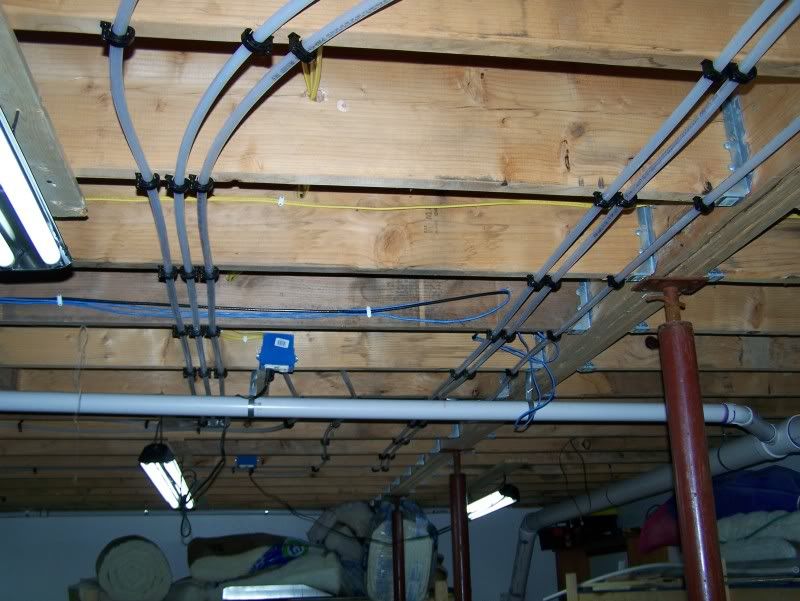 if the weather holds.. i will go out to do some more work after school tomorrow.. if i have enough energy , that is! one of the pressing jobs at this point is to cut drains in the floor of that second floor balcony.. i put plywood down which i coated with epoxy - eventually, i will cover the whole thing with fiberglass, but that won't happen till spring..
Your place is coming along nice. I've enjoyed following your build.

You're in the Pocono's, how do you keep the deer from devouring your plants? ;)
thanks archimedes.. good point! we do have a deer problem.. in fact.. they love checking out our compost bin... especially when we get rid of over ripe apples! they seem to let the wild flowers alone, but they certainly enjoyed the few vegetables which persisted despite the limited light that the garden gets.. they also like the lilac bushes that i put in a couple of years ago.

sounds like you are familiar with the poconos.. where are you located? jt
for the first time, we really got to enjoy the house as a family these past two weeks. the second bedroom is not taped yet, but my step-daughters were content with the mattresses that we bought, and my wife made the room as comfy as possible. although it did not happen till the day after christmas, the best gift that my youngest step-daughter got was a door on the bathroom! ( actually, i guess that was second best - she was very excited to find a drum set in the basement - the place that was supposed to be my shop! :( )
this wall by the steps was going to be drywall, but we made a last minute change, and as soon as i finished putting up the pine, my wife slapped a wreath on it!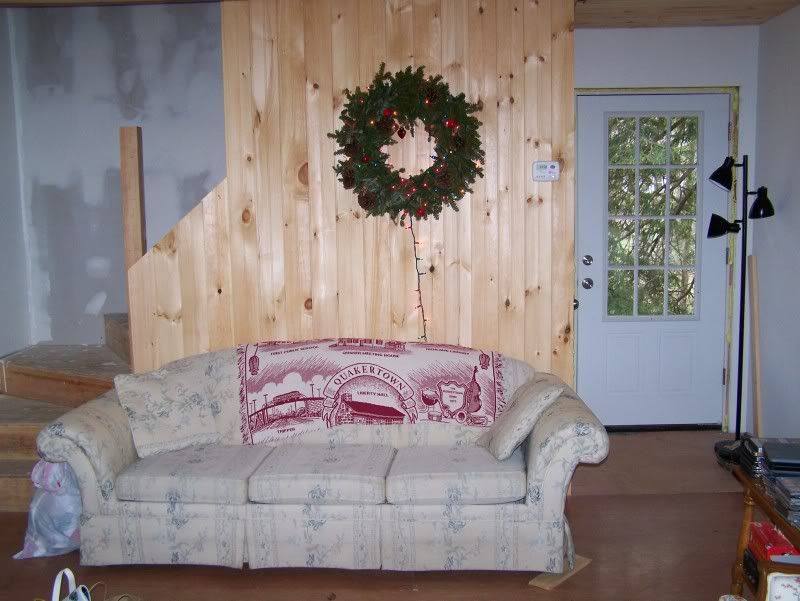 we are finally getting doors hung .. this large closet is in the kitchen and it houses a stacked washer and dryer as well as pantry items.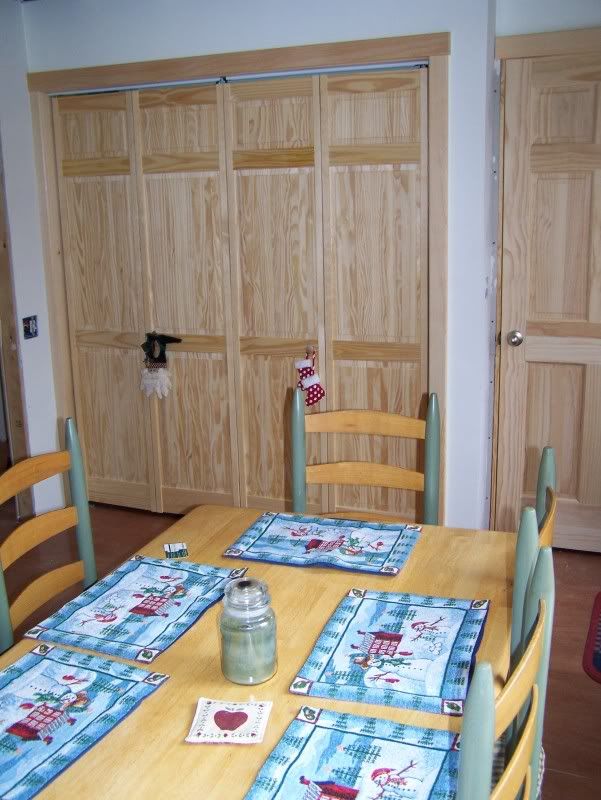 i got some new shelves built for the kitchen - just need to add the face frames and doors at some point. and, this was just in time for us to move in for the christmas holiday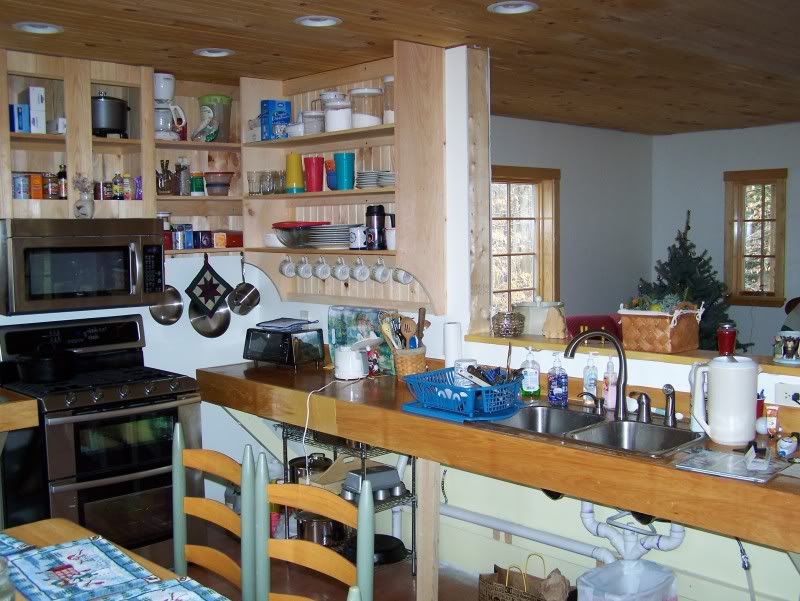 i got the wall built around the balcony - i was planning on a height of 42 inches, but the inspector visited early in the vacation to look at the plumbing ( which passed, by the way - also just in time for us to enjoy the holiday) , and, as we were talking, he told me that residential construction required just a 36 inch height for railings around decks and such.. that is great, and i guess that i should have known it from the beginning - but it means that we can easily sit on the balcony and look over the railing - as long as my wife does not load it up with flower boxes!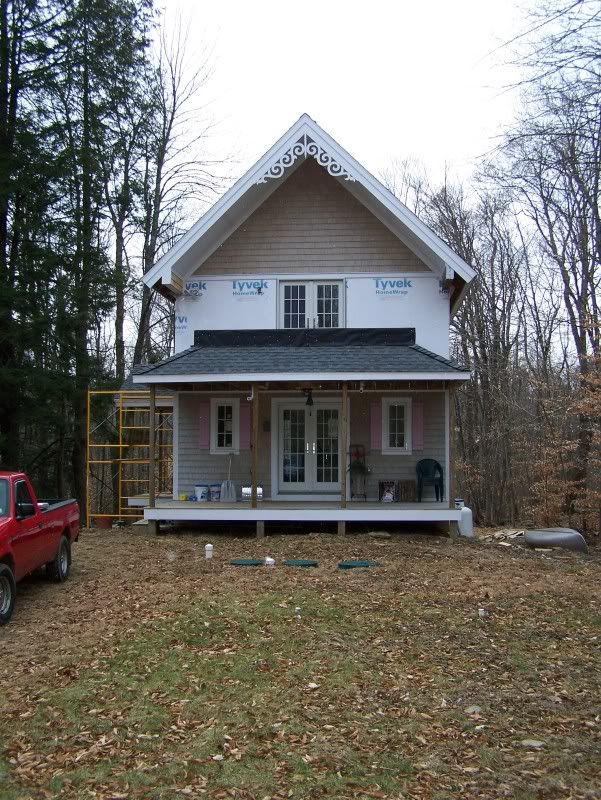 small house - small christmas tree :) actually, it was a bit taller, but we had some real challenges getting it to work in our tree stand.. after cutting the trunk twice and still having issues, we got another stand .. the tree worked out just fine..
we were somewhat disappointed that we have yet to get any appreciable snowfall, but it did make working around the house rather enjoyable - especially those few days when the temps were in the 50's! this can't last, and neither does christmas break - back to classes tomorrow :)
I hope that all of you had a wonderful holiday, and best wishes for a safe and enjoyable new year from us in the poconos!
oops - forgot the tree!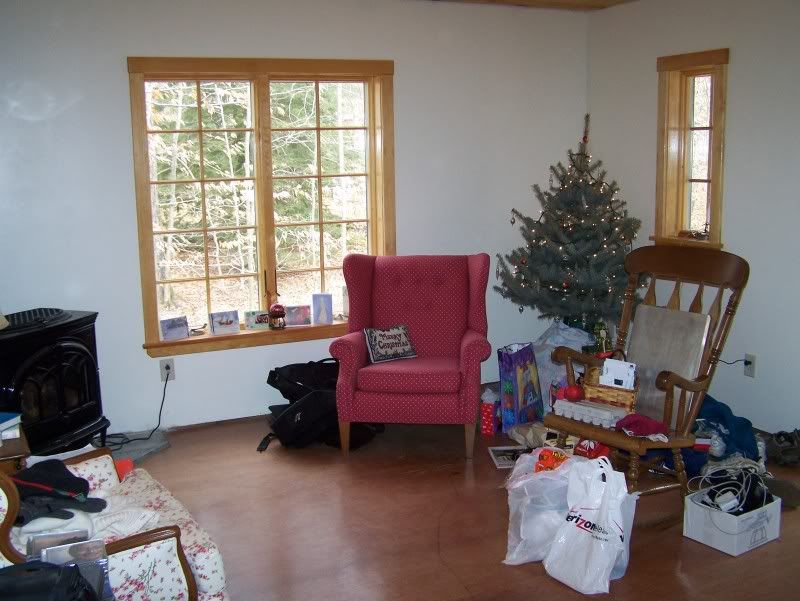 Your place is really coming along and looks like it was a nice family retreat for Christmas.
thanks waterbug.. i was not so sure that my step-daughters would appreciate spending much time at the house - it is out in the woods and rather quiet and no internet connection! but we did get into town from time to time, and they did not mind getting out on some hikes in the unusually warm weather - my wife and i found that to be encouraging.

unlike Thanksgiving, when i spent 10 or 12 hours a day working on the house while we were there, i spent more time actually enjoying the quiet and relaxing and reading.. although we did get some projects done as well. and, we entertained some friends who have been hearing about this project for 3 years, but just saw it for the first time - and that was fun as well.

we are now in a position to get out there one night during the work week - that will be something special to look forward to each week!
It's looking really nice! Great you all had a wonderful Christmas there :)
That window and door trim looks awesome! I also really like the pine "accent" wall. It all looks great! [cool]
thanks guys.. i can't take credit for the trim design - copied something that i saw in NH years ago. the top piece is 5/4 with a small radius all around and the sill is also 5/4. the side pieces and apron are both 3/4 pine with a full radius on both sides. we put one coat of clear minwax stain on followed by 4 coats of varnish.. i hope that it does not get too dark over the years, but that does tend to happen with pine. I just made a project for my wife for Christmas out of pine and used the same water based material that i used on the floors, and i love the outcome.. hardly any darkening at all and just a quick rub with a sanding block between the 3rd and 4th coats.. it was a lot easier than the varnish, but i am kind of stuck with the varnish system for the trim at this point.. i love the look of wood!
well, a little over a year later! this quote from last Christmas a year ago tells the story!

".....unlike Thanksgiving, when i spent 10 or 12 hours a day working on the house while we were there, i spent more time actually enjoying the quiet and relaxing and reading.. although we did get some projects done as well. and, we entertained some friends who have been hearing about this project for 3 years, but just saw it for the first time - and that was fun as well. "

we have been enjoying the house a whole lot, and that has translated into not getting quite as much work done as I would have liked :) We spent the entire summer there, and did a lot of work outside.. making new gardens with all of the rocks that were put to the side during the excavation. I also dug lots and lots of rocks out of our driveway, filled the holes with gravel and then had a big load of stone delivered. The neighbor who does the plowing in the winter really appreciated that effort!

I also made it a point to clean up around the outside of the house.. clearing all of the construction debris.. making it look a little more appealing for both the neighbors and for us.

and I have been slowly tackling jobs on the interior... 90% done in the girl's room.. a few touch ups in the bathroom, and a little drywall touch up in the stairwell.

but, we certainly enjoyed living out there this past summer, and we spent thanksgiving and christmas there as well. And now we try to get out as many weekends as possible. This summer, we will be moving to the house on a permanent basis. I am really ready for the move. I have lived in a dorm on a high school campus for the past 13 years. Of course, this is what has made this project possible, but it is time!

I seem to be having some difficulty with my camera, so i will try to get that resolved so that i can add some updated pics. I know how much i enjoy the pics on everyone's threads :)



(https://s599.photobucket.com/user/pocono_couple/media/housesept2013_zps9e4f2547.jpg.html)
Well, it has been forever again! Finally got the front of the house finished ( well. maybe - I do want to face the posts with pine and add a few more gingerbread details, but that may not happen till next summer) Yesterday we had beautiful weather, just the kind that makes shingling fun work. So, now all I need is some bleaching oil to get the new shingles to look like the old ones. It is on order at my local Lowe's. It was not easy to track bleaching oil down in northeast PA. I meant to get some when I was in New England earlier in the summer, but the opportunity did not present itself. So I called a local paint store to see if they could order it. $52 per gallon was the answer. I thought that was a bit steep so I checked with Lowe's. The fellow behind the counter in the paint dept had never heard of it, but he said he would look it up. The next day he called to say that he was waiting for an answer from the local Cabot representative. A little later I got a call from the representative himself, asking me what the intended use was. I explained that I would be using it on cedar shingles. He agreed that this was the appropriate application. He was concerned that I was uninformed and that I would be unhappy with the product.. there just are not too many houses in northeast PA sided with cedar... not too many with real clapboards either.. lots of plastic :(
Hopefully, the oil will be in this week, and we will get it applied. The left side of the house is nearly finished, and some of the shingles on the back are already in place. If the weather holds, I just might finish up the exterior around thanksgiving..
so what have i been doing with my time? Interior work has been a priority, along with camping and sailing and baking bread and peach shortcake.. whoever cautioned against moving into a house before it was done certainly knew what he was talking about, but we are loving it just the same..
here is a link to my blog - http://lifeat6mph.wordpress.com/
lots of random thoughts, but there is a section of 5 entries starting on July 15th ( a view of Tom's river in the evening) that describes one particular adventure that I had on the boat this summer.. always interested in feedback if you happen to be inclined to do some reading.. :) jt
oops.. sorry about that.. on photobucket it looked like I had fixed the rotation!
The house is looking good. d*

I enjoyed reading your sailing blog re sailing ICW. Reminds me of my days sailing in the often shallow Great South Bay of Long Island.

If you ever get a chance to experience sailing the San Juan Islands of the Pacific NW I highly recommend it. Great wind, beautiful scenery, and most importantly deep water ;)
thanks archimedes... we are loving being in the house.. so nice to be in the country after 13 years in a dorm in town!

thanks for taking time to check out my blog.. i certainly hope to visit the pacific northwest - preferably right about this time so that we can spend time at the wooden boat festival in port townsend! in fact, i just told my wife yesterday that we need to wait to take a cross country trip till we retire so that we can do it in the fall.. ( i might have failed to mention the timing of the boat show :) )

the plan at the time being is to try to head to Maine again next year.. i am looking forward to cruising up there.. and, we just bought a piece of property up there, so as soon as I finish this house, I will be able to start another project up there :)
I'll be looking forward to that build thread ;D

What part of Maine?
phippsburg, just south of Bath on the Kennebec, although we are not on the water.. lots of great recreational opportunities in the area.. most of our friends are envisioning retirement in Florida. We can't imagine that!
Sailing, hiking, camping, kayaking and traveling to Maine have not been the only distractions this summer. I also invested some time on this project, using lots of left over materials from the house.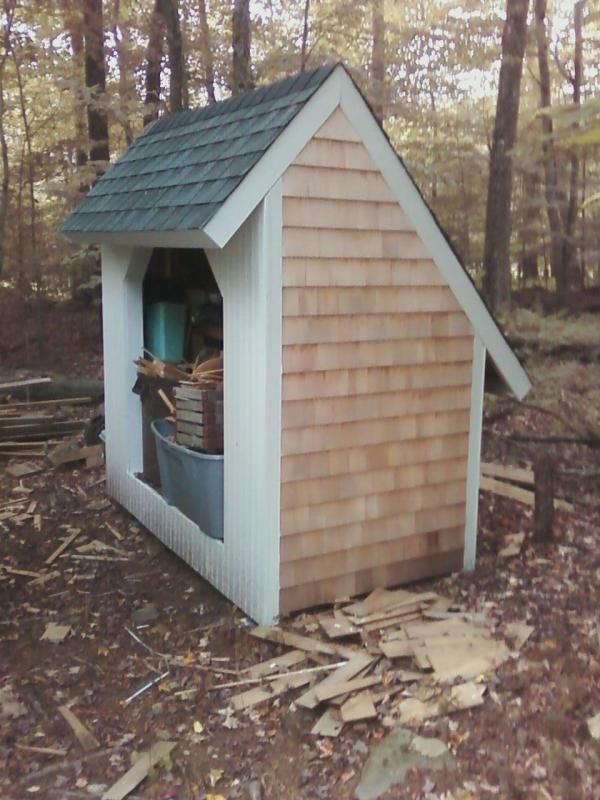 (https://s599.photobucket.com/user/pocono_couple/media/woodshed_zpsd0bf1d27.jpg.html)
it was supposed to be simply a woodshed, but it turns out to be a catchall kind of structure... also good for the gas cans and some tools. It went up pretty easily, and I certainly did not invest too much in the construction. Along with the shed, the tax man liked it but ignored it in his report - in our area the 200 sq ft rule is observed :) I guess that I have to take back some of those negative thoughts that I sometimes have about north east PA!
(https://s599.photobucket.com/user/pocono_couple/media/housejuly2014-1_zps53939e30.jpg.html)
well folks... it has been quite a while since i have visited this thread.. the current project http://countryplans.com/smf/index.php?topic=13525.0
has taken priority this summer, so I have done very little on our house in the poconos..
However, I am currently digging a drainage ditch in the back. It is about time that I wrap up that project! i hope to accomplish that in the next day or two..
The push for now is to finish the tiny house, and then I can get my attention back to this one.. You will see that the scaffolding is still on the side of the house, but the real reason that I wanted to make this post was to show how the flowers look out front.. my wife has done a wonderful job.. our intent is for as many wild flower gardens as possible.. as little grass to mow as possible :) this is actually the third year for some of these gardens, and they are beginning to re-seed themselves.. that is our hope!
feel free to check out my tiny house project.. i should be moving to the ext. siding phase with that later this week... but, i have found that even a tiny house takes a lot longer than i imagined to complete! I should have known better!
The place looks great.
A fine and handsome homestead is emerging from the woods...
thanks guys... slowly but surely! I can say from experience that the advice against moving into a house before it is complete is very sound.. but then, is it every going to be truly complete? :) And, even though progress has slowed down significantly, we have really enjoyed living in the house .. there is nothing quite like sharing a cup of tea on the front porch, watching the hummingbirds visit their feeders... or the email that I sent to the head of our school this spring suggesting that we might be late because a huge bear was roaming through our front yard! life in the country is good...
I know this is old but have a question. This is open to anybody, is their a advantage to doing the basement walls this way ?
I have not stopped by for a while.. sorry to be so late with a response.. your question about the basement walls.. do you mean a walkout basement where it is exposed in the back? jt feel free to email cp23_1983@yahoo.com
it has been a long time since I last posted pics.. the scaffolding is finally gone from the left side of the house.. finishing up on the right side now, but i ran out of shingles, so the ext. work is at a standstill for the moment.. but my wife and I are tackling jobs inside.. finishing doors etc.
we spent 5 months in Maine and just returned in mid-october.. filled with renewed energy :) perhaps some of that energy will be focused on getting some pics added! jt
Looking forward to seeing your progress!