A pair of owner-built Little Houses
Variations on a simple to build owner-built cottage or cabin using a
post and pier foundation. One plan has a gable roof, the other a shed.
These cabins were built using the Little House Plans from CountryPlans.com
(both types of roofs are shown in the plans).
---
A Gable Roofed 12x18 office/workshop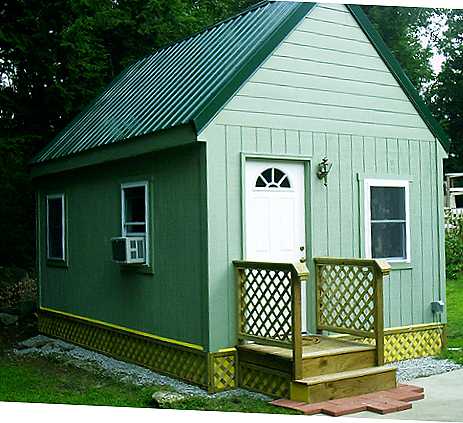 Owner Builder John Doane Reports:
Last summer I used your plans for a 12X18 small building and built an office/small workshop for myself in back of our house. The office is equipped with computer and all the peripherals, air conditioner, loft with bed, and all my computer books. The workshop has all my small tools and storage for table saw, workbench, air compressor, and much more.
The cabin uses single-wall plywood (T1-11) siding. The roof rafters are completed and ready for sheathing in this photo.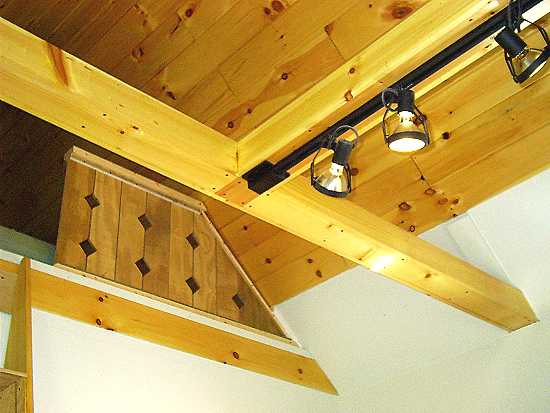 Looking overhead we can see the loft and boxed in rafter ties. The ceiling is finished in pine boards.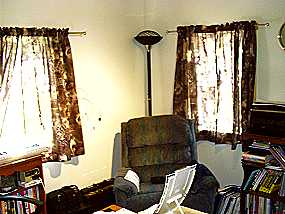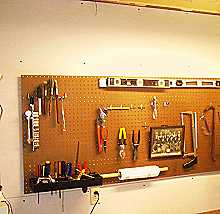 Here you see two parts of the cabin — the office side and the workshop end. Both combine to provide a great back yard get away.
The owner's final comments:
Although I have had some experience as a carpenter's helper, my real job is a band director at the Derry Schools in New Hampshire. I found your plans easy to follow and I accomplished the whole building, except for help with electrical, by myself.
I thought you'd like to know that your plans and ideas for your small buildings, from the ground up, were a time saver and just right for someone with limited experience as a carpenter.
John Doane
Deerfield, NH
PS: Here is a link to the plans John used: Little House Plans Kit
---
A Shed roof on a 16' x 24' Cabin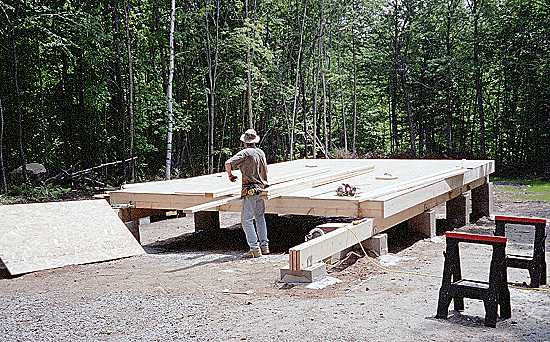 Kevin used concrete block piers for his foundation. He has modified the size of the basic plans and carried the beams forward to support a 8' future deck.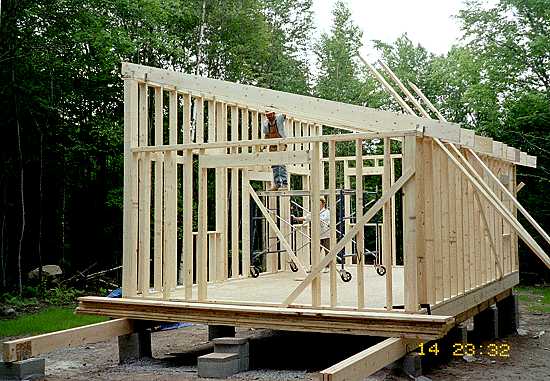 Kevin's construction notes:
All the walls up and starting on the rafters. The rafters are 2x10x20. I use simpson strongties and birdsmouth to connect the rafters to the top plate. Using scaffolding on wheels helps here. The roof is 3-12 pitch.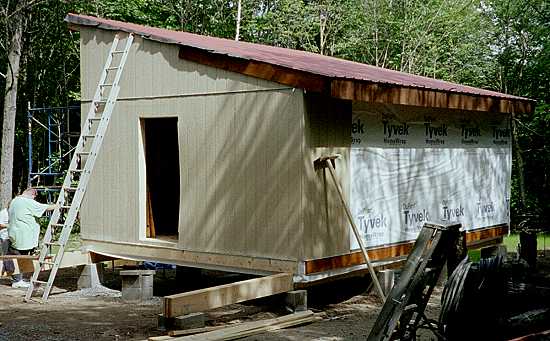 We put up up sheathing (1/2" OSB) on the roof followed by metal roofing (ABC). For the walls we used Tyvek house wrap over the studs and then sided with SmartSide panel siding. This siding is a single wall product that looks like T1-11 but is OSB on the back and it comes primed and ready to paint. Nice product and cheaper than T1-11. Their web page is: www.smartsideonline.com.
This cabin is in Northern Vermont.
All this was built in 7 days with myself my uncle, mother, and Grandmother.
Update 12/9/05 - Kevin sent in this photo but says his project is still in process (interior work remains).
Good work all!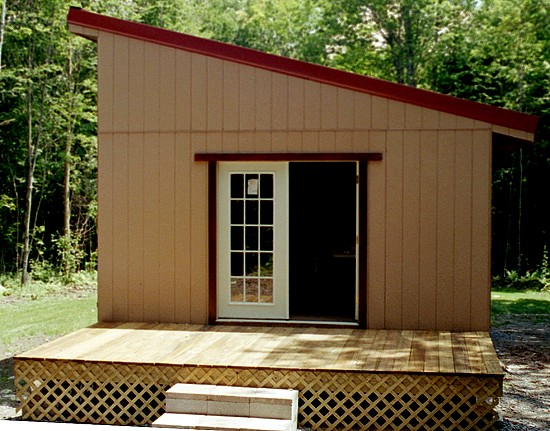 ---
These cabins were built using the Little House Plans from CountryPlans.com (both types of roofs are shown in the plans)
Back to the Owner-Builder Gallery
Click here to visit the small house building forum.
---